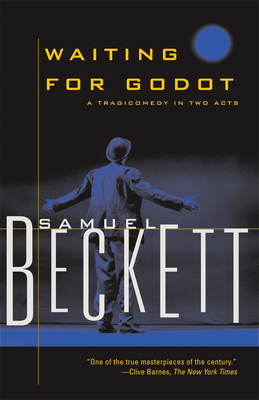 Waiting for Godot
A Tragicomedy in Two Acts (Beckett)
Paperback

* Individual store prices may vary.
Other Editions of This Title:
Paperback (9/9/2016)
Prebound (5/17/2011)
Hardcover (12/1/1970)
Compact Disc (3/1/2006)
Paperback (1/1/1994)
Paperback (6/3/2010)
MP3 CD (5/17/2016)
Paperback, Spanish (1/31/1998)
Prebound (5/17/2011)
(1/1/1994)
Description
From an inauspicious beginning at the tiny Left Bank Theatre de Babylone in 1953, followed by bewilderment among American and British audiences, Waiting for Godot has become of the most important and enigmatic plays of the past fifty years and a cornerstone of twentieth-century drama. As Clive Barnes wrote, "Time catches up with genius ... Waiting for Godot is one of the masterpieces of the century." The story revolves around two seemingly homeless men waiting for someone--or something--named Godot. Vladimir and Estragon wait near a tree, inhabiting a drama spun of their own consciousness. The result is a comical wordplay of poetry, dreamscapes, and nonsense, which has been interpreted as mankind's inexhaustible search for meaning. Beckett's language pioneered an expressionistic minimalism that captured the existential post-World War II Europe. His play remains one of the most magical and beautiful allegories of our time.
Praise For Waiting for Godot: A Tragicomedy in Two Acts (Beckett)…
One of the true masterpieces of the century. Clive Barnes, The New York Times

One of the most noble and moving plays of our generation, a threnody of hope deceived and deferred but never extinguished; a play suffused with tenderness for the whole human perplexity; with phrases that come like a sharp stab of beauty and pain.
The Times (London)

Beckett is an incomparable spellbinder. He writes with rhetoric and music that . . . make a poet green with envy. Stephen Spender

Reading Beckett for the first time is an experience like no other in modern literature.
Paul Auster

[Godot is ] among the most studied, monographed, celebrated and sent-up works of modern art, and perhaps as influential as any from the last century. The nonstory of two tramps at loose ends in a landscape barren of all but a single tree, amusing or distracting themselves from oppressive boredom while they wait for a mysterious figure who never arrives, the play became the ur-text for theatrical innovation and existential thought in the latter half of 20th century. Christopher Isherwood, The New York Times
Grove Press, 9780802144423, 85pp.
Publication Date: May 17, 2011
About the Author
Samuel Beckett (1906-1989), one of the leading literary and dramatic figures of the twentieth century, was born in Foxrock, Ireland and attended Trinity University in Dublin. In 1928, he visited Paris for the first time and fell in with a number of avant-garde writers and artists, including James Joyce. In 1937, he settled in Paris permanently. Beckett wrote in both English and French, though his best-known works are mostly in the latter language. A prolific writer of novels, short stories, and poetry, he is remembered principally for his works for the theater, which belong to the tradition of the Theater of the Absurd and are characterized by their minimalist approach, stripping drama to its barest elements. In 1969, Beckett was awarded the Nobel Prize in Literature and commended for having "transformed the destitution of man into his exaltation." Beckett died in Paris in 1989. At the age of seventy-six he said: "With diminished concentration, loss of memory, obscured intelligence... the more chance there is for saying something closest to what one really is. Even though everything seems inexpressible, there remains the need to express. A child need to make a sand castle even though it makes no sense. In old age, with only a few grains of sand, one has the greatest possibility." (from Playwrights at Work, ed. by George Plimpton, 2000)