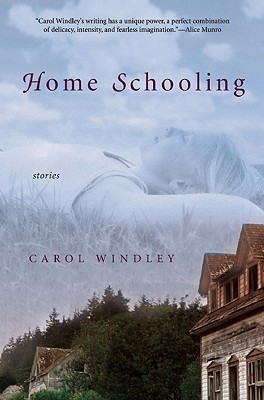 Home Schooling (Paperback)
Grove Press, 9780802144539, 219pp.
Publication Date: March 30, 2010
* Individual store prices may vary.
Description
Carol Windley's mesmerizing collection, Home Schooling, introduced an American audience to a mature, masterful storyteller whose writing has a unique power, a perfect combination of delicacy, intensity, and fearless imagination (Alice Munro). Set in the temperate rain forests of Vancouver Island and the vibrant cities of the Pacific Northwest, the stories in Home Schooling uncover the hidden freight of families as they dissolve and reform in new and startling configurations: ghosts appear, the past intrudes and overwhelms the present, familiar terrain takes on a hostile aspect, and happiness often depends on unlikely alliances.
About the Author
Carol Windley is the author of the story collection Visible Light--which won the Bumbershoot/Weyerhauser Publication Award and was nominated for the Ethel Wilson Fiction Prize and the Governor General's Literary Award for Fiction--and the acclaimed novel Breathing Underwater.
Praise For Home Schooling…
Language is wielded like a slender blade in these stories by the Canadian author Carol Windley, swiftly piercing a perception and pinning it to the page. . . . Set on Vancouver Island and the mainland of the Pacific Northwest, these stories have their own uncanny atmosphere, remote yet familiar, cloaked in fogbanks and redolent of deep woods. . . . In the shattering piece that opens the collection, a child observes a crime occurring in excruciating slow motion but does nothing to stop it because she cannot assemble the reality of what she has seen, a nightmare scenario that artfully chills us to the bone."Boston Globe

The families in Carol Windley's remarkable story collection are as unsettled and moody as the wind-blasted landscape that shelters and confounds them. . . . [Windley] is deeply in tune with her characters, their dilemmas, their petulance, and the peculiar grace that allows them to accept, even sometimes to applaud, how far they've come. . . . Windley can create an almost tactile atmosphere of uncertainty and dread. . . . Our futures can be as wild and unpredictable as the waves crashing in from the Pacific, Windley tells us. Our destinies are uncertain despite our pasts, as our ties to other people steer a course of surprise and, sometimes, eventual contentment. . . . A haunting book that deserves our attention."The Miami Herald

[An] elegant collection . . . Windley's writing is calm and at times hypnotic, and her prose rhythms paint pictures of their own; she knows how to create the restful quiet of gentle waves breaking on a beach. And her images, often occurring in the context of dreams, can be startlingly lovely."The Seattle Times

Hints of Henry James inform the eight stories in Canadian writer Carol Windley's American debut, Home Schooling. Like that earlier master, Windley pays scrupulous attention to small, consequential gestures, to a sense of the uncanny that marks the proximity of characters to places and things, and as much to what goes unsaid as to what's spoken. Her tales emit moments of sudden radiance that unmask narrative mysteries while wrapping them ever more tightly around their outcomes. . . . . The opening lines of the astonishing title story are a high-wire act of narrative prestidigitation, mimicking the fault lines of memory and the compensatory gift of reinvention. . . . . [A] book of pure magic."Elle

Mesmerizing . . . [Windley's] characters are Chekhovian idealists and dreamers, refugees from the counterculture or from broken homes, actual and psychological orphans trying to reform themselves into new kinds of families . . . [and] what elevates [Windley] as a writer is her struggle to find a meaning in [those] characters' fates, to discover their moral essence and, sometimes, even a magical truth."B&N.com

Windley's characters in Home Schooling are burdened and shaped by their secrets, so much so that they often fail to travel well through daily life. The landscape of the Northwest where Windley livesthat transparent air and those watchful dark treesprovides the perfect setting for these incandescent stories. . . . Here, even the mystery of life's slow, sure passing provides action to move a plot forward."Los Angeles Times

Events violent and unhinged frequently hover at the edge of many of Carol Windley's stories in her elegant new collection, Home Schooling. Characters frequently find themselves preoccupied by the darker things in lifepeople leaving, people dying, betrayals, and secrets. . . . The characters peopling Windley's tales are only too aware of the volatility of life; and yet, at the center of their personal stories is resiliency. . . . Captivating . . . She calls attention to the tenuous, fragile nature of existence, and yet also casts into relief the beauty of people's efforts to stave off the darkest of events and fears, whether through action or inaction. . . . With her vivid prose and insightful characterizations, Windley has written an exceptional collection of stories."Bookslut

Eight elegant short stories . . . [that] plumb the themes of loss, memory, and the desire to belong. . . . With nary a false or clumsy sentence, Windley demonstrates an effortless understanding of complex human nature that invites obvious comparisons . . . to Alice Munro. The slim volume gives every indication that they are warranted. Beautifully crafted and devoid of sentimentality."Kirkus Reviews

Moving back and forth in time, Windley zeros in on life-changing moments witnessed in different ways, as if seen through different lenses. A provocative collection from a writer in complete sync with her characters."Booklist

[Home Schooling] will delight the reader with its understated prose. Whether it's the burden of a childhood secret, family crisis, romantic entanglement, or immortality and death, Windley spares us the exaggerated emotions those situations often provoke and unhurriedly disentangles the characters' hidden guilt, fears, and resentment. The result is a thoughtful analysis of the process of living and the need to make choices even when one sometimes suffers because of them. . . . [A] philosophical contemplation [of] the issues of existence and human relationships. . . . A mesmerizing experience."Library Journal

[An] accomplished story collection . . . Windley's cagey moments of conflict deftly illuminate her narrators' capacities for both pettiness and grace. . . . [Written] with a fast pace and an eye for fresh details that make her efficient, achingly human dramas absorbing and sympathetic."Publishers Weekly

Carol Windley's writing has a unique power, a perfect combination of delicacy, intensity, and fearless imagination."Alice Munro

"Home Schooling is a collection of beautiful, haunting storiesintelligent, heartfelt and true."Alice Hoffman

Carol Windley's short stories are impossible to put down. The scope of the subject matter is riveting: the world of the artist, the complexities of family relationships and the innocence of childhood are written with a sure and deft hand. The characters are distinct and unforgettable, drawn with deep emotional roots, while the places they inhabit are described with wonder and truth. Moment by moment, Ms. Windley has written a masterful collection."Adriana Trigiani

[Home Schooling] is as delicate as it is intelligent. . . . An exceptional collection of beautiful words and resonant insights. Every single story is worthy of reading, and once read, returned to, whether for ambiance or intelligence of thought or language. Windley's gift with narrative and images gives truly inspired meaning to the phrase creative writing.'"The Globe and Mail

Compelling, thought-provoking, emotionally rich . . . a powerful illustration of the storyteller's art."National Post

Home Schooling is a beautiful collection, full of sensitivity and utterly devoid of slick sentimentality. The stories are painstakingly realistic, conveying many facets of the family experience. . . . Windley's fluid, yet precise style captures the essence of the characters and their situations with immense grace."The Vancouver Sun