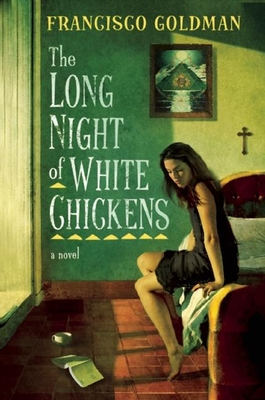 The Long Night of White Chickens
Paperback

* Individual store prices may vary.
Other Editions of This Title:
Paperback (3/23/1998)
Description
Winner of the Sue Kaufman Prize for First Fiction and a finalist for the PEN/Faulkner Award, The Long Night of White Chickens marked the brilliant debut of Francisco Goldman's internationally acclaimed writing career. The Long Night of White Chickens is a novel born of two worlds: It is the story of Roger Graetz, raised in a Boston suburb by a patrician Guatemalan mother, and his relationship with Flor de Mayo, the beautiful young Guatemalan orphan sent by his grandmother to live with his family as a maid. When, years later in the 1980s, Flor is murdered in Guatemala, Roger returns to uncover the truth of her death. There he is reunited with Luis Moya, a childhood friend, and together they venture on a quest into Flor's life that will have unexpected, and unforgettable, repercussions.
Praise For The Long Night of White Chickens…
It is a wonderful book . . . this remembrance of the Massachusetts life and Guatemalan death of Flor de Mayo Puac, sometime maid and confidante and older-sister to Roger Graetz . . . . Complex as history, funny as love, painful as death. The mystery of Goldman's Guatemala is the mystery of anyone's family, anyone's friendships and obsessions."The Washington Post Book World

It takes one's breath away. . . . Goldman pulls together the threads of the story brilliantly, moving back and forth in time like a nimble Mayan weaver creating an elaborate huipil."Los Angeles Times Book Review

Francisco Goldman, in this fine first novel, delivers a complete world, sensual, tender and painful in its friendships, and expansive in its memory. . . . With a wealth of startling detail, he gives us a world that feels as if it could almost be touched."San Francisco Chronicle

Francisco Goldman's beautiful first novel is at once a story about a boy growing up in two cultures, a love story, and a mystery about an unsolved murder. It is meditation, investigation and chronicle written in lyrical, evocative English . . . . Flor is a compelling and enigmatic personality."Boston Globe

The Long Night of White Chickens is one of the most extraordinary first works to be published in decades. Not since Nabokov's infamous Lolita or Toni Morrison's Song of Solomon has an author displayed such mastery of contemporary literary method."The San Francisco Review of Books

A tale that sensitively depicts the very best of human dignity and love. . . . Brilliantly crafted. . .with great skill and poetic beauty. . . .[Chickens] has the ability to captivate the reader with its powerful descriptive voice."The Christian Science Monitor

This book is a jewel. . . . It is an insistent story, filled with characters who keep whispering to us long after we've put the book down. . . . A book about the many faces of truth, full of love and humor. . . . Playing with time and reality and the idea that beauty and evil are inextricably linked could be dangerous for a first novelist, but Goldman pulls it off."The New York Observer

Francisco Goldman has synthesized the literary traditions of two continents in one of the most ambitious literary debuts in years. Funny and sad, wise and wide-eyed, Chickens is a richly layered, genre-busting novel that shuttles between suburban Boston and Guatemala City and devours everything in its path."Jay McInerney

Francisco Goldman has produced a remarkable first novel. . .a beautifully balanced mix of intensity and grace, intelligence and imagination. I admired all kinds of things about his book, not least of which was that it told a terrific story, never didactic, always rich in incident and human drama. The Long Night of White Chickens deserves a wide readership, lots of prizes."­­Tim O'Brien

The Long Night of White Chickens is essentially a love story, the story of two men whose love for Flor de Mayo haunts them long after she is murdered. It asks us to question the conditions of love we have created in our time, and the bittersweet love relationship between the United States and Latin America. Oye, vos, you have brought a beautiful and complex woman to life. She is as magical as the realism you evoke in the writing. It is the story of all our mothers, wives, daughters, lovers. It is the story of the Americas."From the PEN/Faulkner Award citation by Rudolfo Anaya

What Francisco Goldman has created is a masterpiece. . . . Combining American optimism, Latin illusion and Russian angst, his remarkable first novel magically explores life, love, death, politics, intrigue and obsession in a bicultural plot twisting from here to Guatemala. . . . Infinitely satisfying."The Philadelphia Inquirer

Here is a first novel displaying a robust brilliance. . . . A splendid and riveting book . . . humorous, anecdotal, perceptive, beautifully written, and infected with an intense sense of joie de vivre. . . . [Goldman] approaches Central America . . . as a knowledgeable insider in both societies. He is very Yankee, very Guatemalan: the history of intervention and the story of personal identity are inextricably entwined."The Guardian (UK)

The Long Night of White Chickens is a wonderful book of leaps: leaps through cultures, with a thousand humorous or profound insights about Gringos and Latins'; . . . leaps between horror and beauty; and leaps between observation and imagination. An enormous and pleasurable surprise."Elena Castedo

Telling the punchline first takes guts and styleboth of which Francisco Goldman has aplenty. Flor, a woman who is dead when the novel opens, comes brilliantly alive as Roger chases her life through Boston snowstorms, cheap whorehouses on the outskirts of Guatemala City and highland villages of the repressed Maya."The Boston Phoenix

Eloquent and powerful. . . . A compelling love story and an intriguing mystery . . . A masterfully conceived work of art. . . . Lyrical, at times comic, a prose that faithfully captures the speech patterns of Central America. . . . Dramatic tension melds with rich descriptions of Guatemala City life: A wealthy Parisian family that five years after adopting an Indian orphan are told her parents have reappeared. A Colombian couple whose sexual excitement on their wedding night ends in an absurdly comic death. . . . And the Fo Lu Shu, where Flor and Luis Moya fall in love during a long tropical night."St. Louis Post-Dispatch

Seamlessly melds private and public, introspection and action. . . . A complex, riveting novel. . . . The narratives of Roger and Moyathe former related in first person and the latter in thirdexpand the reader's knowledge through an enriching counterpoint."The Miami Herald

A beautiful story of national identity and love. . . . Roger might be either the native son in search of his roots, or Holden Caulfield on a brief trip to hell. . . . With García Márquez, Goldman shares a love of narrative abundance, a profusion of character and detail that accrues to a rich whole. . . . Illuminated by innumerable small moments of humor, beauty and power."The Bookpress

A splendid first novel. . . . Fashions a surfeit of intelligent detail about its protagonist's two countries into a fascinating study of cultural contrasts."USA Today

The novel, like Roger himself, stands between two worldsin part a personal story of love and coming of age, it is also a grand historical assault in the tradition of Joseph Conrad and Graham Greene."Vanity Fair

An enthralling first novel. . . . Passionate, romantic and grimly witty . . . Subtle and tender."The Evening Standard (UK)

Dazzling. . . . Blending Yankee can-do intellectualism with Latin myth-making."The Plain Dealer (Cleveland)

This striking debut novel begins as a coming-of-age story and ends as much more. Part nontraditional love story, part mystery, this book is also an examination of politicssocial, sexual and emotional . . . acidly observant . . . Roger's emotional journey is a long oneChickens is clearly rich enough to be savored for a similarly long time."People

Fiercely realized. . . . This large, bursting book, with its elastic brilliance and geographical roaming, is a generous riposte to segregationist meanness.'. . . A good part of the novel deals with the exhilarating strangeness of growing up in the U.S. with a Jewish father and a Guatemalan mother. . . . When Goldman writes directly of Guatemala . . . the prose rushes along with the pleasure of discovery, and dense description is used for its primary work: enchantment."Vogue (UK)

Leaves the reader pondering the complications of vulnerable hearts and ravenous desires."Minneapolis Post-Bulletin

The Long Night of White Chickens is an exceptional novel which gently forces us to acknowledge and truly listen to voices from beyond our borders which have been hidden for too long."Ariel Dorfman

Extraordinary. . . . A consummate story teller . . . The novel's triumph is Flor, a heroine as complex and fragile as the society she inhabits."The Boston Review

A remarkable novel. . . . Accruing vivid new details at every turn, Roger's account gives the reader the most immediate possible sense of a country and its people, the comic and appealing as well as the horrific."The Times Literary Supplement

Goldman's complex and masterful tale loops and turns and doubles back on itself, revealing the transmutability of truth, the narcosis of obsession, the enigmas of culture, and the irrepressible drive to survive."Booklist

A novel that is about love and self-discovery, obsession and the persistence of memory. . . . Goldman is so skillful that he is able to digress for many pages and not lose either the reader or the novel's direction. . . . Flor [is] a charmingly eccentric character who leaps at us from the pages."Newsday

Hardly a standard fictional debut . . . Goldman has written a murder mystery that is also a psychological puzzle, political thriller, boy's own adventure, family drama and multicult comedy. It's a love storyseveral love stories, actuallyand off-kilter history of Central America in the 80s, a story of obsession and repression. . . . The plot flashes back, forward, sideways: Frank Goldman sneaks up on you, obliquely, the way childhood memories sometimes do."The Village Voice

A triumph of tale-spinning."Atlanta Journal-Constitution

A tour de force. . . . A wonderful novelist."The Wichita Eagle

Impressive. . . . Goldman has a particular gift for catching the truth of some emotionally taut moment and twisting it into an unexpected image. . . . Sexual politics are very much the strong suit of this politically charged novel. . . . A remarkable debut altogether."The London Review of Books

To be in love with a book is to exhibit all the classic symptoms of romantic obsession. Once you've begun, you can't stop. You want to read it all the time, be with it, in it. . . . All of which is to say, I love you, The Long Night of White Chickens. . . . A story of unfulfilled and obsessive love, though it is as much a political novel and an exploration of the way we create our personal histories as a love story."The Austin Chronicle

Myth intermingles with reality as Goldman guides us through his haunting first novel, a family love story. . . . A tapestry of understanding."The Seattle Times
Grove Press, 9780802144607, 496pp.
Publication Date: July 9, 2013
About the Author
FRANCISCO GOLDMAN is the author of three novels: The Long Night of White Chickens, which won the Sue Kaufman Prize for First Fiction and was a finalist for the PEN/Faulkner Award; The Ordinary Seaman, a finalist for the International IMPAC Dublin Literary Award and The Los Angeles Times Book Prize; and The Divine Husband. Goldman is also the author of the non-fiction book, The Art of Political Murder: Who killed the Bishop?, which was named a Best Book of the Year by The Chicago Tribune, The Washington Post, The San Francisco Chronicle, and The Economist. Goldman has been a contributing editor for Harper's magazine, and his fiction, journalism and essays have appeared in publications such as The New Yorker, The New York Review of Books, Esquire and The New York Times Magazine. He is the recipient of a Guggenheim Foundation grant and the T. R. Fyvel Freedom of Expression Book Award, and was a fellow at the American Academy of Berlin and the Center for Scholars and Writers at the New York Public Library. He currently directs the Premio Aura Estrada/Aura Estrada Prize (www.premioauraestrada.com). Goldman divides his time between Brooklyn and Mexico City.