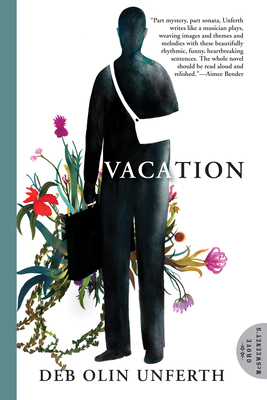 Vacation (Paperback)
Grove Press, 9780802144720, 215pp.
Publication Date: March 30, 2010
Description
Critically acclaimed on its hardcover publication, and praised for its playful inventiveness and delightful prose, Deb Olin Unferth's debut novel, Vacation, features three charactersa man, his wife, and a stranger with ties to them both. With his wife suspiciously absent in the evenings, the man, Myers, follows his unnamed spouse on her evening escapades and soon realizes that she is following the stranger, Gray, a former classmate of Myers whose own marriage has fallen apart. What follows is an unusual, unsettling, and wildly entertaining novel unlike any you've read in a long time. With deadpan humor and skewed wordplay, Deb Olin Unferth weaves a mystery of hope and heartbreak.
Praise For Vacation…
"Deb Olin Unferth is one of the most daring and entertaining writers in America today. She is an artist who knows that every sentence is an opportunity to have it all music, invention, narrative drive and hers most definitely do. This novel is tricky, odd, unnerving, Hilarious, and ultimately quite scary, not to mention very, very moving. We may or may not deserve this Vacation, but we are lucky to have it."
Sam Lipsyte

"Wonderful, addictive prose. Ms. Unferth sure knows how to turn a phrase and it's a delight to follow her across the American landscape."
Gary Shteyngart

"Part mystery, part sonata, Unferth writes like a musician plays, weaving images and themes and melodies with these beautifully rhythmic, funny, heart-breaking sentences. The whole novel should be >read aloud and relished."
Aimee Bender

"Deb Olin Unferth is, I believe, one of the crucial literary artists of her generation. Her fictions give evidence of an artist determined to speak about the remarkable, who manages with exactitude all elements necessary to produce the well-made, eccentric object. Her vision evokes high comedy and the violence of tragedy heard through voices exquisitely particular to her mind."
Diane Williams
Advertisement