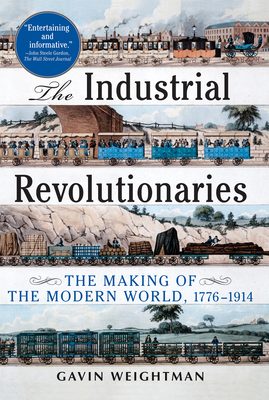 The Industrial Revolutionaries (Paperback)
The Making of the Modern World 1776-1914
Grove Press, 9780802144843, 422pp.
Publication Date: May 25, 2010
Other Editions of This Title:
Hardcover (4/1/2009)
* Individual store prices may vary.
Description
Gavin Weightman's sweeping history of the industrial revolution shows how, in less than one hundred and fifty years, an unlikely band of scientists, spies, entrepreneurs, and political refugees took a world made of wood and powered by animals, wind, and water, and made it into something entirely new, forged of steel and iron, and powered by steam and fossil fuels. Weightman weaves together the dramatic stories of giants such as Edison, Watt, Wedgwood, and Daimler, with lesser-known or entirely forgotten characters, including a group of Japanese samurai who risked their lives to learn the secrets of the West, and John "Iron Mad" Wilkinson, who didn't let war between England and France stop him from plumbing Paris. Distilling complex technical achievements, outlandish figures, and daring adventures into an accessible narrative that spans the globe as industrialism spreads, The Industrial Revolutionaries is a remarkable work of original, engaging history.

Praise For The Industrial Revolutionaries: The Making of the Modern World 1776-1914…
Entertaining and informative." John Steele Gordon, The Wall Street Journal

Abraham Gesner is hardly a household name today, but this country-doctor-turned-geologist in Nova Scotia was the first person to transform the raw sludge of fossil remains into kerosene and other fuels. Gesner is but one of the fascinating characters Gavin Weightman brings to life in The Industrial Revolutionaries, his engaging survey of the countless men and women who wedded technological innovation to capitalist profit or nationalist agenda, and in the process helped usher in the modern era. Weightman believes the industrial revolution was an incremental process in which credit for any innovation or invention rightly belongs to innumerable individuals scattered throughout the world. He is remarkably successful at capturing this process, skillfully stitching together thumbnail sketches of a large number of inventors, architects, engineers, and visionaries. Weightman expertly marshals his cast of characters across continents and centuries, forging a genuinely global history that brings the collaborative, if competitive, business of industrial innovation to life." Stephen Mihm, The New York Times Book Review

Refreshingly old-fashioned . . . In this lively study, there is little room for the dry academic prose that so often makes economic histories a painful reading experience. Instead we have a wealth of vivid portraits of figures from the eighteenth and nineteenth centuries. . . . Weightman is excellent at demolishing some of the myths of the industrial revolution." Leo McKinstry, Literary Review

The author of some fine business histories, Weightman elevates his game in this work. ... Integrating lively biography with technological clarity, Weightman converts the Industrial Revolution into an enjoyably readable period of history." Booklist

[Weightman's] enthusiasm for his subjects, and his insistence that the Industrial Revolution was the doing of more than a handful of Great Men, propels the book forward. It's one that anyone with a passing interest in economic history will thoroughly enjoy." The Seattle Times

It is one of the pleasures of Weightman's book to see how technology rose above nationality. . . . The interconnectedness of this world of invention and technology is extraordinary." The Sunday Telegraph

A whirlwind tour-de-force of the foundations of industrialization. a popular, accessible history. Highly recommended." Choice

Swirling with seers, savants, and sorcerers of the mechanical age, every page of this epic saga will dazzle even the most technologically jaded reader." William J. Bernstein, author of A Splendid Exchange