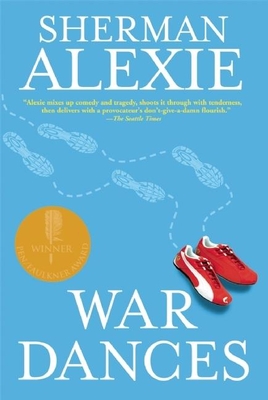 War Dances (Paperback)
Grove Press, 9780802144898, 209pp.
Publication Date: August 3, 2010
Other Editions of This Title:
Hardcover (10/1/2009)
* Individual store prices may vary.
Description
In his first new fiction since winning the National Book Award for The Absolutely True Diary of a Part-Time Indian, best-selling author Sherman Alexie delivers a virtuoso collection of tender, witty, and soulful stories that expertly capture modern relationships from the most diverse angles. War Dances brims with Alexie's poetic and revolutionary prose, and reminds us once again why he ranks as one of our country's finest writers. With bright insight into the minds of artists, entrepreneurs, fathers, husbands, and sons, Alexie populates his stories with average men on the brink of exceptional change: In the title story, a son recalls his father's "natural Indian death" from alcohol and diabetes, just as he learns that he himself may have a brain tumor; "The Ballad of Paul Nonetheless," dissects a vintage clothing store owner's failing marriage and courtship of a Puma-clad stranger in airports across the country; and "Breaking and Entering" recounts a film editor's fateful confrontation with an thieving adolescent. Brazen and wise War Dances takes us to the heart of what it means to be human. The new beginnings, successes, mistakes, and regrets that make up our daily lives are laid bare in this wide-ranging new work that is quintessential.
Praise For War Dances…
Sherman Alexie is not a finicky writer. He is often messy and in-your-face in a way that can make you laugh (or shudder) when you least expect to. . . . War Dances is Alexie's fiercely freewheeling collection of stories and poems about the tragicomedies of ordinary lives." O, the Oprah Magazine

Alexie has a wry, subversive sensibility. . . . The structure [in War Dances] is sophisticated yet playful, a subtle way to bring lightness to heavy topics such as senility, bigotry, cancer, and loneliness. . . . A mix tape of a book, with many voices, pieces of different length, shifting rhythms, an evolving story."Los Angeles Times

Smart modern stories interspersed with witty and deep-feeling verse."San Francisco Chronicle

Sherman Alexie mixes up comedy and tragedy, shoots it through with tenderness, then delivers with a provocateur's don't-give-a-damn flourish. He's unique, and his new book, War Dances, is another case in point."Seattle Times

Alexie's works are piercing yet rueful. He writes odes to anguished pay-phone calls, to boys who would drive through blizzards to see a girl, to couples who need to sit together on airplane flights even though the computer thinks otherwise. . . . [A] marvelous collection."Miami Herald

War Dances taps every vein and nerve, every tissue, every issue that quickens the current blood-pulse: parenthood, divorce, broken links, sex, gender and racial conflict, substance abuse, medical neglect, 9/11, Official Narrative vs. What Really Happened, settler religion vs. native spirituality, marketing, shopping, and war, war, war. All the heartbreaking ways we don't live nowthis is the caring, eye-opening beauty of this rollicking, bittersweet gem of a book." PEN/Faulkner judge Al Young

Few other contemporary writers seem willing to deal with issues of race, class, and sexuality as explicitly as Alexie . . . [War Dances" is] a virtuoso performance of wit and pathos, a cultural and familial critique and a son's quiet, worthless scream against the night as his father expires . . . [that] reminds me of the early 20th Century master of the short form Akutagawa Riyunosuke. . . . Yet again Sherman Alexie has given us a hell of a ride."Barnes & Noble Reviews

"War Dances is maybe the most personal book Alexie has ever published, and it's certainly one of his most readable. The closest thing to a historical precedent for this book is Palm Sunday, Kurt Vonnegut's wildly entertaining self-described autobiographical collage' of anecdotes, fiction, reminiscences, and other work. . . . Each piece firmly builds on some part of the other, like the songs on a good mix tape. . . . The asymmetrical collection on display in War Dances works as a supremely gratifying reading experience."The Stranger

Penetrating . . . Alexie unfurls highly expressive language . . . [in] this spiritedly provocative array of tragic comedies."Publishers Weekly

Encounter [Alexie's work] once and you'll never forget it."Library Journal

Alexie is at his best in this collection of hilarious and touching stories."Milwaukee Journal Sentinel

[With War Dances], Sherman Alexie enhances his stature as a multitalented writer and an astute observer of life among Native Americans in the Pacific Northwest. . . . [An] edgy and frequently surprising collection."Bookpage

Remarkable . . . Wonderful . . . [Alexie's] work reveals both the light and dark within native American life. A paradox in his writing is that you can be in the middle of delighted laughter when he will hit you with a sentence so true to the core of a character's pain that you suck your breath or are startled to realize you are crying."The Globe and Mail

Alexie is a master storyteller whose prose is laced with metaphoric realities of life, mixed with triumph and tragedy. . . . War Dances is vintage Alexie . . . [and] should be savored. . . . Fans will not be disappointed."The Grand Rapids Press