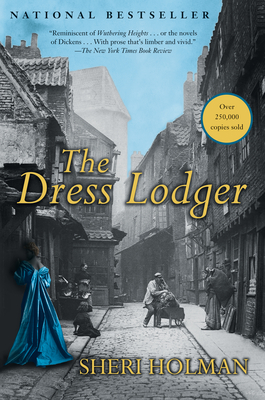 The Dress Lodger
Paperback

* Individual store prices may vary.
Other Editions of This Title:
Digital Audiobook (6/21/2005)
Audio Cassette (9/1/2000)
MP3 CD (8/1/2000)
Compact Disc (8/1/2000)
Compact Disc (7/1/2013)
Description
The Dress Lodger, a cunning historical thriller charged with a distinctly modern voice, is the book that launched Sheri Holman into bestsellerdom. With over 300,000 copies sold and a consistent top "Reader's Circle" performer for Ballantine, it was superbly reviewed, chosen as a New York Times Notable Book, and nominated for the International IMPAC Dublin Literary Award. In Sunderland, England, a city quarantined by the cholera epidemic of 1831, Gustine, a defiant fifteen-year-old beauty in an elegant blue dress rented from her pimp-landlord, sells her body to feed her only love: a fragile baby boy. When she meets surgeon Henry Chiver, who has recently been implicated in the Burke and Hare killings, in which beggars were murdered so the corpses could be sold for medical research, Gustine begins working for him by securing cadavers for his ill-equipped anatomy school. It is a gruesome job that will soon threaten the very things she's working so hard to protect.

Praise For The Dress Lodger…
Reminiscent of Wuthering Heights . . . or the novels of Dickens . . . With prose that's limber and vivid."The New York Times Book Review

Remarkable . . . A dazzling narrative that pulses with irony, ribald humor, and heartbreaking tragedy."People (Book of the Week)

Potent historical fiction . . . Beautifully written . . . A rich read with a Dickensian kick and a moral to be told."USA Today

As unsettling as it is brilliant . . . Seamlessly crafted and deserving of wide readership."The Washington Post Book World

Part medical thriller, part Greek tragedy, and wholly rewarding."Milwaukee Journal Sentinel

Holman seduces you. Her prose, tart, racy and somber, will sing in your soul a long while."Frank McCourt, author of Angela's Ashes

The Dress Lodger is as unsettling as it is brilliant. Holman attempts Herculean feats of plot and character, and the resulting novel is seamlessly crafted and deserving of wide acclaim and readership."The Washington Post Book World

The Dress Lodger not just a first-rate entertainment but a moving, enlightening one as well."The San Francisco Chronicle

If Clive Barker ever writes a historical novel, he'll be hard pressed to invent horrors more lurid than the rotting corpses and dangling viscera that grace, so to speak, this lurid and fascinating second novel from Holman. . . . An atmospheric tale that may have readers gasping for air. . . . Another stunner from a gifted and versatile new master of historical fiction."Kirkus Reviews (starred review)

Brilliantly stark portrayal of 19th-century urban life, class warfare, cruel medicine and encroaching pestilence. . . . With remarkable breadth and depth, the narrative vividly portrays the human suffering spawned by the early Industrial Revolution. . . . Holman delivers a wealth of morbid, authentic detail, as well as an emotional pivot in her captivating Moll Flanderslike heroine. The major characters are buttressed by a vivacious cast of minors. . . . Holman's style is risky and direct, treating scenes of Gustine's quick, humiliating back-alley couplings as well as the doctor's hypocritical sleaze, with unflinching emotional precision. This dazzlingly researched epic is an uncommon read."Publishers Weekly (starred review)

The Dress Lodger is Dickensian in a truer sense. . . . In another hundred years, Holmanian' may be a short form for tragic thriller, or some such unhelpful sub-category. But for the time being, we can simply appreciate this fine novelist's work on its own terms."The Globe and Mail (Canada)

The plot of The Dress Lodger deftly twists and then turns . . . Ms. Holman writes with a remarkable Dickensian flair. . . . The Dress Lodger is a remarkable book."Richmond Times Dispatch

With shades of Caleb Carr, Holman digs us up an atmosphere and character while she's unwinding her merciless plotshould anyone really trust a surgeon with no heart?and the results are both thrilling and, well, sort of yucky. A fine effort."The San Diego Union Tribune

Here's a splendid novel to sink your teeth intoyour heart and soul as well. . . . The Dress Lodger borders on revelation in the guise of a Dickensian thriller."Providence Sunday Journal

Sheri Holman vividly and convincingly conjures a fully textured fictive past peopled with strange and true characters."Charles Frazier

A riveting read . . . literate, witty, intelligent, thoughtful."Kate Atkinson

Quite Dickensian, in the best sense . . . This is one of those historical novels which has a passionate, angry feel to it, making it more than entertainment (though it is certainly entertaining)."Margaret Forster

Sheri Holman writes with extraordinary assurance and style."Miranda Seymour
Grove Press, 9780802144928, 291pp.
Publication Date: May 1, 2010