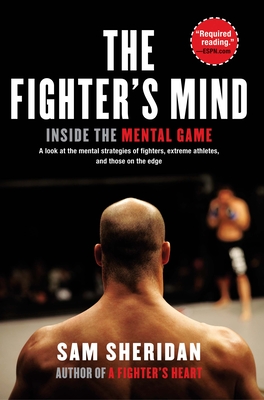 The Fighter's Mind
Inside the Mental Game
Paperback

* Individual store prices may vary.
Other Editions of This Title:
MP3 CD (9/8/2015)
Hardcover (2/2/2010)
Description
In his acclaimed national bestseller, A Fighter's Heart, Sam Sheridan takes readers with him as he steps through the ropes into the dangerous world of professional fighting.
From a muay Thai bout in Bangkok to Rio, where he trained with jiu-jitsu royalty, to Iowa, where he matched up against the toughest in MMA, Sheridan threw himself into a quest to understand how and why we fight. In The Fighter's Mind, Sheridan does for the brain what his first book did for the body. To uncover the secrets of mental strength and success, Sheridan interviewed dozens of the world's most fascinating and dangerous men, including celebrated trainers Freddie Roach and Greg Jackson; champion fighters Randy Couture, Frank Shamrock, and Marcelo Garcia; ultrarunner David Horton; legendary wrestler Dan Gable, and many more. What are their secrets? How do they stay committed through years of training, craft a game plan, and adjust to the realities of the ring? How do they project strength when weak, and remain mentally tough despite incredible physical pain? A fascinating book, bursting at the seams with incredible stories and insight, The Fighter's Mind answers these questions and many more.
Praise For The Fighter's Mind: Inside the Mental Game…
Another must read. . . . Sheridan never gets bogged down in psychology, rendering his book accessible even to non-fight fans. The lessons handed down from the book's subjects are fleshed out on their own and by Sheridan, painting a complete picture of the pain and joy it takes to get to the top, stay there, and eventually surrender the crown." FIGHT! Magazine

Fantastic One of the best MMA books I've ever read, and I've certainly read my fair share." Eric O'Brien, Way of the Warrior," ESPN radio

You don't have to care about fighting, or even know that MMA stands for mixed martial arts, to find insights into human behavior in Sam Sheridan's The Fighter's Mind."Bloomberg

In tasking himself with peeling back the layers of a complex and multifaceted activity, [Sheridan is] raising the bar for everyone else. . . . If you want a better grip on a sport even some of its participants may not fully understand, his work is quickly becoming required reading." Jake Rossen, ESPN.com

The Fighter's Mind is an entertaining and enlightening read and is a worthy addition to any MMA fan's bookshelf." Dave Doyle, Yahoo! Sports

Sheridan wrote one of my favorite books of recent times, The Fighter's Heart, and is one of those writers who could write about getting the oil changed in his car and still make it riveting So it comes as no surprise that The Fighter's Mind is a terrific read."Jeff Fox, MMA Manifesto

A must-read for fight fans." Evan Holober, The Queensberry Rules

"Tirelessly curious and game, deftly sidestepping pretentiousness and macho posturing and all the other usual traps that snare writers who delve into the form and meaning of fighting, Sam Sheridan seeks out fearsome teachers and comes away with a rare prize: a deep understanding of the mental aspect of the fighter's craft and what it can teach us about howand how notto live." Carlo Rotella, author of Cut Time, An Education at the Fights

Having opened up professional fighting worldwide in the best-selling A Fighter's Heart, former Merchant Marine and Harvard grad Sheridan here plumbs the mental side of the sport. this should be a knockout with fight fans." Library Journal

As accurate and perceptive an account of what makes top fighters tick as I have seen. Sam Sheridan is a great observer and with his profiles of some the top names in MMA, he cuts through the clutter and highlights what it is about these men's psychologies and thought processes that has made them so dominant. There is so much valuable information in this book that I read it once and then went back through it again with a highlighter. The chapter on legendary trainer Greg Jackson alone makes the book worth purchasing."Donovan Craig, Editor In Chief, FIGHT! Magazine

Relevant for fighters and non-fighters alike, [The Fighter's Mind] creates new bridges between the fight community and the rest of the world."Lockflow.com

In Sam Sheridan's The Fighter's Mind you are taken on a journey that starts in the mind of wrestling great Dan Gable and meanders through the inner psyche of today's fighters. Paradoxically, the knowledge illuminated from this fascinating journey remains timeless and true, reflecting the wisdom of the archetypal ancient warriortruly a great contribution to the field of mental athletic peak performance." Michael Lardon, M.D., sports psychologist and author of Finding Your Zone
Grove Press, 9780802145017, 304pp.
Publication Date: November 9, 2010