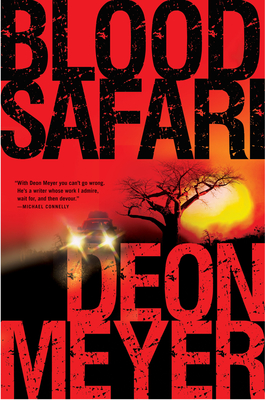 Blood Safari (Mass Market Paperbound)
Grove Press, 9780802145062, 556pp.
Publication Date: September 7, 2010
Other Editions of This Title:
Digital Audiobook (10/11/2010)
CD-Audio (10/12/2010)
Hardcover (8/1/2009)
* Individual store prices may vary.
Description
"This is a big, sexy novel. It's suspenseful, but it's also clever and funny." --Christopher Merrill, The World on PRI
Blood Safari is a harrowing novel from internationally acclaimed thriller writer Deon Meyer, an expert storyteller whose wickedly fast narratives reveal the heart of his enthralling country. In Blood Safari, Emma Le Roux, a beautiful young woman in Cape Town, sees her brother named on the television news as the prime suspect in the killing of four poachers and a witch doctor. But it can't be possible: Emma's brother is supposed to be dead, having disappeared twenty years ago in Kruger National Park. Emma tries to find out more but is attacked and barely escapes. So she hires Lemmer, a personal security expert, and sets out into the country in search of the truth.
A complicated man with a dishonorable past, Lemmer just wants to do his job and avoid getting personally involved. But as he and Emma search for answers from the rural police, they encounter racial and political tensions, greed, corruption, and violence unlike anything they have ever known.
Praise For Blood Safari…
With Deon Meyer you can't go wrong. He's a writer whose work I admire, wait for, and then devour." Michael Connelly

"Right now, of course, Scandinavian crime novels are all the rage, thanks to Stieg Larsson's Millennium trilogy ... But if you're sick to death of frozen landscapes, punky computer hackers and secret Nazis, you might want to check out South African writer Deon Meyer. ... Meyer sets the usual noir elements (solitary investigator with a past, beautiful and mysterious woman who buys his help) against a post-apartheid South Africa still struggling with racial and cultural divisions and devastating environmental problems ... but his real skill is melding tough-guy tropes into a story that feels different from others you've read, even when it shares familiar elements. I'll read more by Meyer. You should too." Connie Ogle, Miami Herald

This is a big, sexy novel. It's suspenseful, but it's also clever and funny."Christopher Merrill, "The World" on PRI

Every so often I pick up a book and simply devour it from first page to final paragraph. Blood Safari is one of those. It packs in South African history, culture, complexities and a finely woven plot, and even manages a very sweet little romance. If you're looking for a weekend escape, this is your frigate. This brilliant book takes us into the riven heart of South Africa where tribal loyalties, including those of the White Tribe," are in conflict, and where reconciliation is still a hope rather than a reality. The heart of the mystery is a truly evil bit of forgotten history, and Meyer makes it live again in a chilling description. This is a book that both takes you away and makes you think, but most of all, it's a wonderful bit of masterful storytelling, with a gorgeous setting and complex, original characters." Margaret Cannon, Globe and Mail

Meyer is a serious writer who richly deserves the international reputation he has built. Blood Safari manages to be both an exciting read and an eye-opening portrait of a nation." Patrick Anderson, The Washington Post

We've all read authors who deserve greater success than they apparently enjoy. Some of us even take it upon ourselves as some sort of mission to put their books in the hands of friends and acquaintances. That's what I hope to accomplish .... If you haven't read Deon Meyer you need to start -- now! Deon Meyer is someone who deserves a greater audience." George Easter, Deadly Pleasures

The action is as exciting as any reader of thrillers has a right to demand ... As Meyer writes, money and poverty and greed do not lie well together. But they make a hell of a thriller." The Guardian (UK)

Pulsating and gripping." The Sunday Times (UK)

Terrific pacing and structure, a complex and far-reaching plot, and adventure and suspense that don't let up make Blood Safari a very satisfying read." Verna Suit, I Love a Mystery

Deon Meyer is . . . one of the sharpest and most perceptive thriller writers around." The Times (UK)

A superb novel." The Chronicle Herald (Canada)

As in all Meyer thrillers, things are not as they seem. The Mpumalanga Lowveld becomes a sinister setting for a fascinating plot and the type of excursion into the past that has become a Meyer coup de grâce. . . . While the action scenes are plentiful and excellent, the plot is refineda delicately prepared five-course meal."Mail & Guardian (South Africa)

So much more than the hunt for an elusive man. In thriller fashion, the author keeps the momentum pulsating while his two main characters duck bullets, run for their lives, fight off man and beast. But all the while he is unraveling the story of South Africa today, and of twenty years ago; the ravaging of land, the needless slaughter of animals for greed, and how the delicate balance is between all the creatures and our own survival. It's always a special pleasure to read a good mystery, close the final cover and feel thoroughly entertained. But it takes a striking talent to provide insight, knowledge, and a reason to question and examine outdated or misleading concepts and information. Deon Meyer demonstrates all of these with a dry wit, provocative writing, and a perceptive awareness for human folly." Harriet Stay, Mystery News

Plenty of malicious parties come into the mix [in Blood Safari]: animal poachers, armed conservationists, bitter black policemen, Afrikaner land developers and politicians who act as if apartheid has never gone away. Meyer is expert in balancing all the lethal interests. He supplies much South African history and makes a depressing case for the inevitable disappearance of birds and animals that have been native to Africa for centuries. All the while, Meyer never loses sight of a tricky set of mysteries that Lemmer, the bodyguard who's no slouch as a detective, needs to resolve on behalf of his client." The Toronto Star

A thriller writer that I put along side some of my favorites like Lee Child or John Sanford." Linda Wertheimer, NPR

Meyer is simply excellent. Lemmer is . . . a sardonic, accurate observer of South African foibles, especially those of the Afrikaner. It is all rendered with enough wry, dry humor to make the reader laugh out loud." Business Day (South Africa)

An adventurous investigation through South African wilderness, society, and history . . . Meyer gets better and better." Die Welt (Germany)

Meyer cleverly brings in a major unsolved South African mystery and the problems of poaching, and there are plenty of twists in the plotting to keep the reader hooked. South Africa, with its violent past and present, makes a suitable setting for this kind of bookthings that might not be believable elsewhere could easily happen here. . . . a well-plotted thriller." The Witness (South Africa)
or
Not Currently Available for Direct Purchase