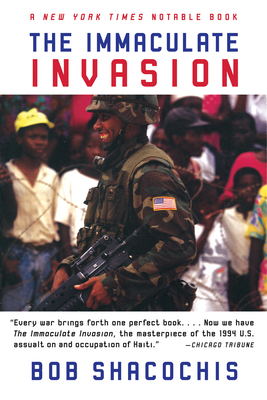 The Immaculate Invasion (Paperback)
Grove Press, 9780802145185, 430pp.
Publication Date: June 8, 2010
Other Editions of This Title:
Paperback (5/1/2000)
* Individual store prices may vary.
Description
Widely celebrated upon its original publication in 1999, National Book Award-winning writer Bob Shacochis's The Immaculate Invasion is a gritty, poetic, and revelatory look at the American intervention in Haiti in 1994. In 1994, the United States embarked on Operation Uphold Democracy, a response to the overthrow of the democratically elected Haitian government by a brutal military coup. Bob Shacochis traveled to Haiti for Harper's and was embedded--long before the idea became popular in Iraq--with a team of Special Forces commandos for eighteen months and came away with tremendous insight into Haiti, the character of American fighters, and what can happen when an intervention turns into a misadventure. With the eye for detail and narrative skills of a critically acclaimed, award-winning novelist, Shacochis captures the exploits and frustrations, the inner lives, and the heroic deeds of young Americans as they struggle to bring democracy to a country ravaged by tyranny. The Immaculate Invasion is required reading, essential for anyone who wants to understand what has happened in Haiti in the past and what will happen in the future.

Praise For The Immaculate Invasion…
"Every war brings forth one perfect book . . . Now we have The Immaculate Invasion, the masterpiece of the 1994 U.S. assault on and occupation of Haiti." Chicago Tribune

A bitter, funny, engrossing adventure between the mysteries and comedy of the American military machine and the infinite suffering of Haiti." Herbert Gold, San Francisco Chronicle

An unforgettable mixture of hard journalism and sharp commentary that captures much of the absurdity and futility of the 1994 American-led U.N. invasion of Haiti." Kenneth Maxwell, Foreign Affairs

An extraordinary book about an extraordinary event. . . I felt transported to Haiti. I could hear it. I could smell it. At moments I felt moved almost to tears, only to find myself, a page or two later, laughing out loud." Tracy Kidder