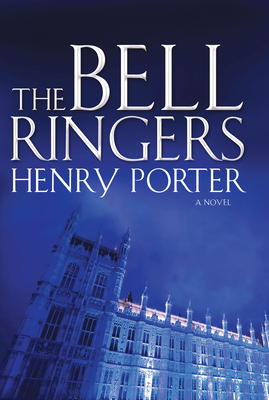 The Bell Ringers
Paperback

* Individual store prices may vary.
Other Editions of This Title:
Digital Audiobook (3/22/2010)
MP3 CD (3/23/2010)
MP3 CD (3/23/2010)
Compact Disc (3/23/2010)
Compact Disc (3/23/2010)
Compact Disc (3/23/2010)
Hardcover (2/2/2010)
Description
In Henry Porter's critically acclaimed novel The Bell Ringers, England in the near future is eerily familiar. There are concerns about terrorism, the press is feisty, and the prime minister is soon to call a general election. But quietly--largely unknown to the public or even most in government--things have become undeniably Orwellian. Cameras with license-plate recognition software record the movements of every car. A sophisticated top-secret data-mining system known as Deep Truth combs through personal records, identifying violators of minor laws as well as those disposed to antigovernment beliefs. In the interest of security, the divide between private and public has crumbled. Freedom has given way to control. David Eyam was once the prime minister's head of intelligence. He was one of those who knew about Deep Truth, but he suffered a fall from grace. Then, while on vacation in Columbia, he was killed by a terrorist bomb. Now his former lover, Kate Lockhard, has been named as the benefactor of his estate. But Eyam has left her more than just wealth; Kate is also heir to his dangerous secrets. Chilling, absorbing, and unsettlingly realistic, The Bell Ringers is a fearless work from a talented novelist at the top of his game.

Praise For The Bell Ringers…
Praise for The Bell Ringers

A sophisticated, engrossing, and important political thriller." Patrick Anderson, The Washington Post

Superb." Anna Mundow, The Boston Globe

A wonderful novel. I read it addictively and was sorry the minute it was over. It's way too good to be called a thriller." Richard Ford

Porter has battled for years against the insidious creep of government snooping. If you worry about too large a dollop of didacticism, fear not: The Bell Ringers is a thriller, and Porter is a stylist who enjoys a bit of theatrical flourish. You'll find yourself imagining the movie it would makeNorth by Northwest meets House of Cards. Still, the message is clear, and persuasive. Porter claims that the novel is set in the near future. Don't be fooled." Cullen Murphy, Vanity Fair

[An] outstanding near-future thriller. . . . Shaken U.S. readers will wonder how much of the fiction might soon become fact on this side of the Atlantic."Publishers Weekly (starred review)

Read it and you'll be hooked." Alan Cheuse, Dallas Morning News

Henry Porter writes fabulous novels. Empire State was one of my favorites a couple of years back. The Bell Ringers is even better, a spy novel for everyone who loves le Carré and Deighton, but with a crisp modern woman in charge. You won't put this novel down until the final paragraph." Margaret Cannon, The Globe & Mail (Canada)

A vibrant thriller dealing with the surveillance state and the erosion of individual liberty. Although set in the future, it feels as up-to-the-minute as tomorrow's headlines." Roger Alton, The New Statesmen, Books of the Year

The prose sings . . . Gripping and chillingly realistic." Kirkus Reviews

[The] characters are skillfully rendered, and Porter deftly ratchets up the tension as MI5, hired assassins, and police close in . . . . A superb thriller." Thomas Gaughan, Booklist (starred review)

The Orwellian parallels are clear, but Porter gives the subject a subtle, complex and well-timed shot in the arm." Adam Woog, The Seattle Times
Grove Press, 9780802145260, 416pp.
Publication Date: January 11, 2011