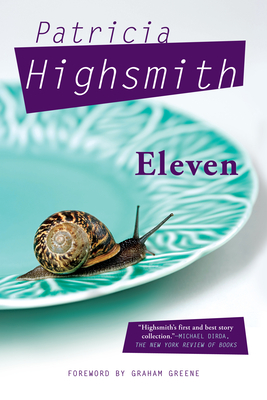 Eleven (Paperback)
Grove Press, 9780802145307, 191pp.
Publication Date: July 12, 2011
Other Editions of This Title:
Paperback (10/1/1989)
* Individual store prices may vary.
Description
The legendary writer Patricia Highsmith is best remembered today for her chilling psychological thrillers The Talented Mr. Ripley and Strangers on a Train. A critically acclaimed best seller in Europe, Highsmith has for too long been underappreciated in the United States. Starting in 2011, Grove Press will begin to reissue nine of Highsmith's works. Eleven is Highsmith's first collection of short stories, an arresting group of dark masterpieces of obsession and foreboding, violence and instability. Here naturalists meet gruesome ends and unhinged heroes disturb our sympathies. This is a captivating, important collection from "one of the truly brilliant short-story writers of the twentieth century" (Otto Penzler). Includes an introduction by Graham Greene.

Praise For Eleven…
What is striking about these stories is their integrity: they are all of a piece; they grow, with that tensed-spring inevitability of the unfolding rose observed by elapsed-time photography; together they are a brilliant collection." The Sunday Times (London)

The mood of nagging apprehension is consistent, skillfully underplayed so that just the right amount of chill is induced with an economy of means." J. R. Frankes, The New York Times Book Review

Highsmith is the poet of apprehension rather than fear. . . . In her short stories Highsmith naturally has to adopt a different method. She is after the quick kill rather than the slow encirclement of the reader, and how admirably and with what field-craft she hunts us down." Graham Greene

Highsmith's genius is in presenting fantasy's paradox: successes are not what they seem . . . Where in the traditional fairy tale the heroine turns the toad into a prince, in Highsmith's fable the prince becomes a toadsuccess is nearly always fatal. . . . Combining the best features of the suspense genre with the best of existential fictiona reflectionthe stories are fabulous, in all senses of that word." Paul Theroux

"A brilliant collection." The Sunday Times (UK)

One of the truly brilliant short-story writers of the 20th century." Otto Penzler

"She's sui generis, a writer of almost occult power."Richard Rayner, Los Angeles Times