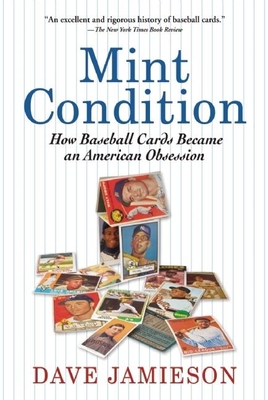 Mint Condition
How Baseball Cards Became an American Obsession
Paperback

* Individual store prices may vary.
Other Editions of This Title:
MP3 CD (7/12/2016)
Hardcover (4/6/2010)
Description
When award-winning journalist Dave Jamieson rediscovered his childhood baseball card collection he figured that now was the time to cash in on his "investments." But when he tried the card shops, they were nearly all gone, closed forever. eBay was no help, either. Baseball cards were selling for next to nothing. What had happened? In Mint Condition, the first comprehensive history of this American icon, Jamieson finds the answers and much more. In the years after the Civil War, tobacco companies started slipping baseball cards into cigarette packs as collector's items, launching a massive advertising war. Before long, the cards were wagging the cigarettes. In the 1930s, baseball cards helped gum and candy makers survive the Great Depression, and kept children in touch with the game. After World War II, Topps Chewing Gum Inc. built itself into an American icon, hooking a generation of baby boomers on bubble gum and baseball cards. In the 1960s, royalties from cards helped to transform the players' union into one of the country's most powerful, dramatically altering the business of the game. And in the '80s and '90s, cards went through a spectacular bubble, becoming a billion-dollar-a-year industry before all but disappearing. Brimming with colorful characters, this is a rollicking, century-spanning, and extremely entertaining history.
Grove Press, 9780802145321, 272pp.
Publication Date: April 12, 2011
or
Not Currently Available for Direct Purchase