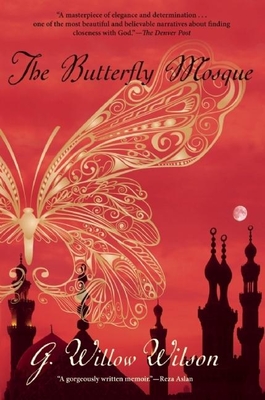 The Butterfly Mosque
Paperback

* Individual store prices may vary.
Other Editions of This Title:
Hardcover (6/1/2010)
MP3 CD (5/31/2016)
Description
The Butterfly Mosque, journalist G. Willow Wilson's remarkable story of converting to Islam and falling in love with an Egyptian man in a volatile post-9/11 world, was praised as "an eye-opening look at a misunderstood and often polarizing faith" (Booklist) and "a tremendously heartfelt, healing crosscultural fusion" (Publishers Weekly). Inspired by her experience during a college Islamic Studies course, Wilson, who was raised an atheist, decides to risk everything to convert to Islam and embark on a fated journey across continents and into an uncertain future. She settles in Cairo, where she attempts to submerge herself in a culture based on her adopted religion and where she meets Omar, a man with a mild resentment of the Western influences in his homeland. They begin a daring relationship that calls into question the very nature of family, belief, and tradition. Torn between the secular West and Muslim East, Wilson records her intensely personal struggle to forge a "third culture" that might accommodate her values without compromising them or the friends and family on both sides of the divide.
Praise For The Butterfly Mosque…
A Seattle Times Best Book of the Year

The Butterfly Mosque is replete with insights into faith, family, cross-cultural courtship and the inevitable clash of cultures,' making it an absorbing read. . . . Wilson's memoir offers the reader valuable insights into the Islamic faith. . . . A remarkable journey, one that illuminates the humanity in us all."The Seattle Times

Captivating . . . [An] excellent memoir . . . [that] deserves attention; not just for the clarity of [Wilson's] style and her shrewd observations, but for her sincerity and courage in following her own truth."The Globe and Mail

Eloquent . . . A life-altering adventure in love, faith, and surrender . . . [Wilson] wins the reader over with her courage, her keen intelligence, her insatiable hunger for truth, and her fine writing. It is riveting to watch a liberal, fiercely independent young American transform into a Muslim and an Egyptian daughter-in-law. . . . Much more than a coming-of-age story, Wilson's memoir explores expatriates and anti-Westernism, economics and fundamentalism, Egyptian culture and feminism . . . [and] builds a bridge between the East and the West through her writing."Charlotte Observer

Wilson's book, particularly in these treacherous times of mistrust and paranoia, is a masterpiece of elegance and determination. . . . Wilson has written one of the most beautiful and believable narratives about finding closeness with God that makes even the most secular reader wince with pleasure for her. . . . A natural-born storyteller."The Denver Post

Wilson skillfully conveys the terms of complex sociological discord. . . . Her careful examination and forthright wit make her an ideal ambassador to those who haven't . . . separated [Islam] from its attendant terrorist factions and stereotypes. . . . Wilson has the objective sensitivity to understand the attitudes and arguments facing her; she's multicultural, eloquent and humbly persuasive. And even better, she knows how to tell a great story."Paste Magazine

Wilson's illuminating memoir offers keen insights into Islamic culture. . . . An eye-opening look at a misunderstood and often polarizing faith, Wilson's memoir is bound to spark discussion."Booklist (starred review)

More than one skeptical reader was thoroughly won over by [Wilson's] lack of preachiness or self-righteousness."Elle (Readers' Prize)

A gorgeously written memoir about what it means to be human in a fractured world, told with warmth and wit to spare. The Butterfly Mosque is a book that will stay with you for years."Reza Aslan, author of No god but God and How to Win a Cosmic War

Satisfying and lyrical . . . [The Butterfly Mosque] proves a tremendously heartfelt, healing cross-cultural fusion."Publishers Weekly

[An] honest and uplifting memoir . . . [that] embracesnot demonizesboth Muslims and the West as critical foundations for [Wilson's] spiritual journey."The Huffington Post

Thoughtful . . . Wilson's gorgeously written, deeply felt memoir is more than a plea for understanding. It's also a love story and an exploration of life in a culture far removed from ours. . . . [The Butterfly Mosque] pulls aside the veil on a world many Americans judge based on thin, sometimes ugly, media stereotypes. Wilson's sincere love for her faith blooms on almost every page [and] that heartfelt desire to know The Other infuses the book with soul."--Boulder Daily Camera

Memoirs like Wilson's continue to be an important counterpoint to the tales of Mideast belligerence that fill the nightly news."Winnipeg Free Press
Grove Press, 9780802145338, 304pp.
Publication Date: June 7, 2011
About the Author
G. Willow Wilson was born in New Jersey in 1982 and raised in Colorado. She is also the author of the critically acclaimed comics Air and Vixen. She divides her time between Cairo and Seattle. Visit Willow's website at gwillowwilson.com