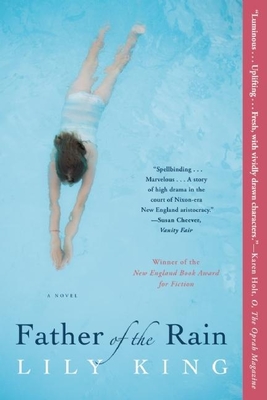 Father of the Rain
Paperback

* Individual store prices may vary.
Other Editions of This Title:
Paperback (11/9/2022)
MP3 CD (5/31/2016)
July 2010 Indie Next List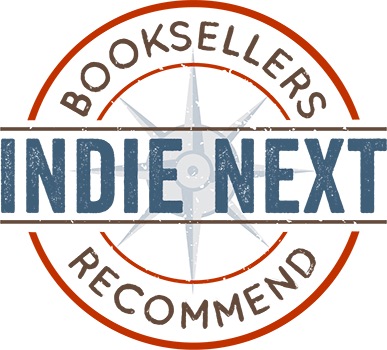 "Told loosely over four decades, Father of the Rain is the story of Daley and her complicated and sometimes painful relationship with her alcoholic father. We are taken up with each step of her path as she moves from recognition of the problem to anger and defiance, to wanting to be the savior and, finally, acceptance. All of this is masterfully woven in the beautiful prose of author Lily King."
— Kathleen Costello, Maria's Bookshop, Durango, CO
View the List
Description
Winner of the New England Book Award for Fiction and a New York Times Editors' Choice, Lily King's masterful third novel received glowing critical praise upon its initial publication and is poised to make an even bigger splash in paperback. Gardiner Amory is a New England WASP who's beginning to feel the cracks in his empire. Nixon is being impeached, his wife is leaving him, and his worldview is rapidly becoming outdated. His daughter, Daley, has spent the first eleven years of her life negotiating her parents' conflicting worlds: the liberal, socially committed realm of her mother and the conservative, decadent, liquor-soaked life of her father. But when they divorce, and Gardiner's basest impulses are unleashed, the chasm quickly widens and Daley is stretched thinly across it. As she reaches adulthood, Daley rejects the narrow world that nourished her father's fears and prejudices, and embarks on her own life--until he hits rock bottom. Lured home by the dream of getting her father sober, Daley risks everything she's found beyond him, including her new love, Jonathan, in an attempt to repair a trust broken years ago.
Praise For Father of the Rain…
Winner of the New England Book Award for Fiction
Publishers Weekly Best Book of the Year
New York Times Editors' Choice
O Magazine and Marie Claire Summer Reading pick
Amazon.com Best Book of the Month

Father of the Rain is a big, powerful punch of a novel, a gripping epic about a father and daughter that plumbs the dark side of a family riven by addiction and mental illness. . . . There's something so raw and affecting about Daley's love for her damaged father that the book will linger in your mind long after you've finished it."Entertainment Weekly (A)

Marilynne Robinson's Home and Roxana Robinson's Cost are the most exquisite recent [literary] examples . . . of what living with an addict must be like. . . . Now Lily King's Father of the Rain is a worthy companion on this theme. Surprising and wise . . . by a writer who understands the horrible burden of trying to save someone who's ruining your life. . . . A brilliant exploration of the attraction of martyrdom, the intoxication of playing savior. . . . King poses the questions so powerfully that you can't answer them easily: What kind of abuse finally abrogates one's responsibility to a self-destructive parent? What is too much to ask of a child? . . . An absorbing, insightful story written in cool, polished prose right to the last conflicted line."Washington Post

Spellbinding . . . Marvelous . . . A story of high drama in the court of Nixon-era New England aristocracy . . . King brilliantly captures the gravitational pull of the past and the way it can eclipse the promise of the present. . . . You won't be able to stop reading this book, but when you do finally finish the last delicious page and look up, you will see families in a clearer and more forgiving way."Vanity Fair

Luminous . . . Uplifting . . . Fresh, with vividly drawn characters . . . and a clear eye for the details of their singularly messed-up relationships."O, the Oprah Magazine

King infuses soul into this tale of a family torn apart by abuse."Marie Claire (Summer Reads)

King is a beautiful writer, with equally strong gifts for dialogue and internal monologue. Silently or aloud, her characters betray the inner tumult they conceal as they try to keep themselves together . . . [and] demonstrate through their confusions that what we like to call coming-of-age is a process that doesn't always end."Liesl Schillinger, The New York Times Book Review

You know that moment when the ingenue in the horror movie heads downstairs to check the radiator, and you're screaming, dumbfounded, at the screen? That's the sort of protective rage you feel for Daley Amory, the narrator of Lily King's novel Father of the Rain. . . . Haunting, incisive . . . King is brilliant when writing from the eyes of a tween, all self-conscious curiosity but bright and hopeful as a starry sky. And as Daley grows up and learns how to trust and to love in spite of herself, King cuts a fine, fluid line to the melancholy truth: Even when we're grown and on our ownwives, mothers, CEOswe still long to be someone's daughter. The dream of an absent ideal father is like a thick, soft blanket; find one to burrow under, and enjoy."Elle

[An] excellent novel . . . Sensitive and perceptive . . . King gives us the messy complexities of family without tidying them up or providing neat morals. . . . The moving final pages depict a reconciliation all the more realistic because no one dramatically repents or forgives; they simply acknowledge bonds that can't be broken. . . . [Father of the Rain] may be King's best yet." Chicago Tribune

Lily King's breakout third novel, Father of the Rain, harrowingly evokes a daughter's fierce devotion to her magnetic WASP father, whose flair for cocktail-fueled self-destruction rivals anything out of Cheever."Vogue

Searing . . . Father of the Rain excavates the powerful forces of love and dysfunction with staggering aplomb. . . . King pulls no punches in her treatment of Gardiner's alcoholism. . . . The principal feat of this powerful, moving novel is how deeply we understand and feel compassion for Daley, and, amazingly, for Gardiner too; instead of condemning him, we enter into their dynamic on its own distorted terms. This novel is as unflinching as it is beautifully true. You won't soon forget it."Cleveland Plain Dealer

A beautiful, ruthless novel . . . What is particularly fine about Father of the Rain is King's unflinching description of Daley's emotional universe. The devastation in a child's psyche caused by an alcoholic or drug-addicted parent has never been so well described, so far as I know. The 1970s were the years that kicking over the traces, discarding the supposed repression of centuries, became common. King shows us in precise and inescapable terms just what havoc that freedom' wrought for the most sensitive. . . . Lily King's Daley triumphs, but she is also Lily King's triumph."The Globe and Mail

Lily King writes with huge compassion about this shattered family and the girl growing up in the wreckage. . . . Father of the Rain is a relentless examination of a damaged man and his traumatized, but still loving, daughter. Its strength lies in the particularity of its detail. King creates a fleshed-out world in which, over and over, Gardiner feeds his dogs, opens bottles of vodka and stirs his drinks with his finger. All that happened is here, along with all the feelings."Vancouver Sun

John Cheever and Barbara Kingsolver . . . come to mind when reading Father of the Rain. . . . King shows once again her feel for the emotional undercurrents that control our most important relationships."The Seattle Times

Lily King's Father of the Rain is one of the most richly satisfying and haunting novels I've read in a long time."Richard Russo

We are taken up with each step of [Daley's] path as she moves from recognition of the problem, to anger and defiance, to wanting to be the savior, and finally acceptance. All masterfully woven in the beautiful prose of author Lily King."Shelf Awareness

King captures with easy strokes the bold and dangerous personalities lurking inside the . . . frame of domestic drama. . . . Original and deftly drawn, the work of a master psychological portraitist."Publishers Weekly

A riveting portrait of a father so spectacularly dysfunctional that he rivals Alfred Lambert, in Jonathan Franzen's The Corrections. . . . Readers will be thoroughly taken by King's exceptionally fluid prose and razor-sharp depiction of the East Coast country-club set." Joanne Wilkinson, Booklist

[A] powerful family study . . . Daley is so beautifully portrayed that readers will clench their fists and protectively rail against her actions, only to be taken breathtakingly by surprise when her complicated, determined strength to do the right thing for both her father and herself replaces her losses with a wondrous resolution. Highly recommended."Library Journal (starred review)

Lily King's Father of the Rain is the most unsettling and exhilarating kind of love storythe sort that interrogates just how resilient the bonds of unconditional love can remain, even after a lifetime of damage at the hands of a heedless parent. This is a passionate and beautifully observed and fair-minded novel"Jim Shepard, author of Like You'd Understand, Anyway

In Father of The Rain Lily King creates a brilliant portrait of a man who lives in the everyday world but follows almost none of the everyday rules. The result for his family is excruciating and for the reader a wonderfully intense and absorbing novel that reminds us of just how complicated love can be."Margot Livesey, author of The House on Fortune Street

One of King's extraordinary feats in Father of the Rain is her capacity to travel unflinchingly into the darkest recesses of family bonds, but do it with such unerring specificity that the effect is both comic and utterly heartbreaking. Like The Glass Castle, by Jeannette Walls, this book beautifully depicts the emotional tightrope a child must walk with a charismatic, intelligent, and emotionally crippled parent. King also has a suspense writer's gift to make the ways her characters love and betray each other a complete, up-late-into-the-night page-turner with an ending that simply took my breath away."Cammie McGovern, author of Eye Contact and Neighborhood Watch

We think back through our mothers if we are women,' wrote Virginia Woolf, but Lily King's powerful novel about a daughter's odyssey to find her way through the tangle of her father's heart and so find herself, claims new terrain. In King's masterful hands, Daley Amory's quest for her drunk, charming, impossible father is heart-breaking and familiar in the oldest sense of the term. I wanted to shut my eyes, and couldn't because I couldn't stop reading. When I finished, I cried for us all."Sarah Blake, author of The Postmistress

A moving, impeccably written drama . . . Packed with phenomenal depth. . . . Fresh with resonant details . . . Beautifully structured . . . King is skilled at zeroing in on the nitty-gritty dynamics of this intense father-daughter relationship . . . [and displays] her ability to capture with visceral complexity a primal yearning to be treated with care."The Barnes and Noble Review

King doesn't flinch away from telling family secretsthe embarrassing and hurtful moments, the points of danger and ridiculousness. . . . Anyone with complicated family relationships can understand feeling disgust and longing, and King writes it all so clearlyhow the little things mean so much and cad add up to so much time lost."City Paper (Baltimore)
Grove Press, 9780802145345, 368pp.
Publication Date: May 10, 2011
About the Author
Lily King's first novel, The Pleasing Hour won the Barnes & Noble Discover Award and was a New York Times Notable Book and an alternate for the PEN/Hemingway Award. Her second book, The English Teacher, was a Publishers Weekly Top Ten Book of the Year, a Chicago Tribune Best Book of the Year, and the winner of the Maine Fiction Award. Lily is the recipient of a MacDowell Fellowship and a Whiting Award. Her short fiction has appeared in literary magazines including Ploughshares and Glimmer Train, as well as in several anthologies. She lives with her family in Maine. Visit Lily's website at lilykingbooks.com