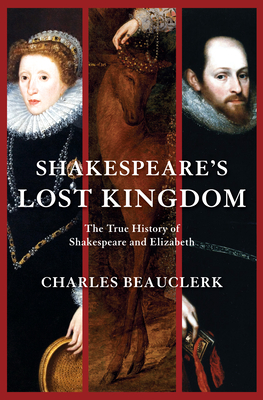 Shakespeare's Lost Kingdom
The True History of Shakespeare and Elizabeth
Paperback

* Individual store prices may vary.
Other Editions of This Title:
Hardcover (4/13/2010)
Description
It is perhaps the greatest story never told: the truth behind the most-enduring works of literature in the English language, perhaps in any language. Who was the man behind Hamlet? What passion inspired the sonnets, whose words were so powerful that "not marble, nor the gilded monuments Of princes, shall outlive this powerful rhyme? In Shakespeare's Lost Kingdom, critically acclaimed historian Charles Beauclerk pulls off an astounding feat, humanizing the Bard who for centuries has remained beyond our grasp. Beauclerk has spent more than two decades researching the authorship question, and if the plays were discovered today, he argues, we would see them for what they are--shocking political works written by a court insider, someone with the monarch's indulgence, shielded from repression in an unstable time of armada and reformation. But the author's identity was quickly swept under the rug after his death. The official history--of an uneducated merchant writing in near obscurity, and of a virginal queen married to her country--dominated for centuries. Shakespeare's Lost Kingdom delves deep into the conflicts and personalities of Elizabethan England, as well as the plays themselves, to tell the true story of the Soul of the Age.
Praise For Shakespeare's Lost Kingdom: The True History of Shakespeare and Elizabeth…
Praise for Shakespeare's Lost Kingdom

An intriguing book that proposes another forceful argument in this age old debate. Beauclerk's detailed exploration divides the mythical notions from the historical truths. You will have a hard time putting this book down." Roland Emmerich

Beauclerk's learned, deep scholarship, compelling research, engaging style and convincing interpretation won me completely. He has made me view the whole Elizabethan world afresh. The plays glow with new life, exciting and real, infused with the soul of a man too long denied his inheritance." Sir Derek Jacobi

This is a book for anyone who loves Shakespeare. No matter who you think may have created the works of Shakespeare, the Earl of Oxford's mysterious life, and that of his Queen, must be near the heart and source of the creation. Three cheers for Mr. Beauclerk's daring to explore one of the most scandalous and potentially revolutionary theories about the authorship of these immortal works."Mark Rylance, First Artistic Director of Shakespeare's Globe Theatre

An extraordinary and controversial interpretation of Shakespeare's origins, which certainly provokes much thought. A radical analysis of Shakespeare's text, leading to a conclusion which is bound to amaze the reader and the scholar. Who was Shakespeare?" Steven Berkoff

Captivating . . . Beauclerk writes persuasively, mixing history with quotes from Shakespeare's works in a style that's far from the overly-academic manner you might expect for such a detailed literary and historical analysis. As the pieces of his theory come together, even the most ardent adherent to Stratfordian mythology" (that a lowly son of a glove-maker from Stratford-upon-Avon was Shakespeare) may find themselves having second thoughts. Why does it matter if de Vere wrote the plays and poems? If so, it would provide a whole second level of meaning to them. All those characters with double identities form de Vere's autobiography as he tries to find his place in the world as a bastard, fool, and crownless king." Kevin Lauderdale, Author Magazine
Grove Press, 9780802145383, 440pp.
Publication Date: February 7, 2011
About the Author
Charles Beauclerk is a writer, lecturer, and historian. A descendant of Edward de Vere, he is the founder of the De Vere Society, former president of the Shakespeare Oxford Society, and trustee of the Shakespeare Authorship Trust. He is also the author of Nell Gwyn: Mistress to a King.