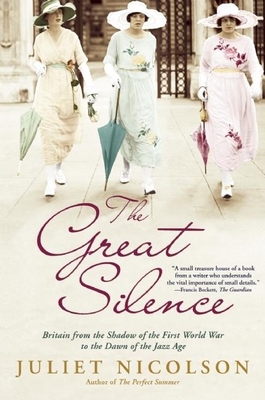 The Great Silence (Paperback)
Britain from the Shadow of the First World War to the Dawn of the Jazz Age
Grove Press, 9780802145406, 302pp.
Publication Date: June 14, 2011
Other Editions of This Title:
Hardcover (6/1/2010)
* Individual store prices may vary.
Description
Armistice Day 1918 dawns with great joy for victorious Britain, but the nation must confront the carnage war has left in its wake. In The Great Silence, Juliet Nicolson looks through the prism of daily life to narrate the rich but unknown history of the slow healing Britain undergoes in the two years following that day. The two-year anniversary of the Armistice brings some closure at last: the remains of a nameless soldier, dug up from a French battlefield and escorted to London in a homecoming befitting a king, are laid to rest in glory in the Tomb of the Unknown at Westminster Abbey. "The Great Silence," the two minutes observed in memory of those lost, halts an entire nation in silent reverence as Big Ben strikes eleven. The Great Silence paints a vivid picture of a nation fighting the forces that threaten to tear it apart--and discovering the common bonds that, as it moves into a new era, hold it together.
About the Author
Juliet Nicolson is the granddaughter of Vita Sackville-West and Harold Nicolson, and the daughter of Nigel Nicolson. She lives in London and Sissinghurst, Kent. She is the author of the bestseller The Perfect Summer: England 1911, Just Before the Storm.
Praise For The Great Silence: Britain from the Shadow of the First World War to the Dawn of the Jazz Age…
Wonderful. . .[Nicolson] describes brilliantly, in a series of social anecdotes and snapshots of real people35 characters going about their daily life, the low-stairs people as well as royalty as well as famous writers and artists. . . an absolutely gripping piece."Tina Brown, NPR.org

[Nicolson's] approach is anecdotal and eclectic, drawing freely on contemporary diaries, letters and memoirs to create an impressionistic picture of the lull preceding the Roaring 20sNicolson is at her most effective when describing the nation's search for a fitting public expression of its abiding sense of grief[she] observes with poignant understatement."Elizabeth Lowry, The Wall Street Journal

Nicolson's emphasis onthree days, and her descriptions of them, are the best parts of her book."Martin Rubin, The Washington Times

[Nicolson has] a strong narrative, an empathic interest in characters under stress and a gift for the telling moment. The large historical shifts are here, but the small scenes steal the showeloquent."Catherine Holmes, The Post and Courier (Charleston)

Wonderfully vividWhen we study history wetend to overlook the transitional periods. Juliet Nicolson has, in a short time, become the voice of these critical gaps in the fabric of British historyIn another splendid work of social history, Nicolson focuses on the years between 1918 and 1920. At once grand and intimate, Nicolson takes on a captivating journey."The Daily Beast

[A] vivid account of the aftermath of the carnage we glamorize as the Great War[Nicolson] excels at ferreting out revealing details[she offers] some wonderful vignettes. And the final pages of The Great Silence, which document Britain's official tribute to the dead, are magnificent."Miranda Seymour, The New York Times Book Review

FascinatingWriting in a pellucid style with a keen eye for detail, Nicolson captures politics, society and culture and organizes and blends them into an insightful, entertaining narrative."Roger K. Miller, Louisville Courier-Journal

Nicolson's anecdotal history describes with facts and feeling the two years of silence and emptiness that followed the joyless armistice...a moving accountWhen the unknown British soldier was buried with solemn pomp in Westminster Abbey, some found the ritual stagy, sentimental, and hypocritical but most found it healing and hopeful. Nicolson ends her history with a long and loving re-creation of this collective expression of grief and gratitude. It may make you cry."Barbara Fisher, The Boston Globe

Captures an era of unspooling mores in the lives of a diverse cast of provocateurs." Vogue

This is social history at its very best, as Nicolson fascinatingly describes the fast-changing lives of everyday men and women in Britain from 1918 to 1920Colorful characters abound in Nicolson's historically insightful and utterly absorbing narrative."Chuck Leddy, Minneapolis Star-Tribune

A pearl of anecdotal history, The Great Silence is a satisfying companion to major studies of World War I and its aftermathas Nicolson proceeds through the familiar stages of griefdenial, anger and acceptanceshe gives you a deeper understanding of not only this brief period, but also how war's sacrifices don't end after the fighting stops."Ellen Emry Heltzel, Seattle Times

Vividly [portrays] the horrors of trench warfare and the misery of the bereaved and wounded."Publishers Weekly

Terribly movingso full of feeling and intelligence and interest: the densely detailed, whelmingly sad story of a country with a broken heart."Sam Leith, The Daily Mail (UK)

If, instead of looking at the great sweep of history, you take just two years, and you find out the small, everyday things that people of all stations in life were doing... you can convey a sense of the past that no conventional history can offerthe method enables [Nicolson] to take us into places that... people...did not know existedThis is a small treasure-house of a book from a writer who understands the vital importance of small details."Francis Beckett, The Guardian (UK)

A beautifully written and thought-provoking read."Natasha Harding, The Sun (UK)