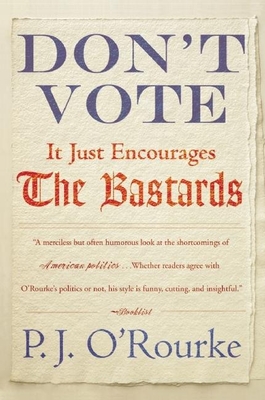 Don't Vote It Just Encourages the Bastards
Paperback

* Individual store prices may vary.
Other Editions of This Title:
Digital Audiobook (9/20/2010)
MP3 CD (10/4/2016)
Compact Disc (9/13/2011)
Description
Put the country's big, fat political ass on a diet. Lose that drooping deficit. Slim those spreading entitlement programs. Firm up that flabby pair of butt cheeks which are the Senate and the House. Having had a lot of fun with what politicians do, P.J. O'Rourke now has a lot of fun with what we should think about those politicians. Nothing good, to be sure. Best-selling humorist P.J. O'Rourke is back with his latest political masterpiece, Don't Vote--It Just Encourages The Bastards. Using his signature wit and keen observational skills, O'Rourke reflects on his forty year career as a political commentator, spanning his addlepated hippie youth to his current state of right-wing grouch maturity. Don't Vote--It Just Encourages The Bastards is a brilliant, disturbing, hilarious and sobering look at why politics and politicians are a necessary evil--but only just barely necessary. Read P.J. O'Rourke on the pathetic nature of politics and laugh through your tears or--what the hell--just laugh.

Praise For Don't Vote It Just Encourages the Bastards…
Funny, cutting, and insightful." Booklist

The timing is perfect for the witty sanity of P.J. O'Rourke, to remind us how intellectually bracing unfashionable views can be. . . . He is fearless and funny. Whether you agree with him or not, particularly if not, you should read him. He restores much-needed disorder to the political debate." The Evening Standard

P.J. O'Rourke is what happens when America does Grumpy Old Men. Instead of sour-faced curmudgeons bleating that 'politics is just a load of crap,' you get a succession of amusing an incisive observations about why politics is a load of crap." The Spectator

You may find yourself staying up way past your bedtime because you just can't
put it down. In Don't Vote, O'Rourke has elevated his game to a Buckley-like level. Read it and you'll elevate your game too." The Daily Caller

The man is intelligent, articulate, and very funny." The Austinist

P. J. O'Rourke is not only knowledgeable, he's one of the best writers the Right has ever produced. Additionally, he's the single best foreign affairs reporter I've ever read. Nobody makes another country come alive like P. J. O'Rourke."John Hawkins, Right Wing News

[O'Rourke's] take on things in this book is savage, biting, and often spot-on. You may need to turn off your obscenity meter while you're reading it, as it's about as irreverent as anything I've read since Rape of the A*P*E* . . . Politics is a dirty game, and O'Rourke doesn't seem to mind getting down and talking dirty." The Steel Bookshelf

A splendid writer and critic of our current political and social scene." Emporia Gazette
Grove Press, 9780802145437, 304pp.
Publication Date: September 13, 2011