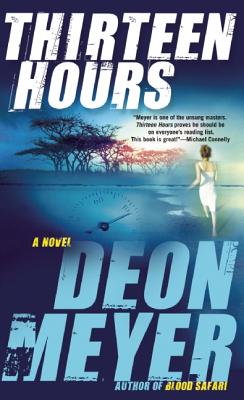 Thirteen Hours (Mass Market Paperbound)
A Benny Griessel Novel
Grove Press, 9780802145451, 587pp.
Publication Date: September 6, 2011
Other Editions of This Title:
Digital Audiobook (9/30/2010)
CD-Audio (10/1/2010)
Hardcover (9/7/2010)
Paperback (5/1/2011)
Paperback (5/1/2011)
Paperback (12/1/2011)
* Individual store prices may vary.
Description
Internationally acclaimed, prize-winning thriller writer Deon Meyer has been heralded as the King of South African Crime. In Thirteen Hours, morning dawns in Cape Town, and for homicide detective Benny Griessel it promises to be a very trying day. A teenage girl's body has been found on the street, her throat cut. She was an American--a PR nightmare in the #1 tourist destination in South Africa. And she wasn't alone. Somewhere in Cape Town her friend, Rachel Anderson, an innocent American, is hopefully still alive. On the run from the first page of Thirteen Hours, Rachel is terrified, unsure where to turn in the unknown city. Detective Griessel races against the clock, trying to bring her home safe and solve the murder of her friend in a single day. Meanwhile, he gets pulled into a second case, the murder of a South African music executive. Griessel's been sober for nearly six months--156 days. But day 157 is going to be tough. A #1 best seller in South Africa and a finalist for the CWA International Dagger, Thirteen Hours is an atmospheric, intensely gripping novel from a master storyteller.
Praise For Thirteen Hours: A Benny Griessel Novel…
Deon Meyer is one of the unsung masters. Thirteen Hours proves he should be on everyone's reading list. This book is great!" Michael Connelly

Thirteen Hours has breathtaking suspense, psychological understanding, and one of the most inspiring detectives ever. Deon Meyer deserves his international reputation."Thomas Perry

A smashing story. Imposing a strict time limit and a tight location on his plot, [Meyer] ramps up the suspense to an unbearable degree. Best of all, his sharply drawn characters really feel part of the new South Africa, where loyalties and beliefs must always be questioned."Financial Times

A vividly drawn locale where political considerations affect everything, cliff-hanging suspense, and shocking plot twists, Meyer again has produced a winner. Highly recommended." Roland Person, Library Journal (starred review)

Try picking up Thirteen Hours and setting it down. Try. You can't do it. I'm a pro, and I couldn't do it.'" Don Winslow, author of The Power of the Dog and Savages

There have been other South African crime novelists, but none are as deft at place as Deon Meyer. Thirteen Hours is Cape Town today, with all its exquisite beauty, tribal conflicts, loyalties and corruptions. Meyer weaves all this into a tightly plotted story with a twist that works beautifully and unforgettable characters.Margaret Cannon, Globe and Mail

A gem of a protagonist [a] wonderfully realized book. Deon Meyer continues to be one of the most underappreciated writers in the genre, especially in the U.S., but if he keeps turning out books like Thirteen Hours, I can't see that situation continuing for long. This is my favorite novel of the year so far." George Easter, Deadly Pleasures

Thirteen hours in the life of South African police Detective Inspector Benny Griessel make Jack Bauer's exploits look like child's play. [Thirteen Hours] progresses at breakneck speed." Maxine Clark, Euro Crime

Terrific." Hubert O'Hearn, ByTheBookReviews.blogspot.com

Twenty years after the release of Nelson Mandela, South Africa remains a troubled place, and Meyer's novels give rare insights into the texture of everyday life. Above all, though, [Thirteen Hours] is a vigorous, exciting novel that combines memorable characters and plot with edge-of-the-seat suspense."Joan Smith, The Sunday Times (UK)

The staccato story slips back and forth between the various strands at a breathless clip, doling out nuggets of plot in just the right amounts to have us salivating to know more."
Ben Felsenburg, Metro (UK)

[Thirteen Hours] is gripping, tense, cleverly plotted and beautifully balanced between action, investigation and social comment. And all of it rises towards a crescendo that is pitched to perfection." Material Witness (UK)

In Meyer we have more than a writer who entertains, and also more than a novelist who educates us about 'little cultural differences': his greatest attribute is that he sets us thinking about ourselves and our country and our future. Painlessly."James Mitchell, The South African Star

[Meyer's] novels are so engaging that you can easily get paper cuts from turning pages too fast. . . . Thirteen Hours is a ripping good read guaranteed to keep you up until the last word." Yolandi Groenewald, Mail & Guardian (South Africa)

Thirteen Hours once again proves that Meyer is in a class of his own."
Suzaan Hauman, LitNet (South Africa)

The message is simple: Thirteen Hours is available, it does not matter how much it costs, just go buy it. . . . You can't read his books fast enough."
Beeld (South Africa)

Blistering the fugitive girl's desperate flight, and Benny's equally frantic efforts to save her, deliver a heart-pumping yarn in an exotic locale." John Sullivan, Winnipeg Free Press

Meyer brilliantly juggles all of the thematic balls, while maintaining an unrelenting sense of suspense. We do not know till the end who is after Rachel and why they want to kill her. We do not even know if she is implicated in some crime or wholly innocent. What we do know is that we want her to get away." Yvonne Klein, Reviewing the Evidence