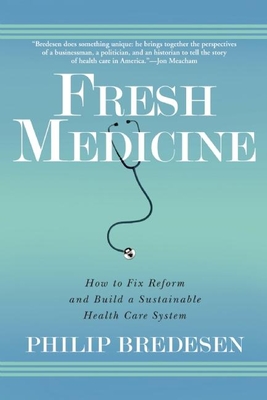 Fresh Medicine (Paperback)
How to Fix Reform and Build a Sustainable Health Care System
Grove Press, 9780802145475, 251pp.
Publication Date: October 11, 2011
* Individual store prices may vary.
Description
Last spring, after congress passed sweeping legislation to reform our nation's health care system, the editorial board of the New York Times wrote: "Just as Social Security grew from a modest start in 1935 to become a bedrock of the nation's retirement system, this is a start on health care reform, not the end . . . The process has finally begun." One of the key voices in that process will be Philip Bredesen, who served as governor of Tennessee from 2003-2011. In Fresh Medicine--the first book to address this reform--Bredesen delivers a concise, intelligent analysis of what the reform is, how it is flawed and why we have to fix it.

Praise For Fresh Medicine: How to Fix Reform and Build a Sustainable Health Care System…
In this important new look at a topic of urgent concern to the country, Phil Bredesen does something unique: he brings together the perspectives of a businessman, a politician, and an historian to tell the story of health care in America. Told with skill and grace, Fresh Medicine explains how we got where we are, and what we have to do going forward. Bredesen has given all of us a great gift." Jon Meacham, author of American Lion: Andrew Jackson in the White House

Phil Bredesen knows the American health care system inside and out. He knows both the theory and, more importantly, how things really work. His perspective is unique and wise; if you're interested in health reform, you'd do well to read and consider what he has to say." Bill Frist, M.D., former Senate majority leader

Fresh Medicine is at once an indictment of the current state of our health care system and a pointed plan for a new model."The Nashville City Paper

Few public officials in America are as experienced in health care issues as Tennessee's governor, Phil Bredesen. He knows the subject from the standpoint of a health care management executive in the private sector and as the governor who rescued his state's Medicaid program (and his state) from impending bankruptcy. He has distinctive views on how America's broken health care system should be reformed. And he can express his ideas well." Mort Kondracke, Executive Editor and Columnist, Roll Call

When it comes to health care, there is no one the nation's governors have relied on more than Phil Bredesen. He knows what he is talking about, and we respect his insights and the way in which he practices what he preaches." Gov. Joe Manchin (D-WV)

Governor Bredesen's unique combination of successful experiences in both the public and private sectors gives him an important voice in our national health care debate. His stewardship of TennCare and the innovation he has brought to expanding access to underserved Tennesseans show that he is a leader whose proposals deserve careful consideration." Scott Serota, President and Chief Executive Officer of The Blue Cross and Blue Shield Association

Thought provoking." Memphis Medical News
or
Not Currently Available for Direct Purchase