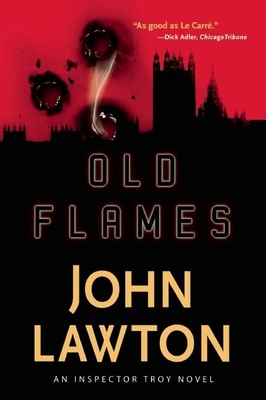 Old Flames (Inspector Troy Thriller) (Paperback)
Grove Press, 9780802145543, 424pp.
Publication Date: February 7, 2012
Other Editions of This Title:
Compact Disc (12/5/2017)
* Individual store prices may vary.
Description
In April 1956, at the height of the Cold War, Khrushchev and Bulganin, leaders of the Soviet Union, are in Britain on an official visit. Chief Inspector Troy of Scotland Yard is assigned to be Khrushchev's bodyguard and to spy on him. Soon after, a Royal Navy diver is found dead and mutilated beyond recognition in Portsmouth Harbor. Troy embarks on an investigation that takes him to the rotten heart of MI6, to the distant days of his childhood, and into the dangerous arms of an old flame. Brilliantly evoking the intrigue of the Cold War and 1950's London, Old Flames is a thrilling adventure of intrigue and suspense.
About the Author
John Lawton is the author of nine novels including A Lily of the Field and Second Violin. A former television producer, Lawton now lives in a remote hilltop village in Derbyshire, England.
Praise For Old Flames (Inspector Troy Thriller)…
"As good as Le Carré."-Dick Adler, Chicago Tribune

"Uncommonly smart and engrossing . . . If you yearn for stylish, sophisticated, suspenseful fiction, you need look no further."-The Washington Post

"Le Carré/Furst territory . . . Unforgettable."-Kirkus Reviews (starred review)

"Anyone with an appreciation for the details of the Cold War has to marvel at a book that features Scotland Yard, Nikita Krushchev, Guy Burgess, and a money-laundering scheme centered on Swedish modernist furniture."-Entertainment Weekly

A smart, well-crafted, very British book, and Troy is a shrewd and irreverent policeman.. . . . If Troy is the character at the heart of this novel, its soul is England as it was during the Cold War years, a country fueled by paranoia and espionage, overrun with agents and counter-agents, caught up, as Troy says, in an age that specialized in thinking the unthinkable.'"-USA Today

Lawton, who has a delightful way with metaphor, sprinkles his yarn with a variety of names that have long lain dormant in our American memories. . . . Winston Churchill makes a priceless appearance. . . . Troy is exquisitely drawn. He's a cynic at heart not because of any dour view of humanity, but because he's not at home in Britain or the Soviet Union."The Boston Globe

Some books are at least as important to life as eating. . . . Old Flames is a book that I would forgo eating to read again. . . . Convoluted without being complicated and fast paced while remaining completely believable, Old Flames is the consummate novel about the Cold War."The Rocky Mountain News

Mesmerizing. . . . Dryly funny, smartly written, slightly macabre and richly evocative of its Cold War setting. Lawton's got a knack for nuanced character." The Seattle Times/Post Intelligencer

A rich mixture of political intrigue and old-fashioned mayhem. . . . Tangled webs of deceit are standard in mysteries, but British author John Lawton takes the idea to nearly Shakespearean heights."Baltimore Sun

Scorchingly clever. . . . An intriguing synthesis of genres. . . . Part Len Deighton, part John le Carré, part P.D. James, and all original. Lawton paints a vivid background of time and place, populates it with unusual and interesting people . . . and entangles them in a deliciously intricate game of life, death, betrayals and lies, with the fate of the world hanging in the balance. The result is a ripping good read that celebrates two 20th-century British literary traditions propelling them into the 21st century."CNN.com

[A] complex, evocative tale. . . . Lawton has created an effective genre-bending novel that is at once a cerebral thriller and an uproarious, deliciously English spoof."Publishers Weekly (starred review)

A splash of Greene, a twist of Deighton, a small measure of historyLawton has produced a thrilling cocktail. . . . The cast of charactersboth borrowed and inventedis as rich, rounded and eccentrically plausible as any in recent thriller fiction. Great stuff."The Times (London)

An early candidate for Thumping Good Thriller of the Year . . . No angst, no darkness, just the joy of a plot racing along in overdrive."Time Out (London)
or
Not Currently Available for Direct Purchase