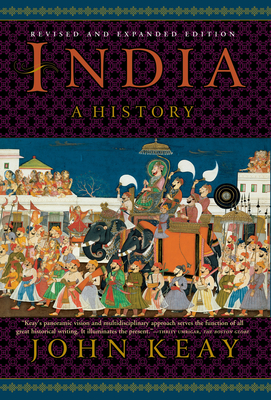 India
A History. Revised and Updated
Paperback

* Individual store prices may vary.
Other Editions of This Title:
Paperback (7/22/2010)
Paperback (4/1/2001)
Paperback (3/1/2001)
Description
Fully revised with forty thousand new words that take the reader up to present-day India, John Keay's India: A History spans five millennia in a sweeping narrative that tells the story of the peoples of the subcontinent, from their ancient beginnings in the valley of the Indus to the events in the region today.
In charting the evolution of the rich tapestry of cultures, religions, and peoples that comprise the modern nations of Pakistan, India, and Bangladesh, Keay weaves together insights from a variety of scholarly fields to create a rich historical narrative. Wide-ranging and authoritative, India: A History is a compelling epic portrait of one of the world's oldest and most richly diverse civilizations.
Praise For India: A History. Revised and Updated…
Keay's panoramic vision and multidisciplinary approach serves the function of all great historical writing. It illuminates the present." Thrity Umrigar, The Boston Globe

A handsomely published book with over sixty wonderful relevant maps, charts, and tables, and a plethora of beautiful illustrations, many of them in color. . . . Keay deals well with India's long and intricate history. . . . Keay's treatment of early India is often sprinkled with his passionate eloquence, which is also evident in the rest of the book. . . . One of the best to be published in the field for some time and could be read to great advantage by students of Indian history and by those who enjoy history in general." Bawa Satinder Singh, The Journal of Asian Studies

A superb one-volume history of a land that defies reduction into simple narrative . . . Without peer among general studies, a history that is intelligent, incisive, and eminently readable." Kirkus Reviews (starred review)

Ambitious . . . [Keay] carefully uncovers India's prehistorya great challenge given that the ancient Indians left no textsand skillfully describes the evolving Indian concepts of kingship, statecraft, and military strategy." Lucian W. Pye, Foreign Affairs

A comprehensive account . . . A robust book." Amit Roy, India Today

It is hard to imagine anyone succeeding more gracefully in producing a balanced overview than John Keay has done. . . . One can only hope that Keay's India will be widely read, and its lessons taken to heart." William Dalrymple, The Guardian (London)

Sweeping from the ancient brick cities of Mohenjo-daro and Harappa, built in the Indus Valley around 2000 b.c., to modern India's urban middle class armed with computers and cell phones, this erudite, panoramic history captures the flow of Indian civilization. . . . A banquet for connoisseurs and serious students of India." Publishers Weekly
Grove Press, 9780802145581, 640pp.
Publication Date: April 12, 2011