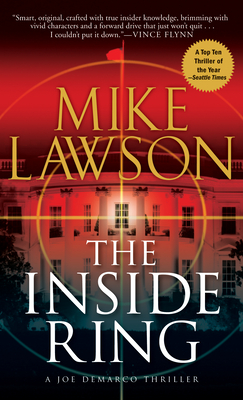 The Inside Ring (Joe DeMarco Thrillers) (Mass Market Paperbound)
Grove Press, 9780802145598, 429pp.
Publication Date: November 1, 2011
Other Editions of This Title:
Compact Disc (5/1/2005)
* Individual store prices may vary.
Description
The Inside Ring is the first novel in Mike Lawson's critically acclaimed series of political thriller starring Joe DeMarco, fixer for the Speaker of the House. It opens with an assassination attempt on the president. He is only wounded, but his best friend and a Secret Service Agent are killed. It turns out that the attack wasn't without warning. General Andrew Banks, the Secretary of Homeland Security, received a note that the president was in danger, and even more alarming, that Secret Service agents guarding the president had been compromised. General Banks is reluctant to tell the FBI about the note, partly for self-serving political reasons, and partly because he doesn't want to damage the Secret Service's reputation based on something that might very well be a hoax. So he requests help from his friend, Speaker Mahoney, and Mahoney assigns his man DeMarco to determine if the Secret Service was really involved. Moving at a breakneck pace, and packed with plenty of humor and suspense, The Inside Ring is a must-read for fans of political thrillers.

Praise For The Inside Ring (Joe DeMarco Thrillers)…
Praise for The Inside Ring

The kind of whodunit thriller you can't stop thinking about while you're reading and can't stop talking about once you're done. Smart, original, crafted with true insider knowledge, brimming with vivid characters, and a forward drive that just won't quit. This book will have the Beltway buzzingand just about everywhere else. I couldn't put it down." Vince Flynn

[A] wonderfully complex plot, sardonic humor, and memorable characters. Lawson has the ability to shade character and evoke meaningful descriptions as economically as possible. In two words more please." Sarah Weinman, The Baltimore Sun

While Lawson's debut may look like others in the genre, it's in a league by itself. ... High-level entertainment from a writer who could soon rise to the top of the thriller heap"Publishers Weekly

Fresh and entertaining ... an assured debut ... Tight and engaging story, sharp writing, and dialogue that's good to the last line." Kirkus Reviews (starred review)

Thrilling enough to demand a sequel."New York Daily News

Enlivened by just the right touch of menace and mystery . . . witty [and] lightening quick."Library Journal

"[An] exciting, danger-filled novel." Booklist

Mike Lawson shows every understanding of the skills required of a thriller writer to keep a reader fully engaged and utterly thrilled." The Guardian (UK)

Lawson writes a mean thriller and has a sense of humor that hurts. I loved this one." The Independent (UK)

This assured first novel shows Mike Lawson to be a talented storyteller . . . DeMarco makes a likeable hero as he follows an intricate trail through some typically murky American politics."The Telegraph (UK)