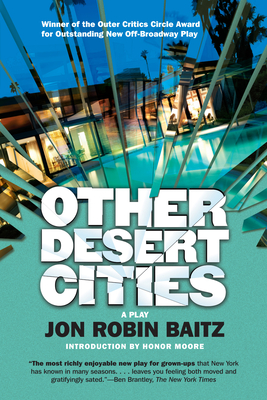 Other Desert Cities
Paperback

* Individual store prices may vary.
Other Editions of This Title:
Paperback (1/15/2013)
Description
In OTHER DESERT CITIES, Brooke Wyeth returns home to Palm Springs to visit her parents after a six-year absence. A once-promising novelist, she announces to her family the imminent publication of a memoir dredging up a pivotal and tragic event in the family's history - a wound that her parents don't want reopened. Brooke has come home to draw a line in the sand and is daring her family to cross it. Her brother won't play her game; her aunt knows way too much, and her parents fall into all their old routines as they plead with her to keep their story quiet. In this family, secrets are currency and everyone is rich. In simplest terms, the play is about a girl who comes home to the desert with a story about where she is from, who her people really are, what she thinks they really are. Her parents represent an Establishment that she feels has betrayed this country. She goes to war with them, and blood is spilled.

Praise For Other Desert Cities…
The most richly enjoyable new play for grown-ups that New York has known in many seasons. . . . In his most fully realized play to date, Mr. Baitz makes sure our sympathies keep shifting among the members of the wounded family portrayed here. Every one of them emerges as selfish, loving, cruel, compassionate, irritating, charming and just possibly heroic. . . . leaves you feeling both moved and gratifyingly sated." Ben Brantley, The New York Times

Other Desert Cities is a winner . . . funny and fierce, invigorating and intelligent." Joe Dziemianowicz, Daily News

Baitz's script sparkles with a deep understanding oif the turmoil boiling beneath the surface of his characters and it is chock-full of wonderful lines." Mark Kennedy, Associated Press

This scathingly funny, deeply felt family drama is the tastiest, most entertaining new play of the season . . . with a wisdom and compassionand sureness of touchthat make this his most mature, moving, and flat-out enjoyable work to date."Adam Green, Vogue

A master of crackling dialogue . . . Baitz manages to engage matters of public and private moralityand public and private ideologywith and energy, and a minimum of self-flagellation."Scott Brown, New York magazine

Baitz's latest familial drama manages to be funny, cutting and illuminating. Secrets, lies and betrayals play out against a backdrop of Californian affluence and restraint. This is rich dysfunctionzingers are delivered with a whiskey chaser." Fern Siegel, The Huffington Post
Grove Press, 9780802145659, 112pp.
Publication Date: November 29, 2011