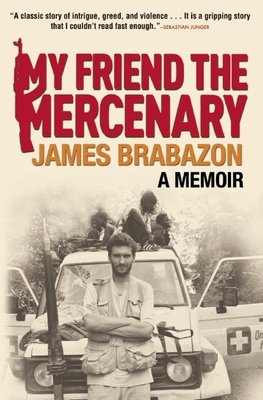 My Friend the Mercenary
Paperback

* Individual store prices may vary.
Other Editions of This Title:
Hardcover (7/1/2011)
Hardcover (3/22/2011)
Description
In February 2002, British journalist James Brabazon set out to travel with guerrilla forces into Liberia to show the world what was happening in that war-torn country. To protect him, he hired Nick du Toit, a former South African Defence Force soldier who had fought in conflicts across Africa for over three decades. What follows is an incredible behind-the-scenes account of the Liberian rebels known as the LURD as they attempt to seize control of the country from government troops led by President Charles Taylor. In this gripping narrative, James Brabazon paints a brilliant portrait of the chaos that tore West Africa apart: nations run by warlords and kleptocrats, rebels fighting to displace them, ordinary people caught in the crossfire and everywhere adventurers and mercenaries operating in war's dark shadows. It is a brutally honest book about what it takes to be a journalist, survivor, and friend in this morally corrosive crucible.
Praise For My Friend the Mercenary…
From Publishers Weekly

The fog of war, informational and moral, permeates this adrenalized memoir of Africa's dirty wars and the men who fight them. British documentarian Brabazon entered Liberia in 2002 to film rebel forces in that country's civil war, taking along bodyguard Nick du Toit, a mercenary and former soldier in South Africa's apartheid-era army. Worlds apart politically, the two men bond amid the savage conflict--in one excruciating scene, Brabazon films rebels cannibalizing a prisoner--as the author comes to depend on and admire his tough, courageous companion. Nick joins a byzantine conspiracy to overthrow the government of oil-rich Equatorial Guinea and invites Brabazon to film the prospective coup, a proposal that crosses the boundaries of journalistic ethics, though it strongly appeals to Brabazon's lust for adventure and cash. His postmortem on the plot's disastrous outcome, with its cast of shadowy financiers, rival intelligence agencies, and soldiers of fortune, reads like a political thriller. Brabazon's searing narrative captures both the allure of war--the rush of danger, the deep camaraderie, the get-rich-quick mirages--and its brutal realities. It's both a seductive paean to and a harsh exposé of the mercenary ethos that fattens off of Africa's travails. (Feb.)
(c) Copyright PWxyz, LLC. All rights reserved.

From Booklist

The post-imperial history of West Africa has seen a series of horrific civil wars, from Nigeria to Sierra Leone to Liberia. Photojournalist and documentary filmmaker Brabazon was determined to cover the carnage in Liberia as rebels fought against the regime of Charles Taylor. Well aware of the dangers he would face, he hooked up with a bodyguard, Nick du Toit. He was a former officer in the South African army under the apartheid government. Like many others in similar circumstances, du Toit drifted into a career as a mercenary. Brabazon's narrative proceeds on two tracks. It is a chronicle of a particularly savage military conflict, in which torture and even cannibalism come to be regarded as routine. It is also a story of his unlikely but deepening friendship with du Toit, and that evolving friendship also provides a sometimes surprising window into the motivations and characteristics of mercenaries. This is a disturbing, even sickening, but revealing account of just a few of the sufferings endured by Africans in recent years. --Jay Freeman

Praise for My Friend the Mercenary

Intensely vivid story of war and the peculiar breed of warriors who fight in 21st-century Africa. . . A haunting memoir and tribute to an extraordinary comrade-at-arms."Kirkus Reviews

Unsparing prose, a visceral shock ride into horror. This book reveals the savagery of Africa's least known wars, fed and exploited by opportunists and plunderers who are drawn to these ravaged countries like vultures to a carcass."
Jonathan Kaplan, author of The Dressing Station

The first two thirds of Brabazon's extraordinary confessional, My Friend the Mercenary, is the story of how the professional partnership of a young, liberal British filmmaker and a hit man for apartheid South Africa developed into intimate comradeship. It was a strange and dangerous liaison, and it found itself in the heart of darkness. . . . The concluding chapters of his book present as full and convincing an account of that failed assault on Equatorial Guinea as we are likely to read."The Scotsman (UK)
Grove Press, 9780802145734, 457pp.
Publication Date: March 13, 2012
or
Not Currently Available for Direct Purchase