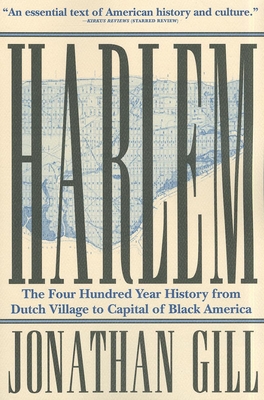 Harlem
The Four Hundred Year History from Dutch Village to Capital of Black America
Paperback

* Individual store prices may vary.
Other Editions of This Title:
MP3 CD (5/31/2016)
Description
Harlem is perhaps the most famous, iconic neighborhood in the United States. A bastion of freedom and the capital of Black America, Harlem's twentieth century renaissance changed our arts, culture, and politics forever. But this is only one of the many chapters in a wonderfully rich and varied history. In Harlem, historian Jonathan Gill presents the first complete chronicle of this remarkable place. From Henry Hudson's first contact with native Harlemites, through Harlem's years as a colonial outpost on the edge of the known world, Gill traces the neighborhood's story, marshaling a tremendous wealth of detail and a host of fascinating figures from George Washington to Langston Hughes. Harlem was an agricultural center under British rule and the site of a key early battle in the Revolutionary War. Later, wealthy elites including Alexander Hamilton built great estates there for entertainment and respite from the epidemics ravaging downtown. In the nineteenth century, transportation urbanized Harlem and brought waves of immigrants from Germany, Italy, Ireland, and elsewhere. Harlem's mix of cultures, extraordinary wealth and extreme poverty was electrifying and explosive. Extensively researched, impressively synthesized, eminently readable, and overflowing with captivating characters, Harlem is an ambitious, sweeping history, and an impressive achievement.
Praise For Harlem: The Four Hundred Year History from Dutch Village to Capital of Black America…
Praise for Harlem:

The ancient bones of Harlem are bared, and its old Dutch farmhouses are uncovered, and the forgotten cattle in the pastures shake away a long-settled dust. In this retrospection, something remarkable happens. Page after page of Gill's book removes brick after brick of the hulking substance of Harlem, paring it back through the jazz and the riots and the poetry to its ancient hours, until a quiet nothingness is left, and the place at last makes sense." The New York Times

"An epic worthy of its fabled subject."Edward Kosner, The Wall Street Journal

"Comprehensive and compassionatean essential text of American history and culture." Kirkus Reviews (starred review)

Kudos to Jonathan Gill for this savvy reconstruction of Harlem's long, complicated, and often vexing history. A terrific read, with plenty of surprises along the way, it's bound to become a classic or I'll eat my hat." Edwin G. Burrows, Pulitzer Prize-winning co-author of Gotham: A History of New York City to 1898

Authoritative and exhaustive, in addition to being well-written and perceptive We are in Gill's debt for digging so deeply into Harlem's past, for describing it with no agenda beyond thoroughness and fairness, and for reminding us that there is so much in Harlem to honor and celebrate as well as to deplore and lament. It is one of the most significant neighborhoods in the country, and its contributions - in social leadership, in literature and the arts - have been huge and invaluable."Jonathan Yardley, The Washington Post

An exquisitely detailed account of the 400-year history of Harlem. Gill details major figures from George Washington and Alexander Hamilton to Langston Hughes, Marcus Garvey, and Malcolm X as well as the vibrancy of music, art, literature, religion, politics, and urban sensibility that has come to signify Harlem. Richly researched a vibrant, well-paced, engaging history of an iconic neighborhood." Booklist (starred review)

Jonathan Gill writes with a novelist's bold feel for character, landscape and the struggle of powerful interests. He is the perhaps first historian to grasp the full significance of uptown' New York City, and shows how the pious, conservative and deeply rural Harlem resisted the corruption and conflicts of downtown,' and then was transformed by industry, the railroad, the subway and by successive waves of immigrants. Harlem was re-made by African-Americans in the twentieth century, who created a new culture within the swirling, complexity of New York City. Gill's Harlem, told in vivid detail, began as a rural village and became the site of the greatest avant-garde in American culture." Eric Homberger, author of The Historical Atlas of New York City

"Jonathan Gill's history of Harlem is so briskly paced and invitingly written that readers may not even notice how deeply and impeccably researched it is."John Matteson, Pulitzer-Prize winning author of Eden's Outcasts

Jonathan Gill has given us the most appealing trip to Harlem since Duke Ellington told Billy Strayhorn to "take the a train." Gill's gallantly researched, lovingly detailed cakewalk through the history of one of the world's great neighborhoods brings all the streets, pols, gangsters, hoopsters and hipsters vividly to life." Nicholas Dawidoff

Over the years there have been a number of books addressing the Harlem Renaissance. But very few examined the years before or after that remarkable phase. Jonathan Gill has made a decisive and successful step in that direction. ... An engrossing, well-written, and comprehensive look at this storied community. A must read." Herb Boyd, author of Baldwin's Harlem

A strong primer on the neighborhood's long, exquisite life." Dallas Morning News
Grove Press, 9780802145741, 528pp.
Publication Date: February 14, 2012