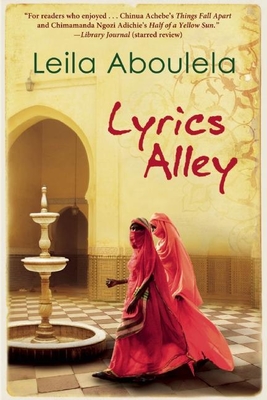 Lyrics Alley
Paperback

* Individual store prices may vary.
Description
Lyrics Alley is the evocative story of an affluent Sudanese family shaken by the shifting powers in their country and the near-tragedy that threatens the legacy they've built for decades. In 1950's Sudan, the powerful Abuzeid dynasty has amassed a fortune through their trading firm. With Mahmoud Bey at its helm, they can do no wrong. But when Mahmoud's son, Nur, the brilliant, handsome heir to the business empire, suffers a debilitating accident, the family stands divided in the face of an uncertain future. As British rule nears its end, the country is torn between modernizing influences and the call of traditions past--a conflict reflected in the growing tensions between Mahmoud's two wives: the younger, Nabilah, longs to return to Egypt and escape backward-looking Sudan; while Waheeba lives traditionally behind veils and closed doors. It's not until Nur asserts himself outside the cultural limits of his parents that his own spirit and the frayed bonds of his family begin to mend. Moving from Sudanese alleys to cosmopolitan Cairo and a decimated postcolonial Britain, this sweeping tale of desire, loss, despair, and reconciliation is one of the most accomplished portraits ever written about Sudanese society at the time of independence.
Praise For Lyrics Alley…
Winner of the Scottish Mortgage Investment Trust Book Award for Fiction
Short-listed for the Commonwealth Writers' Prize (South Asia and Europe)
Long listed for the Orange Prize for Fiction

Aboulela's vivid . . . fleet and engrossing narrative . . . [is full of] a generosity of spirit that extends to all her characters."The New York Times Book Review

A novel as thoughtful as it is evocative . . . Aboulela writes with precision and depth of feeling."The Boston Globe

Beautifully rendered . . . The prose is smooth and clear. . . . As a tale of stricken love between two souls, Lyrics Alley is impressive."The Guardian

Leila Aboulela's Lyrics Alley gives us the rich and complex world of a Sudanese patriarch in the 1950s who presides over a household containing two wives, various nieces, two sonsa new world full of modern ambitions and ancient problems. I read it with the delight one has suddenly stumbling on lush and abundant hidden gardens behind foreign city walls, various with its own life and laws, and infinitely satisfying."Sarah Blake, author of The Postmistress

[Aboulela's] breakthrough novel . . . Real, compelling, and ultimately moving . . . Highly recommended for readers who enjoy family sagas set against a political backdrop, such as Chinua Achebe's Things Fall Apart and Chimamanda Ngozi Adichie's Half a Yellow Sun."Library Journal (starred review)

Rich in detail and generous in spirit toward its complex characters, [Lyrics Alley] showcases Aboulela's talent for connecting political and personal upheaval. [An] elegantly written family epic that brings to mind Naguib Mahfouz's The Cairo Trilogy."Kirkus Reviews

Haunting . . . Keeps the reader gripped . . . A tale of powerful feelings and potent words . . . this visceral, epic novel . . . gives fascinating insights into Sudanese society, with different characters embodying the dramatic clash between tradition and modernity. . . . Vividly evoking the alleyways of Sudan, Egypt, and Britain, [Lyrics Alley] also movingly and meticulously traces the hidden pathways of the mind and heart with all its anger, shame, hate and love."The Telegraph (UK)

Each scene is rich with period detail . . . Aboulela has the gift of making her readers care about her characters. This she achieves partly by making us privy to their thoughts, and revealing to us all their conflicts, contradictions, petty vanities, hopes, and amnitions. . . . [She] has created a story for all the senses, one to be savored at leisure."Financial Times

In beautiful, subtle prose . . . Aboulela explores themes of love, faith, and divided families with a tender restraint."Marie Claire (UK)

"An assured and highly readable portrait of a family in flux and two societies--Sudan and Egypt--on the cusp on momentous changes. . . . Lyrics Alley is an evocative description of the struggle between tradition and modernization, a conflict that is still being fought in present-day Islamic culture."--New Internationalist (3 stars)

A tender love story; a family saga, and a portrait of 1950s Sudan teetering on the brink of modernity."The Scotsman

"Leila Aboulela writes with tenderness and sensitivity about the hopes of a country on the verge of independence. Through the eyes of the Abuzeid family, we witness the competing claims of the political and the intimate, of modernity and tradition, of duty and individual freedom. The resulting narrative is at once compelling and illuminating, full of the color and cadence of Aboulela's homeland."Tahmima Anam, author of A Golden Age

A superb family epic . . . Vivid, beautifully original."Lesley McDowell, The Herald (Glasgow)

[A] graceful and elegantly told saga . . . Aboulela writes with a light touch. . . . She uses words to powerful and sometimes surprising effect, language that seems to spring naturally from the very environment she's describing. . . . This beautiful book is a testament to what might have been as well as what might be."Jane Charteris, Literary Review
Grove Press, 9780802145758, 320pp.
Publication Date: March 13, 2012
About the Author
Leila Aboulela won the first Caine Prize for African Writing. She is the author of three books: The Translator, a New York Times 100 Notable Book of the Year; Minaret; and a book of short stories, Coloured Lights. Visit her website at leila-aboulela.com