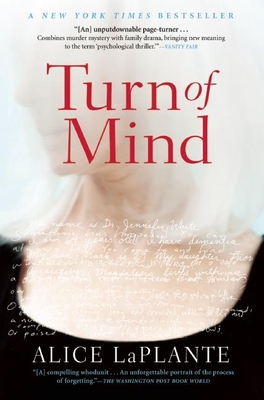 Turn of Mind
Paperback

* Individual store prices may vary.
Other Editions of This Title:
Digital Audiobook (7/4/2011)
MP3 CD (8/25/2015)
Compact Disc (5/15/2012)
July 2011 Indie Next List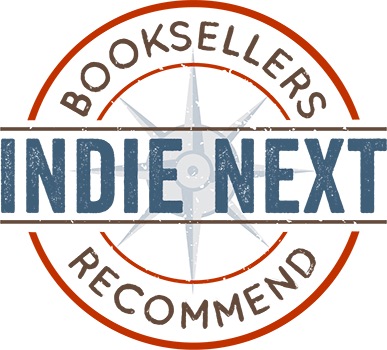 "This is an emotionally intense story of a 64-year-old hand surgeon, Jennifer White, as she experiences the unyielding onslaught of dementia. On any given day she is lucid, catatonic, violent, or very, very sly. Does she feel any remorse for her less-than-stellar parenting of her two children? Did she kill her friend Amanda and amputate her fingers? LaPlante's exceptional skill with words puts readers inside this brilliant woman's mind so that we might experience her anger, frustration, and increasing confusion. This is a remarkable, heart-wrenching, and utterly compelling debut novel."
— Susan Wasson, Bookworks, Albuquerque, NM
View the List
Summer 2012 Reading Group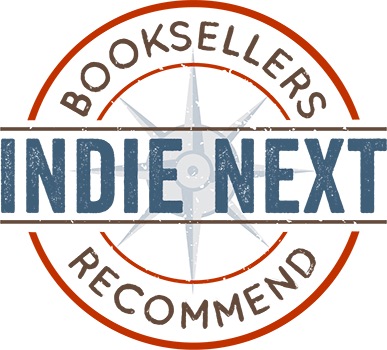 "This is an emotionally intense story of a 64-year-old hand surgeon, Jennifer White, as she experiences the unyielding onslaught of dementia. On any given day she is lucid, catatonic, violent, or very, very sly. Does she feel any remorse for her less-than-stellar parenting of her two children? Did she kill her friend Amanda and amputate her fingers? LaPlante's exceptional skill with words puts readers inside this brilliant woman's mind so that we might experience her anger, frustration, and increasing confusion. This is a remarkable, heart-wrenching, and utterly compelling debut novel."
— Susan Wasson, Bookworks, Albuquerque, NM
View the List
Description
A New York Times bestseller, Turn of Mind is a literary thriller about a retired orthopedic surgeon suffering from dementia and accused of killing her best friend. With unmatched patience and a pulsating intensity, Alice LaPlante's debut novel brings us deep into a brilliant woman's deteriorating mind, where the impossibility of recognizing reality can be both a blessing and a curse. When the book opens, Dr. Jennifer White's best friend, Amanda, has been killed, and four fingers surgically removed from her hand. Dr. White is the prime suspect and she herself doesn't know whether she did it. Told in White's own voice, fractured and eloquent, a picture emerges of the surprisingly intimate, complex alliance between these life-long friends--two proud, forceful women who were at times each other's most formidable adversaries. As the investigation into the murder deepens and White's relationships with her live-in caretaker and two grown children intensify, a chilling question lingers: is White's shattered memory preventing her from revealing the truth or helping her hide it? A startling portrait of a disintegrating mind clinging to reality through anger, frustration, shame, and unspeakable loss, Turn of Mind examines the deception and frailty of memory and how it defines our very existence.
Praise For Turn of Mind…
A New York Times Bestseller
Winner of the Wellcome Trust Book Prize
A New York Times and Booklist Editor's Choice
An NPR, Vogue, Milwaukee Journal Sentinel, and Globe and Mail Summer Reading Pick
A San Francisco Chronicle 2011 Holiday Gift Guide Selection

Best Book of the Year:

Newsday
Amazon.com 10 Best Thriller and Mystery Books
Washington Post Notable Fiction
The Guardian Best Thrillers
Kirkus Reviews Top 25 Best in Fiction
Globe and Mail Best Mysteries and Thrillers
Shelf Awareness Top Pick

To call Turn of Mind a thrilleror a chronicle of illness, or a saga of friendship for that matterwould confine it to a genre it transcends. This is a portrait of an unstable mind, an expansive, expertly wrought imagining of memory's failures and potential. . . . In LaPlante's vivid prose, [Dr. White's] waning mind proves a prism instead of a prison, her memory refracted to rich, sensual effect. There are moments of steely, surgical calm, the language tight and fractured . . . and there are moments of blooming, antic poetry. . . . LaPlante has imagined a lunatic landscape well. The twists and turns of mind this novel charts are haunting and original."The New York Times Book Review

"Gripping . . . Skilfull . . . Unique . . . [A] compelling whodunit . . . . LaPlante has created an unforgettable portrait of the process of forgetting."The Washington Post Book World

"Rare . . . LaPlante's fine novel is both lyrical and shocking." Boston Globe

"Remarkably poignant . . . An artful, ambitious, and arresting attempt to capture the thoughts and feelings, by turns confused, conspiratorial, canny, and clear, of a person in the throes of mental illness . . . LaPlante reminds us all, passionately, that no matter what the state of our health, reality can be elusive and subjective."The San Francisco Chronicle

Expertly paced . . . A stunning act of imagination."Chicago Tribune

"Unforgettable . . . It sounds like an almost impossible task: to write a murder mystery from the perspective of a suspect with Alzheimer's. And yet LaPlante pulls it off and with flair. . . . Jennifer is a hard, funny, acerbic woman when she is able to marshal her wandering wits. . . . Fragmented and disorienting . . . [A] distressingly believable portrait of a mind sinking into dementia." The Guardian (UK)

This book is to 2011 what Anna Quindlen's Every Last One was to 2010the dread-filled, un-putdownable page turner. . . . Skillfully written in the memory-loss first person, the book combines murder mystery with family drama, bringing new meaning to the term psychological thriller.'"Vanity Fair

"Haunting . . . Blackly humorous . . . Remarkable . . . [Told in] the crisp, super-intelligent, and brutally confused voice of Dr. Jennifer White . . . LaPlante is certain in her footingthe verisimilitude here is unnerving . . . [as] she takes us into a world of gauzy shadows and scattered puzzle pieces."Newsday

"Daring and confident . . . A tour de force."Minneapolis Star-Tribune

This poignant debut immerses us in dementia's complex choreography. . . . Dr. White is . . . by turns brilliant, hallucinatory, and heartbreakingly vulnerable. . . . [A] lyrical mosaic, an indelible portrait of a disappearing mind."People (4 stars)

"This dazzlingly adroit debut novel is full of suspense, rueful humor, and scalpel-sharp insights into the intricacies of love and friendshipas well as the resilience of the human spirit." More

"A brilliant, even audacious conceit . . . Pitch-perfect."Chicago Sun-Times

"Not only was I mesmerized by LaPlante's ability to put the reader in the circumstance of a slowly evaporating ability to stay in the present, but the ending of the book was also one of the most indelible I have read in yearsI was stunned, silent, and shaken."The Daily Beast

"Provocative . . . Nervy and stylish . . . What lingers in the reader's mind is not so much the resolution of the plot as the resilience of Jennifer's character. . . . Alzheimer's patients reshape those around them in ways that transcend anguish and frustration. As the best parts of Turn of Mind reveal, the disease opens us to the very things that make us human." AARP magazine

"A heart-wrenching yet thrilling read . . . It is a mystery, thriller, medical story, family drama, and just an all-around good read."Deseret News

How does LaPlante pull a story out of [a protagonist] with no memory? In a word: deftly. . . . A clever whodunit. . . . If this portrait is correct, Jennifer is a sad but true reflection of a disease that ebbs and flows unmercifully. One minute she stares in wonder at a commonplace item like a toothbrush, the next she reacts with almost animal cunning, and the nextalmost miraculouslyshe displays the most salient facets of her former self. The novel's ending alone will show what a long and winding road it is from confused to comatose." The Seattle Times

Moving . . . Unusual . . . Cleverly and well written . . . I was quickly hooked."Literary Review (UK)

[An] accomplished thriller . . . Vivid . . . Turn of Mind is an incisive, humane exploration of how we can rail against our need for close relationships with others, feeling that they undermine our independence, even as we keep going back for more."Times Literary Supplement

"A page-turner . . . Creates a startling range and texture of fear. From agonizing, slow-motion-car-crash moments to the ironic frissons of a good horror movie, [LaPlante] hits every bell. . . . The complexity never fades . . . The razor sharp quality of [Jennifer's] thoughts, even at their most fragmented, gives her entire ordeal a "Twilight Zone" feel. Up until the final stages of the disease, she still somehow manages to retain the quality of a lone sane person adrift in a world that definitely isn't." Los Angeles Times

"Brilliant . . . Turn of Mind is relentless and chilling."The Globe and Mail

"The basic premise of this debut novel is pure genius . . . Masterfully written and satisfying."Shelf Awareness (starred review)

Executed with skill and elegance . . . . LaPlante's real achievement here is creating a character whoeven in the midst of losing her mindis concrete, complicated, smart, and sympathetic. . . . Painfully sad and utterly true."Bookreporter

"Engrossing . . . Exhilarating . . . A page-turning mystery."San Jose Mercury News

A powerfully affecting novel."Easy Living (UK)

"A unique premise for a murder investigation . . . Compulsively readable . . . The mystery of the mind has surely been solved."New York Journal of Books

"Turn of Mind is one of my favorite books of the year. I can't wait to see what LaPlante comes up with next." Karin Slaughter, author of Fallen

What bumps Turn of Mind up into the exalted Daphne Du Maurier/Ruth Rendell category of literary thriller' is LaPlante's fearless and compassionate investigation into the erosion of her main character's mind. . . . Turn of Mind reads as a series of fragmentary-but-illuminating first-person conversations between Dr. White and various other characters. . . . In the short space of these dialogues, Dr. White's grip on reality fades in and out, like an iffy radio frequency and time frames collapse into each other with fluid ease. We readers become (nervously) at home in the haunted house of Dr. White's head . . . [and] LaPlante's turn on the suspense formula is especially ingenious because, as anxious-but-enthralled readers, we have to agree to be entrapped inside Dr. White's crumbling mind for the duration. . . . Forgetfulness, it turns out, may be something of a mercy after all."Maureen Corrigan, NPR's Fresh Air

"Heartbreaking . . . Telling the story from the point of view of a woman whose mind is slowly failing could have been gimmicky, but LaPlante completely pulls it off."Ladies' Home Journal

Impressive . . . Part mystery novel, part family drama . . . LaPlante has a gift for rhythm, crafting rat-a-tat passages that are their own pleasures. . . . It's no small feat that LaPlante manages to spin a coherent tale despite her main character's profound disorientation."Entertainment Weekly

"An electrifying book, impossible to put down. Gripping, thought-provoking, humane, funny, tragic, it is masterfully done, a tour de force that can't be a first noveland yet it is. I'll read whatever LaPlante writes next, and the sooner the better."Ann Packer

"A uniquely entertaining murder mystery. LaPlante's portrayal of the prime suspect's escalating dementia is gripping, unnerving, and utterly brilliant."Lisa Genova

The Stone Angel meets Momento in this literary page-turner. . . . Smart, strong . . . With its timely and compelling storyline, LaPlante's debut is ambitious . . . Both an impressive technical stunt and a moving portrait of a difficult, undaunted woman."Winnipeg Free Press

Haunting . . . [A] startling portrait of a fiercely intelligent woman struggling mightily to hold on to her sense of self. . . . This masterfully written debut is fascinating on so many levels, from its poignant and inventive depiction of a harrowing illness to its knowing portrayal of the dark complexities of friendship and marriage."Booklist (starred review)

LaPlante's literary novel explores uncharted territory, imagining herself into a mind, one slipping, fading, spinning away from her protagonist. . . . LaPlante tells the story poignantly, gracefully, and artistically. Jennifer White, as a physician, as a wife, as a mother, leaps from the pages as a powerful character. . . . A haunting story masterfully told."Kirkus (starred review)

This extraordinarily crafted debut novel guides the reader through family drama that is becoming all too familiar. That the author is able to do it so convincingly through the eyes and voice of [a woman with Alzheimer's] is an amazing achievement. Heartbreaking and stunning, this is both compelling and painful to read."Library Journal (starred review)

"Impressive . . . A subtle literary novel."Publishers Weekly (starred review)

Poignant . . . It's hard to believe that this is a first novelit's so carefully written and satisfying in every way. . . . A masterful family drama and a thrilling murder mystery."Valerie Ryan, Shelf Awareness

Turn of Mind blindfolds the reader and spins her around, gives her a push into a maze of echoes. Alice LaPlante's debut is a tricky nouveau nouveau roman, rife with danger."Stewart O'Nan

Alice La Plante's brilliantly original novel took me not simply into the life of a woman falling apart, but directly into her crumbling brain as she tries desperately to keep her sense of her own identity from slipping away. She held me there for three hundred riveting pagesand for weeks after I'd turned the last one. If one of the measures of wonderful fiction is its capacity to grant a reader access to characters and experience she might never have imagined (and I think it is), Turn of Mind surely qualifies as a masterful accomplishment."Joyce Maynard

"Wonderful. This harrowing exploration of the slow disintegration of the mind is deeply touching and utterly heartbreaking, while also being a compelling page-turner. I loved it."S. J. Watson

Turn of Mind is that rarest of books that defies simple classification. It's absolutely bursting at the seams with humanity, in the fullest possible array, with all of the twists and turns life can throw at us, and which we in turn hurl ourselves toward. Impossible to put down and yet from the very first page so vivid and ripe with language and comprehension that I knew this was not only a book to be savored, but returned to. Alice LaPlante offers a glorious achievement."Jeffrey Lent

Hey readers, Alice LaPlante has arrived. Turn of Mind features a crazy-smart narrator in a gripping family drama that is itself a brilliant murder mystery. LaPlante possesses both the wild audacity to attempt such a tour-de-force and the pure talent to pull it off. Totally compelling, dark and yet at moments also darkly funny, completely unforgettable. Lord knows what LaPlante will write next. I can't wait."Colin Harrison

As the narrator's mind is devoured by dementia, she struggles to remember the extent of her involvement in her best friend's murder. LaPlante's characters are completely convincing, the plotting masterful."Donna Leon
Grove Press, 9780802145901, 320pp.
Publication Date: March 27, 2012