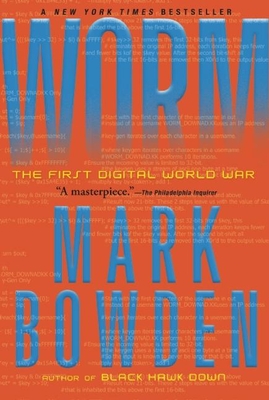 Worm
The First Digital World War
Paperback

* Individual store prices may vary.
Other Editions of This Title:
MP3 CD (3/10/2015)
Compact Disc (10/1/2011)
MP3 CD (10/1/2011)
Hardcover (3/1/2012)
Compact Disc (10/1/2011)
Hardcover (9/27/2011)
MP3 CD (10/14/2011)
MP3 CD (10/16/2012)
Compact Disc (10/16/2012)
Compact Disc (10/16/2012)
Description
The Conficker worm infected its first computer in November 2008 and within a month had infiltrated 1.5 million computers in 195 countries. Banks, telecommunications companies, and critical government networks (including the British Parliament and the French and German military) were infected. No one had ever seen anything like it. By January 2009 the worm lay hidden in at least eight million computers and the botnet of linked computers that it had created was big enough that an attack might crash the world. Surprisingly, the U.S. government was only vaguely aware of the threat that Conficker posed, and the task of mounting resistance fell to disparate but gifted group of geeks, Internet entrepreneurs, and computer programmers. They formed what came to be called the Conficker Cabal, and began a tireless fight against the worm. But when Conficker's controllers became aware that their creation was beginning to encounter resistance, they began refining the worm's code to make it more difficult to trace and more powerful testing the Cabal's unity and resolve. Will the Cabal lock down the worm before it is too late? Game on. Worm reports on the fascinating battle between those determined to exploit the internet and those committed to protect it.
Praise For Worm: The First Digital World War…
[Worm] is well-written and informative, capturing a key episode in a fast-moving field we all need to better understand."The Washington Post

When Mark Bowden writes, smart readers pay attention. . . . Bowden is a deserved brand name a superb reporter and compelling narrative writer, whether his subject is war in a forlorn land (Black Hawk Down, set in Somalia) or a variety of others in seven other books (Killing Pablo, Guests of the Ayatollah, etc.). And now we have the current masterpiece, Worm."The Philadelphia Inquirer

Worm is a solid although disquieting read for anyone with a stake in the Internet's continued smooth functioningand these days, isn't that just about all of us?"Pop Matters

In the world of nonfiction, Bowden is an ace, a writer with guts and gusto. . . [Worm] does a terrific job of setting the groundwork, turning the highly technical into something comprehensible."The Seattle Times

Worm details a digital-age battle between good and evil . . . It is a harbinger of the future, where threats to the cyber domain are as real and potentially cataclysmic as a weapon of mass destruction."Military Review

Bowden . . . gives this account of the computer world's efforts to neutralize the Conficker worm the flavor of a riveting report from the digital battlefield's front lines. . . . A nerve-wracking but first-rate inside peek into the world of cybercrime and its vigilant adversaries."Booklist

[T]he thumbs of every 30-something üntergeek will still Tweet in ecstasy at seeing technical terms like NCP/IP, Port 445, and MS08-067 spread across the pages of a mainstream book. But the rest of us should take Mark Bowden's warnings with the utmost seriousness because of the growing threats to our wired world."New York Journal of Books

[T]his book chronicles a larger threat and should be on the shelves not just of computer collections, but any general lending library."The Midwest Book Review

People have compared cybercrime to a type of warfare. And after reading Mark Bowden's fast-paced Worm: The First Digital World War, it's easy to see why."South Bend Tribune

Excellent. . . a screen grab of a kaleidoscopic video with a projection growing bigger by the day, a sound getting louder by the hour."The Oregonian

[A] story that readers will find entertaining, informative, andhopefullya little alarming."Lawfare

Bowden is a sharp, funny writer who can convey a complex narrative in crisp terms . . . A brief, punch reminder of our high-tech vulnerabilities."Kirkus Reviews

[Bowden] delivers a dramatic cyber crime story that explores . . . a devastating computer virus and a potential weapon in war."Publishers Weekly
Grove Press, 9780802145949, 252pp.
Publication Date: October 16, 2012