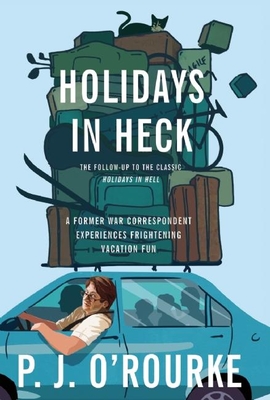 Holidays in Heck (Paperback)
Grove Press, 9780802145956, 265pp.
Publication Date: November 13, 2012
Other Editions of This Title:
MP3 CD (12/1/2016)
Compact Disc (11/1/2011)
MP3 CD (11/13/2012)
Compact Disc (11/13/2012)
Compact Disc (11/1/2011)
* Individual store prices may vary.
Description
Over twenty years ago, P.J. O'Rourke published Holidays in Hell, the classic travelogue that found him searching for excitement in places like Warsaw, Managua, and Belfast. In Holidays in Heck, the man dubbed "the funniest writer in America" by Time and The Wall Street Journal steps into the new and slightly less dangerous territory of the family vacation. The O'Rourke clan treks to places as close to home as Disneyland and Washington, D.C., and as far-flung as China, all while P.J. attempts to dissuade his wife from shopping and keep his children entertained. His travels often leave him wishing he were under artillery fire again. At one point, the family takes a ski trip--to Ohio. Here, he warns his daughter not to ski out of bounds, "because it's completely flat." Later, during their visit to the National Museum of American History, P.J. calls the building, "ugly in a way that's best described as built in 1964." And one of his solo adventures takes him on a horse trek across the mountains of Kyrgyzstan, where his route consists of cliff faces that leave him dangling very much off of his saddle.
Praise For Holidays in Heck…
A prolific humorist continues his outpouring of solid writing. . . some very fine travel writing, the best of which is wickedly drollO'Rourke at his very best. . . . Here's hoping there's another 15 books still to come."Los Angeles Times

[O'Rourke is] just as funny but also challenging himself when working outside of topicality. . . . a likable, brisk little brother to my favorite, 1988's Holidays in Hell. . . . [T]his is my kind of O'Rourke: grouchy, quick and there to make you laugh."San Francisco Chronicle

If all of America's registered Republicans were struck by an ideology-specific bird flu, and 50 among them had to be placed in a secure bunker to repopulate the species entirely, P.J. O'Rourke would hold a place on many people's list, mine included. He's funny. He tends to be against boredom and in favor of the pursuit of nonsobriety. He has a sharp nose for cant and bogusness. His conservatism is rooted in a fondness for ordinary things and a philosophy of individual common sense."Dwight Garner, The New York Times

In this cheeky follow-up to Holidays in Hell, former war correspondent O'Rourke trades battle zones for more appealing travel destinations, often with his family in tow. . . . The exotic . . . rub shoulders with the more mundane . . . and all of them share O'Rourke's razor wit. . . . O'Rourke loses none of his sly humor, finding many opportunities to lampoon American politics under his new guise as a traveling family man."Publishers Weekly

O'Rourke offers the fresh perspective of a neophyte civilian and family traveler along with his own acerbic wit about politics, recreation, economics, and family life. . . . The essays are as humorous and charmingly meandering as his travels."Booklist

Holidays in Heck is P.J. O'Rourke's sequel to Holidays in Hell. While the two books are distinguished by their time and O'Rourke's evolving position in life, they are connected by P.J's never-aging humor. . . . I loved Holidays in Heck just as much as its prequel. P. J. is helping us all get older." Rick Robinson, The Daily Caller

Entertaining . . . [O'Rourke is] an engaging writer, regardless of the topic." Library Journal

[O'Rourke] provides colorful, earthy descriptive passages regarding stag hunts in Britain, extreme horseback riding in the wild of Kyrgyzstan, a poignant look at his bout with cancer, and a brief jaunt to Kabul, Afghanistan. Red meat for his fans."Kirkus Reviews