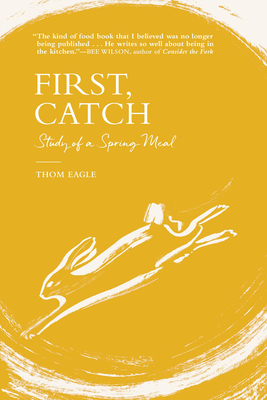 First, Catch
Study of a Spring Meal
Hardcover

* Individual store prices may vary.
Other Editions of This Title:
MP3 CD (5/19/2020)
Description
Praised in Britain as a return to a forgotten tradition of literary food writing, a delectable and surprising celebration of cooking through the story of an early spring meal
First, Catch is a cookbook without recipes, an invitation to journey through the digressive mind of a chef at work, and a hymn to a singular nine-dish festive spring lunch. In Eagle's kitchen, open shelves reveal colorful jars of vegetables pickling over the course of months, and a soffrito of onions, celery, and carrots cook slowly under a watchful gaze in a skillet heavy enough to double as a murder weapon. Eagle has both the sharp eye of a food scientist as he tries to identify the seventeen unique steps of boiling water, as well as of that of a roving food historian as he ponders what the spice silphium tasted like to the Romans, who over-ate it to worldwide extinction. He is a tour guide to the world of ingredients, a culinary explorer, and thoughtful commentator on the ways immigration, technology, and fashion has changed the way we eat. He is also a food philosopher, asking the question: at what stage does cooking begin? Is it when we begin to apply heat or acid to ingredients? Is it when we gather and arrange what we will cook--and perhaps start to salivate? Or does it start even earlier, in the wandering late-morning thought, "What should I eat for lunch?"
Irreverent and charming, yet also illuminating and brilliantly researched, First, Catch encourages us to slow down and focus on what it means to cook. With this astonishing and beautiful book, Thom Eagle joins the ranks of great food writers like M.F.K. Fisher, Alice Waters, and Samin Nosrat in offering us inspiration to savor, both in and out of the kitchen.
Grove Press, 9780802148223, 240pp.
Publication Date: March 10, 2020
About the Author
Thom Eagle is a writer, chef and fermenter currently based in East London. He has presented at the Oxford Symposium of Food & Cookery, writes the psychogastronomy tinyletter, and contributes to At The Table, Market Life, and Locavore magazines. His first book First, Catch was shortlisted for the Andre Simon Food Book of the Year and won the Debut Food Book at the Fortnum and Mason's Awards.