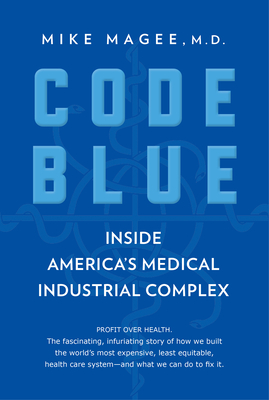 Code Blue
Inside America's Medical Industrial Complex
Paperback

* Individual store prices may vary.
Other Editions of This Title:
Hardcover (6/4/2019)
Description
A powerful and path-breaking expose of America's Medical Industrial Complex--the network of mutually beneficial relationships between big business, academic medicine, patient advocacy organizations, hospitals, and government--and a compelling way forward for transforming America's healthcare system
How has the United States, with more resources than any nation, developed a healthcare system that delivers much poorer results, at near double the cost of any other developed country--such that legendary seer Warren Buffett calls the Medical Industrial Complex "the tapeworm of American economic competitiveness"? Mike Magee, M.D., who worked for years inside the Medical Industrial Complex administering a hospital and then as a senior executive at the giant pharmaceutical company Pfizer, has spent the last decade deconstructing the complex, often shocking rise of, and connectivity between, the pillars of our health system--Big Pharma, insurance companies, hospitals, the American Medical Association, and anyone affiliated with them. With an eye first and foremost on the bottom line rather than on the nation's health, each sector has for decades embraced cure over care, aiming to conquer disease rather than concentrate on the cultural and social factors that determine health. This decision Magee calls the "original sin" of our health system.
Code Blue is a riveting, character-driven narrative that draws back the curtain on the giant industry that consumes one out of every five American dollars. Making clear for the first time the mechanisms, greed, and collusion by which our medical system was built over the last eight decades--and arguing persuasively and urgently for the necessity of a single-payer, multi-plan insurance arena of the kind enjoyed by every other major developed nation--Mike Magee gives us invaluable perspective and inspiration by which we can, indeed, reshape the future.
Grove Press, 9780802148940, 432pp.
Publication Date: April 21, 2020
About the Author
Mike Magee, MD, is a medical historian and journalist on the faculty of Presidents College at the University of Hartford. He has held similar roles at a range of academic institutions. He was a Honorary Master Scholar at the NYU School of Medicine and a Distinguished Alumnus award recipient from the University of North Carolina School of Medicine. Beginning as a country doctor in western New England, he rose to the highest level of his profession holding senior executive positions at Pennsylvania Hospital in Philadelphia, and as head of global medical affairs for Pfizer. He is editor of the blog HealthCommentary.org.mikemagee.orghealthcommentary.org@hcommnew