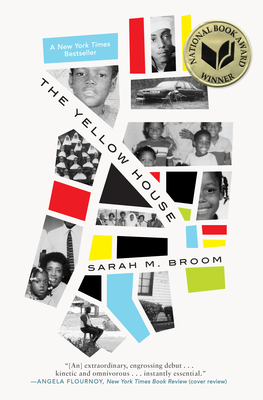 The Yellow House
A Memoir (2019 National Book Award Winner)
Paperback

* Individual store prices may vary.
Other Editions of This Title:
Hardcover (8/13/2019)
MP3 CD (12/31/2019)
MP3 CD (2/18/2020)
Description
A NEW YORK TIMES BESTSELLER
Winner of the 2019 National Book Award in Nonfiction
A brilliant, haunting and unforgettable memoir from a stunning new talent about the inexorable pull of home and family, set in a shotgun house in New Orleans East.
In 1961, Sarah M. Broom's mother Ivory Mae bought a shotgun house in the then-promising neighborhood of New Orleans East and built her world inside of it. It was the height of the Space Race and the neighborhood was home to a major NASA plant--the postwar optimism seemed assured. Widowed, Ivory Mae remarried Sarah's father Simon Broom; their combined family would eventually number twelve children. But after Simon died, six months after Sarah's birth, the Yellow House would become Ivory Mae's thirteenth and most unruly child.
A book of great ambition, Sarah M. Broom's The Yellow House tells a hundred years of her family and their relationship to home in a neglected area of one of America's most mythologized cities. This is the story of a mother's struggle against a house's entropy, and that of a prodigal daughter who left home only to reckon with the pull that home exerts, even after the Yellow House was wiped off the map after Hurricane Katrina. The Yellow House expands the map of New Orleans to include the stories of its lesser known natives, guided deftly by one of its native daughters, to demonstrate how enduring drives of clan, pride, and familial love resist and defy erasure. Located in the gap between the "Big Easy" of tourist guides and the New Orleans in which Broom was raised, The Yellow House is a brilliant memoir of place, class, race, the seeping rot of inequality, and the internalized shame that often follows. It is a transformative, deeply moving story from an unparalleled new voice of startling clarity, authority, and power.
Grove Press, 9780802149039, 400pp.
Publication Date: June 30, 2020
About the Author
Sarah M. Broom is a writer whose work has appeared in the New Yorker, The New York Times Magazine, The Oxford American, and O, The Oprah Magazine among others. A native New Orleanian, she received her Masters in Journalism from the University of California, Berkeley in 2004. She was awarded a Whiting Foundation Creative Nonfiction Grant in 2016 and was a finalist for the New York Foundation for the Arts Fellowship in Creative Nonfiction in 2011. She has also been awarded fellowships at Djerassi Resident Artists Program and The MacDowell Colony. She lives in New York state.
On perspective:
At the opening of the story, Sarah Broom describes the lot where the Yellow House once stood from fifteen thousand feet above, saying that from those great heights, her brother Carl, who tends the space, would not be seen.
Have you ever brought up a Google Earth image of your house from above and zoomed out? What impact did seeing your home, your street, your state, your country shrink in comparison to the world have on your perspective?
On names:
The author refers to Hurricane Katrina throughout as "the Water."
Why do you think she made this choice? Describe what "the Water" communicates to you, and how it changed over the course of the book. Do you think it will be the same for every reader?
On family firsts:
On p. 57, Broom writes: "Mom paid for her house with money from Webb's life insurance policy. She was nineteen years old, the first in her immediate family to own a house, a dream toward which her own mother, Lolo, still bent all of her strivings."
Who accomplished these kinds of firsts in your family? Were they long-ago accomplishments or more recent? What kinds of sacrifices or good-willed pitching in were made and by whom to help make them possible?
On the growing-up world:
In the chapter "Map of My World," the author describes five points on the map that make (p. 117) "my growing-up world."
What are some of the places that you can still inhabit vividly in your mind's eye? Why do you think those stuck and not others? Why do you think the points in the author's growing-up world stuck with her so strongly?
On the long-term impact of catastrophe:
During the Water, Broom writes, "All told, we scatter in three cardinal directions, nine runny spots on the map." Even after it recedes, most remain dispersed. How do climate events like the hurricane impact families, employment, housing prices? What effect do you think this kind of scattering after climate crises has on regional culture?