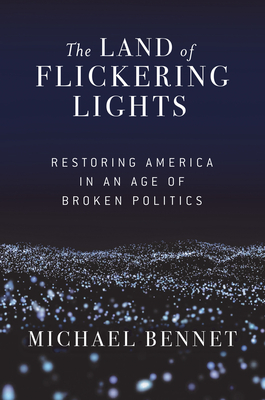 The Land of Flickering Lights
Restoring America in an Age of Broken Politics
Paperback

* Individual store prices may vary.
Other Editions of This Title:
Digital Audiobook (6/3/2019)
Hardcover (6/4/2019)
Compact Disc (6/4/2019)
MP3 CD (6/4/2019)
Description
We had become the land of flickering lights, in which the standard of success was not what we were doing for the next generation of Americans, or to enhance our role in the world, but instead whether we had kept government open for another few minutes."--Michael Bennet
From Colorado Senator Michael Bennet, a powerful up-to-the-minute book that lifts the veil on the dysfunctional inner workings of the U.S. Senate through five critically important case studies out of today's headlines and offers strong suggestions for ending our hyper-partisan politics
The Land of Flickering Lights is a unique contribution to American political writing at this or any other time. Senator Michael Bennet lifts a veil on the inner workings of Congress to reveal, in his words, "through a series of actual stories--about the people, the politics, the motives, the money, the hypocrisy, the stakes, the outcome--the pathological culture of the capital and the consequences for us all."
Bennet unfolds the dramatic backstory behind five episodes crucial to the well-being of all Americans. Each of them exemplifies the hyper-partisan politics that have upended our democracy:
The highly politicized confirmation battles over judicial nominations at all levels--epitomized by ugly and unprincipled fights over seats on the Supreme Court; The passage of the Trump tax law, which massively increased our national debt and widened economic inequality across the country; The shredding of the Iran nuclear deal, which undermined our national security, caused friends and foes alike to doubt America's word, and made a mockery of the longstanding bipartisan tradition in foreign policy; The pervasive corruption unleashed by "dark money" in policies and how big donors have been able to stymie urgent action on climate change and many other issues; The sabotage by a congressional minority of the "Gang of Eight's" bi-partisan deal to reform America's immigration policies, a deal that would have comprehensively addressed the immigration issues that bedevil us to this day.
With frankness and refreshing candor, and in elegant prose, Bennet pulls the machinations behind these episodes into full public view, shedding vital new light on our political dysfunction today. Arguing that each of us has a duty to act as a founder, he will inspire Americans of all political persuasions to demand that the "winners" of our political battles be all the American people, nor one party or the other.
Grove Press, 9780802149060, 304pp.
Publication Date: May 19, 2020
About the Author
Michael Bennet has represented Colorado in the United States Senate since 2009. Recognized as a pragmatic and independent thinker, he has built a reputation for taking on Washington dysfunction to address our greatest challenges―including education, climate change, immigration, health care, and national security. When not in Washington he lives in Denver with his wife and three daughters.@MichaelBennet