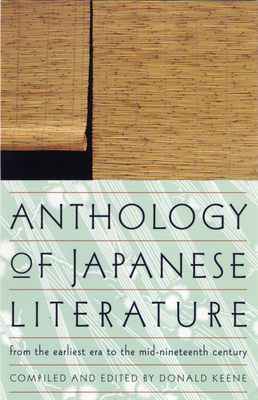 Anthology of Japanese Literature (Paperback)
From the Earliest Era to the Mid-Nineteenth Century (UNESCO Collection of Representative Works: European)
Grove Press, 9780802150585, 448pp.
Publication Date: January 11, 1994
* Individual store prices may vary.
Description
The sweep of Japanese literature in all its great variety was made available to Western readers for the first time in this anthology. Every genre and style, from the celebrated No plays to the poetry and novels of the seventeenth century, find a place in this book. An introduction by Donald Keene places the selections in their proper historical context, allowing the readers to enjoy the book both as literature and as a guide to the cultural history of Japan. Selections include Man yoshu or Collection of Ten Thousand Leaves from the ancient period; Kokinshu or Collection of Ancient and Modern Poetry, The Tosa Diary of Ki No Tsurayuki, Yugao from Tales of Genji of Murasaki Shikibu, and The Pillow Book of Sei Shonagon from the Heian Period; The Tale of the Heike from the Kamakura Period; Plan of the No Stage, Birds of Sorrow of Seami Motokiyo, and Three Poets at Minase from the Muromachi Period; and Sections from Basho, including The Narrow Road of Oku, The Love Suicides at Sonezaki by Chikamatsu Monzaemon, and Waka and haiku of the Tokugawa Period.