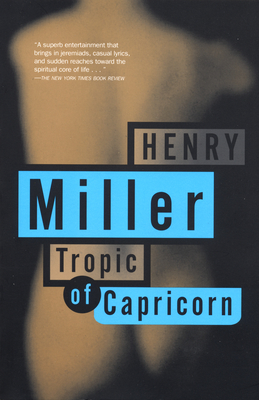 Tropic of Capricorn (Miller) (Paperback)
Grove Press, 9780802151827, 348pp.
Publication Date: January 13, 1994
* Individual store prices may vary.
Description
Banned in America for almost thirty years because of its explicit sexual content, this companion volume to Miller's Tropic of Cancer chronicles his life in 1920s New York City. Famous for its frank portrayal of life in Brooklyn's ethnic neighborhoods and Miller's outrageous sexual exploits, The Tropic of Capricorn is now considered a cornerstone of modern literature.
About the Author
Henry Valentine Miller was born in 1891 in New York City and spent most of his life in Brooklyn, Paris, and Big Sur, California. His books include Tropic of Cancer, Tropic of Capricorn, the Rosy Crucifixion trilogy (Sexus, Plexus, and Nexus), Black Spring, and Crazy Cock. He died in 1980.
Praise For Tropic of Capricorn (Miller)…
"There is nothing like Henry Miller when he gets rolling. . . . One has to take the language back to Marlowe and Shakespeare before encountering a wealth of imagery equal in intensity." Norman Mailer

There is an eager vitality and exuberance to the writing . . . we watchfully hear the language skip, whoop and wheel across Miller's pages." William H. Gass

The most enthralling and hilarious explosions are the sexual ones." Newsweek

A superb entertainment that brings in jeremiads, casual lyrics, and sudden reaches toward the spiritual core of life . . ." The New York Times Book Review

Miller has once and for all blasted away the very foundation of human hypocrisymoral, social, and political. . . . The grandest passages are the scenes of lovemaking. They join in a grand paean to all that is still joyous, healthy, happy, and affirmative." The Nation

American literature today begins and ends with the meaning of what Miller has done." Lawrence Durell