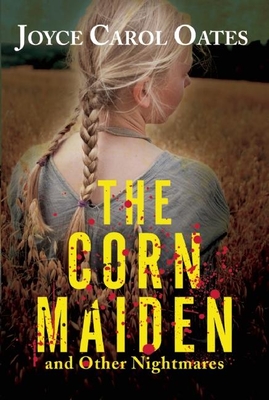 The Corn Maiden
And Other Nightmares
Paperback

* Individual store prices may vary.
Description
An incomparable master storyteller in all forms, in The Corn Maiden and Other Nightmares Joyce Carol Oates spins six imaginative tales of suspense.

"The Corn Maiden" is the gut-wrenching story of Marissa, a beautiful and sweet, but somewhat slow, eleven-year-old girl with hair the color of corn silk. Her single mother comes home one night to find her missing and panics, frantically knocking on the doors of her neighbors. She finally calls the police, who want to know why she left her young daughter alone until 8 o'clock.
Suspicion falls on a computer teacher at her school with no alibi for the time of the abduction. Obvious clues--perhaps too obvious--point directly to him. Unsuspected is Judah (born Judith), an older girl from the same school who has told two friends in her thrall of the Indian legend of the Corn Maiden, a girl sacrificed to ensure a good crop.
The trusting Marissa happily went to a secluded basement with the older girls, pleased to be included, and is convinced that the world has ended and that they are the last survivors. Remaining an unaware hostage for days, she grows weaker on a sparse diet as Judah prepares her for sacrifice.
The seemingly inevitable fate of Marissa becomes ever more terrifying as Judah relishes her power, leading to unbearable tension with a shocking conclusion.
"Helping Hands," published here for the first time, begins with an apparently optimistic line: "He came into her life when it had seemed to her that her life was finished."
A lonely woman meets a man in the unlikely clutter of a dingy charity shop and extends friendliness, which soon turns to quiet and unacknowledged desire. With the mindset of a victim, struggling to overcome her shyness and fears, she has no idea what kinds of doors she may be opening.
The powerful stories in this extraordinary collection further enhance Joyce Carol Oates's standing as one of the world's greatest writers of suspense.
Mysterious Press, 9780802155085, 384pp.
Publication Date: December 11, 2012
About the Author
JOYCE CAROL OATES is the author of such national bestsellers as The Falls, Blonde, and We Were the Mulvaneys. Her other titles for The Mysterious Press include Night-Gaunts and Other Tales of Suspense, which features "The Woman in the Window," selected for The Best American Mystery Stories 2017; The Doll-Master and Other Tales of Terror, which won the 2016 Bram Stoker Award for Superior Achievement in a Fiction Collection; The Corn Maiden and Other Nightmares, which won the 2011 Bram Stoker Award for Short Horror Fiction; and Jack of Spades. She is the recipient of the National Book Award for Them and the 2010 President's National Humanities Medal.