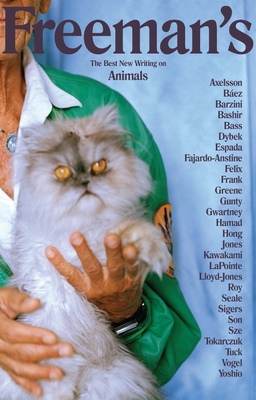 Freeman's
Animals
Paperback

* Individual store prices may vary.
Description
Featuring new work from Mieko Kawakami, Mart n Espada, Kali Fajardo-Anstine, Arthur Sze, Camonghne Felix, and more, the latest installment of the acclaimed literary journal Freeman's explores the irrevocably intertwined lives of animals and the humans that exist alongside themOver a century ago, Rilke went to the Jardin des Plantes in Paris, where he watched a pair of flamingos. A flock of other birds screeched by, and, as he describes in a poem, the great red-pink birds sauntered on, unphased, then "stretched amazed and singly march into the imaginary." This encounter--so strange, so typical of flamingos, with their fabulous posture--is also still typical of how we interact with animals. Even as our actions threaten their very survival, they are still symbolic, captivating and captive, caught in a drama of our framing This issue of Freeman's tells the story of that interaction, its costs, its tendernesses, the mythological flex of it. From lovers in a Chiara Barzini story, falling apart as a group of wild boars roams in their Roman neighborhood, to the soppen emergency birth of a cow on a Wales farm, stunningly described by Cynan Jones, no one has the moral high ground here. Nor is this a piece of mourning. There's wonder, humor, rage, and relief, too.Featuring pigeons, calves, stray dogs, mascots, stolen cats, and bears, to the captive, tortured animals who make up our food supply, powerfully described in Nobel Prize winner Olga Tokarczuk's essay, this wide-ranging issue of Freeman's will stimulate discussion and dreams alike.
Grove Press, 9780802160126, 304pp.
Publication Date: October 11, 2022
About the Author
JOHN FREEMAN was the editor of Granta until 2013. His books include Dictionary of the Undoing, How to Read a Novelist, Tales of Two Americas, and Tales of Two Planets. His poetry includes the collections Maps, The Park, and the forthcoming Wind, Trees. In 2021, he edited the anthologies There's a Revolution Outside, My Love with Tracy K. Smith, and The Penguin Book of the Modern American Short Story. An Executive Editor at Knopf, he teaches writing and literature classes at NYU.