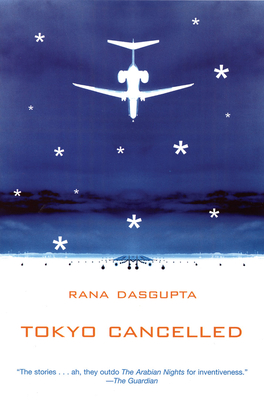 Tokyo Cancelled
Paperback

* Individual store prices may vary.
Description
Thirteen passengers are stranded at an airport. Tokyo, their destination, is covered in snow and all flights are cancelled. To pass the night they form a huddle by the silent baggage carousels and tell one another stories. Thus begins Rana Dasgupta's Canterbury Tales for our times.
In the spirit of Borges and Calvino, Dasgupta's writing combines an energetically modern landscape with a timeless, beguiling fairy-tale ethos, while bringing to life a cast of extraordinary individuals-some lost, some confused, some happy-in a world that remains ineffable, inexplicable, and wonderful.
A Ukrainian merchant is led by a wingless bird back to a lost lover; Robert De Niro's son masters the transubstantiation of matter and turns it against his enemies; a man who manipulates other people's memories has to confront his own past; a Japanese entrepreneur risks losing everything in his obsession with a doll; a mute Turkish girl is left alone in the house of a German man who is mapping the world.
Told by people on a journey, these are stories about lives in transit, stories that grow into an epic cycle about the hopes and dreams and disappointments that connect people everywhere.
Grove Press, Black Cat, 9780802170095, 400pp.
Publication Date: March 31, 2005