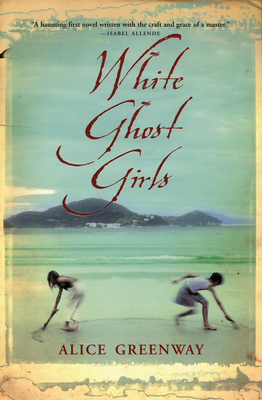 White Ghost Girls
Paperback

* Individual store prices may vary.
Other Editions of This Title:
Paperback, Large Print (3/1/2007)
Description
Summer 1967. The turmoil of the Maoist revolution is spilling over into Hong Kong and causing unrest as war rages in neighboring Vietnam. White Ghost Girls is the story of Frankie and Kate, two American sisters living in a foreign land in a chaotic time. With their war-photographer father off in Vietnam, Marianne, their beautiful but remote mother, keeps the family close by. Although bound by a closeness of living overseas, the sisters could not be more different -- Frankie pulses with curiosity and risk, while Kate is all eyes and ears. Marianne spends her days painting watercolors of the lush surroundings, leaving the girls largely unsupervised, while their Chinese nanny, Ah Bing, does her best to look after them. One day in a village market, they decide to explore -- with tragic results. In Alice Greenway's exquisite gem of a novel, two girls tumble into their teenage years against an extraordinary backdrop both sensuous and dangerous. This astonishing literary debut is a tale of sacrifice and solidarity that gleams with the kind of intense, complicated love that only exists between sisters.
Grove Press, Black Cat, 9780802170187, 168pp.
Publication Date: January 5, 2006
In what ways does the narrator see herself and her sister as "cast­aways" and "secret sisters, shipwrecked sisters, and Vietcong sisters"?
How are Kate and Frankie different, physically and temperamentally? How do these differences influence their relationships with their parents?
. "Hong Kong would be safer than Saigon; an old-fashioned British enclave, he called it. That was before the trouble started this summer." What is ironic about their parents' efforts to keep the girls safe from the horrors of Vietnam? Why are Kate and Frankie obsessed with war games and following the events in Vietnam?
What is the picture of the war in Vietnam as it emerges in the book?
How is Marianne, the mother, portrayed? Are there multiple facets in her daughters' perceptions of her? How does her art reflect her efforts to keep order and civility in her family's life?
The father, too, is a complex person. Is he a good father? Do you as a reader empathize with him as the book goes on?
What is the role of Ah Bing? As Amah is she an alternative mother fig­ure for them? What kinds of worlds does she open?
How does Ah Bing's temple on Lantau Island compare to the English church, St. John's? What does the whole temple world mean to Ah Bing?
As Kate tries to understand her family and her world, is she a reliable narrator?
One of the big differences between Kate and Frankie is their attitude toward sex. Discuss this difference. What are Ah Bing's ideas on the subject?
Since the father is a photographer, is it odd that there are almost no photographs of his daughters? Why not?
On his rare trips home the father's bedtime stories as he lies on his back on the floor are of Mao, Ho Chi Minh and General Giap, Genghis Khan and Marco Polo. Is this his effort to share his world of journalism and storytelling?
How do you explain the last chapter, which stands as an epilogue writ­ten many years later? Is it Kate's epilogue only? "After all these years, this is all I want: a wooden stool, a bowl of rice, an army canteen, a secret comrade, the whooping cry of