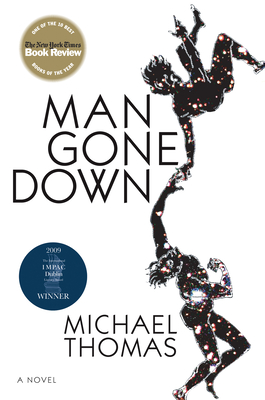 Man Gone Down (Paperback)
Grove Press, Black Cat, 9780802170293, 431pp.
Publication Date: January 1, 2007
Other Editions of This Title:
Digital Audiobook (1/8/2009)
* Individual store prices may vary.
Description
On the eve of his thirty-fifth birthday, the unnamed black narrator of Man Gone Down finds himself broke, estranged from his white wife and three children, and living in the bedroom of a friend's six-year-old child. He has four days to come up with the money to keep the kids in school and make a down payment on an apartment for them in which to live. As we slip between his childhood in inner city Boston and present-day New York City, we learn of a life marked by abuse, abandonment, raging alcoholism, and the best and worst intentions of a supposedly integrated America. This is a story of the American Dream gone awry, about what it's like to feel preprogrammed to fail in life and the urge to escape that sentence.
About the Author
Michael Thomas was born and raised in Boston. He's been a cab driver, carpenter, restaurateur and filmmaker. He received his BA from Hunter College and his MFA from Warren Wilson College. He teaches at Hunter and lives in Brooklyn with his wife and three children. Man Gone Down is his first novel.
Praise For Man Gone Down…
Winner of the International Dublin/IMPAC Literary Award

Powerful and movingAn impressive success [Thomas] knows how the odds are stacked in America. He knows the unlikelihood of successful black fatherhood. He knows that things are set up to keep the Other poor and the poor in their place. More than anything else, he knows how little but alsofortunatelyhow much it can take to bring a man down." Kaiama L. Glover, The New York Times Book Review in a front page review

[A] jazzy, sinewy debutThomas's urgent, quicksilver prose makes even the darkest moments of this novel shine." Cathleen Medwich, O, the Oprah Magazine

A ravishing blues for the soul's unending loneliness." Donna Seaman, Booklist (starred review)

The narrator's hard-bitten realism and Thomas's blues-dirge-y storytelling instincts keep the narrative thrumming." Jonathan Durbin, People

Ambitious. The book is filled with some virtuoso passages that expose the subtle degrees of racism in the narrator's world." Kirkus Reviews

What a novel, and what a writer. Michael Thomas is brilliant, and Man Gone Down is riveting. Every page vibrates with love and anger and hope." Elizabeth Gaffney, author of Metropolis

Thomas's knack for bonding the reader with a number of New York characters is admirable, and the narrator's thoughts about his marriage, work and racial tension are as graceful as they are blunt Thomas's subtle prose casts a new light on urban life in Brooklyneven if you already live there." Cherie Dennis, Time Out New York

Like the characters of Ralph Ellison, James Baldwin and Lorraine Hansberry, whom [Thomas] references throughout the novel with recognizable phrases, themes and quotes, [the] unnamed narrator is a black man concerned with identity in a decidedly white America. Thomas imbues the story with an intense pace and urgency as he explores masculinity, humanity and where the narrator a self-proclaimed social experiment' fits in. Thomas, a fine writer, can produce beautiful prose. His descriptions of the make-do jobs held by the protagonist's mother while he was growing up and of a friend's beatings at the hands of his father are vivid, graphic and poignant enough to leave a knot in the reader's stomach. In the end, the novel itself is rather like its main character: a brilliant and frustrating social experiment that is still quite worthy of our attention." Tina McElroy Ansa, Washington Post

A real uncertainty haunts Man Gone Down' and its landscapes, sticking to their edges. It captures human flux." Tess Taylor, The San Francisco Chronicle

Michael Thomas' Man Gone Down' moves along nicely. His unnamed narrator is broke, estranged from his wife and children and temporarily living in a friend's child's room, while desperately trying to figure out his life. This debut has racism at its core, but there's much more to it than that." Martin Zimmerman, San Diego Union Tribune

In the great, dark churn of race and wealth, of poverty and prejudices, of judgments and forgivenesses that is the city, the hero of Man Gone Down charts a four-day, Homeric trek through what makes America and New York a social and racial nightmare as well as a dream that incredibly can still come true. In this fast-paced, idea-rich novel, Michael Thomas grabs you by the mental collar with the rare voice that is simultaneously classic and modern, with a style that compels the reader to cheer this unwavering husband and father onward, Ishmael-like, into the light, into the open waters of the next day. It would be a mistake to live in a city anywhere in America and not wade into Thomas' rich and rewarding depths." Robert Sullivan, author of Rats and Cross Country: 15 Years and 90, 000 Miles on the Road . . .

A big, brave, heart-wrenching first novel, Michael Thomas tackles head-on the subjects of race, work and family. A tremendous debut." Alice Greenway, author of White Ghost Girls

Once in a great while a voice comes along that staggers us with its vitality, strength and timeliness. Michael Thomas is one of those writers, and he's been gifted with a dynamic voice as well as with a story worthy of our attention." David Haynes, Author of The Full Matilda

Michael Thomas is a thoughtful, intelligent, ambitious writer and Man Gone Down is an impressive first effort. Literatureand the worldwould be well served by more like him." Martha Southgate, author of Third Girl from the Left

The narrator of this remarkable novel can name each star in the constellation of circumstances that describe the shape of his life as if observing them from a great distance, yet with a surprisingly intimate and passionate accuracy. Its unique achievement, that is, its particular beauty, is in how it engages us, right from the start, with the unannounced arrival of revelations, with humor, and with the growing realization that the life he speaks of has much in common with our own." Chuck Wachtel, author of The Gates