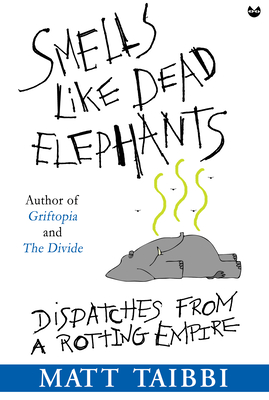 Smells Like Dead Elephants
Dispatches from a Rotting Empire
Paperback

* Individual store prices may vary.
Other Editions of This Title:
MP3 CD (5/31/2016)
Description
Smells Like Dead Elephants is a brilliant collection from Matt Taibbi, "a political reporter with the gonzo spirit that made Hunter S. Thompson and P. J. O'Rourke so much fun" (The Washington Post). Bringing together Taibbi's most incisive and hilarious work from his "Road Work" column in Rolling Stone, Smells Like Dead Elephants shines an unflinching spotlight on the corruption, dishonesty, and sheer laziness of our leaders. Taibbi has plenty to say about George W. Bush, Jack Abramoff, Tom DeLay, and all the rest, but he doesn't just hit inside the Beltway. He gets involved in the action, infiltrating Senator Conrad Burns's birthday party under disguise as a lobbyist for a fictional oil firm that wants to drill in the Grand Canyon. He floats into apocalyptic post-Katrina New Orleans in a dinghy with Sean Penn. He goes to Iraq as an embedded reporter, where he witnesses the mind-boggling dysfunction of our occupation and spends three nights in Abu Ghraib prison. And he reports from two of the most bizarre and telling trials in recent memory: California v. Michael Jackson and the evolution-vs.-intelligent-design trial in Harrisburg, Pennsylvania. Equally funny and shocking, this is excellent work from one of our most entertaining writers.
Grove Press, Black Cat, 9780802170415, 288pp.
Publication Date: October 10, 2007