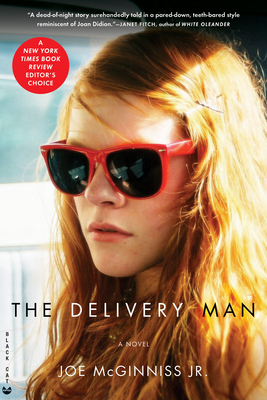 The Delivery Man (Paperback)
Grove Press, Black Cat, 9780802170422, 276pp.
Publication Date: December 1, 2007
* Individual store prices may vary.
Description
The Delivery Man is a thrilling and astonishing debut--a scary, fast-paced, and illuminating portrait of the MySpace generation. It is a love story set against the surreal excess of Las Vegas--and the artificial suburbs, gated communities, and freeways that surround it--where broken lives come to seek new beginnings and casinos feed the lust of tourists and residents alike. Ultrasophisticated local kids grow up fast and burn out early. After attending college in New York, Chase returns to Vegas and is drawn into the lucrative but dangerous world of a teenage call-girl service with his childhood friend Michele, a beautiful Salvadoran immigrant with whom he shares a tragic past. Over the course of one extraordinary summer they will confront the violence and emptiness at the heart of the city and their generation. At once stark and electrically atmospheric, horrifying and hopeful, The Delivery Man is an ambitious literary novel as well as a fast and absorbing page-turner--and a powerful indictment of a society in which personal responsibility has been abandoned, lust is increasingly mistaken for love, and innocence is an anachronism.
Praise For The Delivery Man…
A dead-of-night story surehandedly told in a pared-down, teeth-bared style reminiscent of Joan Didion." Janet Fitch, author of White Oleander

[A] flashy, fast-moving debut . . . McGinniss successfully gambles with the notion that whatever happens in Vegas stays in Vegas." Publishers Weekly

[A] brisk, bleak debut novelMcGinniss manages to whip the yearning and confusion of the woefully inarticulate Chase into dramatic, even gripping fare.The Delivery Man offers unflinching glimpses at mores in free fall.SearingMemorableNot for the faint of heart." Ed Park, The New York Times Book Review

McGinniss offers a fresh take on the seamy side of Vegas by focusing on the wasted lives of burned-out teens hooked on drugs and money. Even CSI doesn't dig this deep." Carol Memmott, USA Today

It's sex, drugs, and a slew of lost souls in this engrossing story of a twenty-five-year-old known only as Chase. An out-of-luck wannabe artist, he retreats to his hometownthat being Vegas, a downward spiral ensues, thanks to madams and more.Could The Delivery Man be this decade's Less Than Zero?" Marie Claire

Grim, convincing, and compellingMcGinniss charts [his characters'] aimlessness with insight and dexterity. Dare I say it? The Delivery Man really delivers." Art Taylor, The Washington Post

An insider's guide to the dark underbelly of twenty-first-century Las Vegas, brimming with brand names, hard bodies, hard drugs, and heavy doses of sex and violence. If that's all you're looking for, The Delivery Man won't disappoint.But once you finish it, you won't be able to get it out of your mind.The Delivery Man is that rare first novel that could well become a classic." Peter Bloch, Penthouse

The Delivery Man is balls-out scary.It's a world where everyone's too young and too high, and no one expects to live til thirty.A fast-paced read [that] packs a wallop." Courtney Ferguson, Portland Mercury

A novel of nonstop tension in a landscape so modern, so up to the minute, that you can set your watch by it." Craig Nova

A gripping literary thriller and an auspicious debut." George Pelecanos

Traveling through a Las Vegas no tourist ever sees, The Delivery Man vibrates with heat and fear, sex and heartbreak. This is a fast and terrifying noveldefinitely not a ride for the squeamish." Jill Eisenstadt, author of From Rockaway

The Delivery Man is a brutally clear-eyed and beautifully built story that shines a light on Las Vegas' dark underbelly. In its unforgettable characters, its unflinching examination of a piece of America most of us would like to pretend does not exist, and its probing of the darkest urges of the human psyche, this novel has all the force and authority of top-shelf fiction, and marks the arrival of an important new voice on the American literary scene." Roland Merullo, author of In Revere, in Those Days and A Little Love Story

A brutal portrait of today's lost generation." Publishers Weekly

Poor Chase: he feels like God's Lonely Man, all longing and disillusionment, and no one disappoints him more than he disappoints himself. He's part of a longstanding American tradition of hard guys with soft centers, guys with an exquisitely calibrated sense of their own self-degradation, like one of Bret Easton Ellis's heroes refracted through Raymond Chandler. The Delivery Man is arresting on the way, in the face of our undoing, we're inadequate but still culpable, and idealistic but still paralyzed." Jim Shepard, author of Love and Hydrogen and Project X

This is a thrilling debuta novel about youth wasting itself knowingly against the laid-back, glossy, trademark amorality of Las Vegas, told in a voice that sounds like that of a slightly older, hipper Holden Caulfield, coming of age in a place which has no past or futureonly the cool, gleaming, terrifying present. Sexy, touching, always shrewdly observed, and with a killer ending, The Delivery Man is the Less Than Zero of the early 2000sand the first step in what I am sure will be a remarkable career." Michael Korda, author of Another Life and Charmed Lives

McGinniss never wavers from his ruthless portrayal of the morally bankrupt . . . this atmospheric page-turner gains increasing depth as it barrels toward a gut-wrenching conclusion." Booklist

Impressive . . . What is most striking about this novel is McGinniss's sense of place. He captures the bright bleakness of the Las Vegas beyond the Stripthe Las Vegas people actually have to live inwith an unpitying eye, a Las Vegas most of the characters loathe but seem incapable of leaving, like chips that can't be cashed in." Robert Cremins, Houston Chronicle