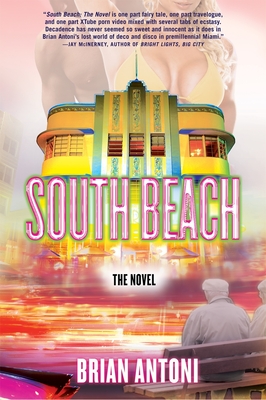 South Beach
Paperback

* Individual store prices may vary.
Description
Gabriel Tucker is a globe-trotting, trust fund-endowed twenty-nine-year-old who suddenly finds himself penniless and alone in the world, except for an old Miami Beach apartment building named the Venus De Milo Arms, the last thing of value left to him by his now-vanished family. Lacking skills or resources, he heads to Miami Beach to reconstruct his life, finding himself neighbors with an unlikely mix of tenants: an elderly Holocaust survivor, a lip-synching drag queen, a cynical two-bit gossip columnist, and a rebellious young performance artist who will eventually capture his heart. Within days, Gabriel is thrust into the outrageous world of South Beach, Miami of the nineties: temptations, quick fortunes, mountains of drugs, notorious murders, nonstop sex, and beautiful women (and men) for sale (or rent) are the order of the day. He is a ringside witness to the excesses and intrigues of Italian fashion empires, Cuban refugee supermodels, rapacious German developers, old-fashioned crooked politicians, and a cast of characters that would make Caligula blush. He is witness to a place evolving from God's Waiting Room to the American Riviera, from slum to brand name. It is in South Beach, in this most surreal time and place, unlike any other, that Gabriel will eventually discover the long-buried mysteries of his family and find a soul he never imagined he had and a love he never dreamed he deserved.
Grove Press, Black Cat, 9780802170439, 289pp.
Publication Date: January 1, 2008
or
Not Currently Available for Direct Purchase