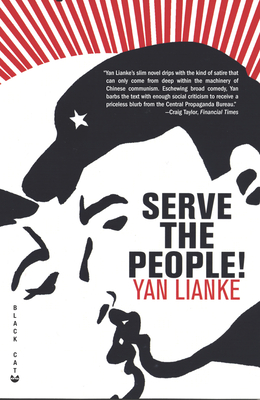 Serve the People!
Paperback

* Individual store prices may vary.
Description
Set in 1967, at the peak of the Mao cult, Serve the People is a beautifully told, wickedly daring story about the forbidden love affair between Liu Lian, the young, pretty wife of a powerful Division Commander in Communist China, and her household's lowly servant, Wu Dawang. When Liu Lian establishes a rule for her orderly that he is to attend to her needs whenever the household's wooden Serve the People sign is removed from its usual place, the orderly vows to obey. What follows is a remarkable love story and a profound and deliciously comic satire on Mao's famous slogan and the political and sexual taboos of his regime. As life is breathed into the illicit sexual affair, Yan Lianke brilliantly captures how the Model Soldier Wu Dawang becomes an eager collaborator with the restless and demanding Liu Lian, their actions inspired by primitive passions that they are only just discovering. Originally banned in China, and the first work from Yan Lianke to be translated into English, Serve the People brings us the debut of one of the most important authors writing from inside China today.
Praise For Serve the People!…
"Yan Lianke's "Serve the People!" is a scathing sendup of life in 1960s China during the chaos of the country's Cultural Revolution. Serialized in the Chinese literary magazine Hua Cheng in 2005 and then banned by the Central Propaganda Bureau, Lianke's novel takes aim at one and all, from impotent leaders and their scandalous wives to amoral People's Liberation Army soldiers scheming their way up the ranks, peasant farmers plagued by drought, and even the great Mao himself. Lianke spares no one . . . "Serve the People!" is a wonderfully biting satire, brimming with absurdity, humor and wit . . .the novel is exuberantly drawn in several shades of revolutionary (or should that be Revlon?) red." LA Times

This passionate satire of clandestine, intimate privilege in an ostensibly classless, egalitarian society is exceedingly carefully written, so that it is at once funny, sad, and bitterly ironic on nearly every page. Oh, and sensual, too." Ray Olson, Booklist (starred review)

Yan's work certainly contains its share of double entendres and may even be perceived as comedic at times, but on a deeper level, it offers a sociopolitical commentary on a way of life generally unfamiliar to Westerners." Library Journal

Yan's satire brilliantly exposes the emptiness of Maoist ideals and the fraudulent ends for which they were used, but also relates a sorrowful tale of compromised relationships and modest hopes left unfulfilled." Publishers Weekly

Steamy and subversive . . . Lianke [is] one of China's greatest living authors and fiercest satirists." Jonathan Watts, The Guardian

Yan Lianke's slim novel drips with the kind of satire that can only come from deep within the machinery of Chinese communism. Eschewing broad comedy, Yan barbs the text with enough social criticism to receive a priceless blurb from the Central Propaganda Bureau." Craig Taylor, Financial Times

Not just sexy, but also tender . . . Lianke peppers the book with useful passages on the art of writing itself, and makes his readers aware of semantic manipulation and the power of words, their ability to brainwash and erase thoughts." Waterstone's Books Quarterly (UK)

An exhilarating comedy of misunderstandings . . . Yan Lianke is one of the most popular and controversial writers of his generation." La Repubblica (Italy)

It is Ionesco in full. And the last pages of the book, melancholy and mysterious, make it possible to measure the variety of the talent of the novelist." Le Figaro (Paris)
Grove Press, Black Cat, 9780802170446, 217pp.
Publication Date: February 18, 2008