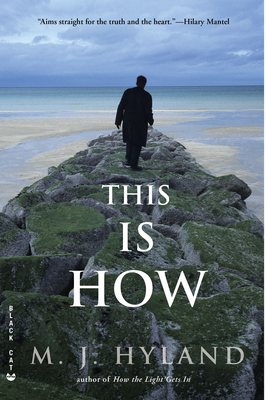 This Is How (Paperback)
Black Cat, 9780802170620, 377pp.
Publication Date: July 1, 2009
* Individual store prices may vary.
Description
M. J. Hyland is the award winning and Man Booker shortlisted author of Carry Me Down. Her third novel, This Is How, is a psychologically probing and deeply moving account of a man at odds with the world. Patrick Oxtoby is a perpetual outsider longing to find his niche. When his fiancé breaks off their engagement, Patrick leaves home and moves to a remote seaside village. In spite of his hopes for a new and better life, Patrick struggles to fit in or make the right impression. He can't shake the feeling that his new friends are con­spiring against him, further fracturing his already fragile personality and prompting him to take a course of action that permanently alters the course of his life.
This Is How is a mesmerizing and meticulously drawn portrait of a man whose unease in the world as it is leads to his tragic undoing. With breathtaking wisdom and astute insight into the human mind, Hyland's latest is a masterpiece that arouses horror and sympathy in equal measure.
About the Author
M.J. Hyland is an ex-lawyer and the author of three multi-award-winning novels: "How the Light Gets In, Carry Me Down," and" This is How."" Carry Me Down" was shortlisted for the Man Booker Prize and won both the Hawthornden Prize and The Encore Prize.

Hyland is also a lecturer in Creative Writing in The Centre for New Writing at The University of Manchester where she runs fiction workshops, alongside Martin Amis, Colm Toibin, and Jeanette Winterson. She also runs regular fiction masterclasses in "The Guardian" Masterclass Programme, and has twice been shortlisted for the BBC Short Story Prize (2011 and 2012). She also publishes in" The Guardian's ""How to Write" series, and has written nonfiction for "The Financial Times, Granta, The New Yorker," and elsewhere. Hyland is co-founder of The Hyland and Byrne Editing Firm (see - editingfirm.com & mjhyland.com)
Praise For This Is How…
A moving and compassionate portrait of a human being who is fully himself and yet stands for all of us, for what we fear, or fear to hope."New York Times Book Review

[A] visceral, deeply affecting tale . . . Causality is a question at the heart of the gripping narrative . . . This is a compassionate, disturbing novel, tragically showing a human learning to appreciate life only when his own has been incarcerated." The Independent (UK)

MJ Hyland is an expert anatomist of the bruises left on a fragile mind by a hard world . . . Every word of Hyland's narrative observed with the bright, deranged precision of a Richard Dadd painting resonates."The Telegraph (UK)

This is How, the fearlessly disturbing new novel by M.J. Hyland, takes us inside the mind not of an innocent but of a killer . . . Young Patrick Oxby . . . Hyland's pared-down descriptions of Patrick's lifeas it once was and as he now endures itconvey excruciating tension and pain. Yet the claustrophobic world that she creates has at its core a disfigured yet recognizable humanity."Boston Globe

A tour de force. Hyland illuminates this damaged soul with such a steely, brilliant clarity that your heart breaks for him."Helen Garner, author of The Spare Room

This Is How confirms M.J. Hyland as a true original. She has a ferocious imagination, and an eerie way of squeezing the distance between author, character and reader, so that the atmosphere of the book soaks and penetrates the reader's mind. When you've been reading Hyland, other writers seem to lack integrity; they seem wedded to weak confabulations, whereas she aims straight for the truth and the heart."Hilary Mantel, Booker Prize-wining author of Wolf Hall

Bleak yet moving, mercilessly dispassionate yet shot through with kindness and wit, [This Is How] is a profound achievement . . . it reminds us that there are some truths only fiction can carry."The Guardian (UK)

There is no fanciness to Hyland's prose. Everything first person, present tense is controlled and precise. In the second half of the book, Patrick's claustrophobic world becomes unutterably grim, but it never feels less than completely real. If you are looking for light entertainment, this is definitely not it. But when it comes to social complexity and nuance, Hyland is compelling."The Times (UK)

Novels are strange beasts, and you can't always know how one is going to affect you. I finished This is How feeling slightly short-changed, disappointed that I'd somehow been denied a solution to the mystery that its author had set up. Three or four days later, however, Hyland's white-hot prose was still smouldering in my head and I found myself intensely, almost helplessly, moved by Oxtoby and his tragedy. Some novels play a long game. It's all credit to Hyland that I'm still thinking about this one, still excited and perturbed by it, still trying to work out what exactly it is that I just read."Financial Times (UK)
or
Not Currently Available for Direct Purchase