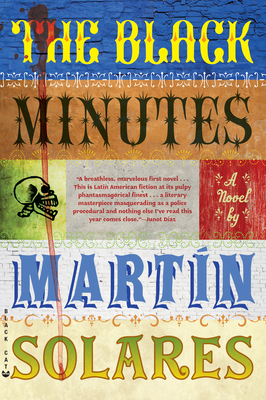 The Black Minutes (Paperback)
Grove Press, Black Cat, 9780802170682, 436pp.
Publication Date: May 1, 2010
Other Editions of This Title:
MP3 CD (1/19/2016)
* Individual store prices may vary.
Description
When a young journalist named Bernardo Blanco is killed in the fictional Mexican port city of Paracu n, investigation into his murder reveals missing links in a disturbing multiple homicide case from twenty years earlier. As police officer Ram n "el Macet n" Cabrera discovers, Blanco had been writing a book about a 1970s case dealing with the murder of several young schoolgirls in Paracu n by a man known as el Chacal. Cabrera realizes that whoever killed Blanco wanted to keep the truth about el Chacal from being revealed, and he becomes determined to discover that truth. The Black Minutes chronicles both Cabrera's investigation into Blanco's murder and goes back in time to follow detective Vicente Rangel's investigation of the original el Chacal case. Both narratives expose worlds of corruption, from cops who are content to close the door on a case without true justice to powerful politicians who can pay their way out of their families' crimes. Full of dark twists and turns, and populated by a cast of captivating--and mostly corrupt--characters, The Black Minutes is an electrifying novel from a brilliant new voice.
Praise For The Black Minutes…
"Mr. Solares is a graceful, even poetic, writer, especially in his hard-boiled dialogue and his descriptions of the wildly varied landscapes and ethnic types of northern Mexico. Though the world of The Black Minutes is one to inspire fear and revulsion, Mr. Solares's descriptions of it are oddly beautiful and fascinating in the same way that overturning a rock and observing the maggots beneath can be a perversely edifying spectacle." Larry Rohter, The New York Times

"Solares's debut deftly treads a risky tightrope between police procedural and surreal fantasy . . . this haunting novel forces readers to confront that bedeviling paradox of human nature, the eternal mystery of wickedness."
Publishers Weekly (starred review)

"From its first pages, it's clear that Martin Solares' debut crime novel is shooting for more than basic genre thrills. The writing is clean, almost edgeless, but the occasional elegant metaphor slips in. Most of the writing, however, steers clear of overt gestures, for a good reason: At 436 pages, this double-tiered mystery has more than enough incident to get through as is . . . The Black Minutes is briskly immersive and satisfyingly tangled, with a resonant sense of the weight of age-old injustices." The Onion

Martin Solares's first novel, The Black Minutes, an uncommonly nuanced neo-noir may be exactly the right book to read at the end of 2010, a particularly dark year in recent Mexican history. It's crime fiction, but it's also a meditation on corruption, and it captures the kind of nightmarish helplessness that many feel in the face of the tide of narco-violence sweeping the north of Mexico Scraping away some of the cool remove of the traditional noir, The Black Minutes gives a gorgeous, suffocating sense of life in Mexico's sweltering northeast and an equally smother sense of a justice system in which the concept of justice has been leached of meaning The general impact of the plot is stunning. His characters simultaneously move toward resolution and the void, each success paradoxically dragging them down." The Nation

"At first, the sheer exuberant inventiveness of this remarkable Mexican debut may mystify some American crime-fiction fans. If those readers give it a chance, however, they may wonder why the authors they usually read are so risk-averse . . . Solares' prosealternately playful, poetic, and plainspokenpropels the pages. Some fantastic elements of Latin American fiction, such as dreams and ghosts, are present, but they won't be dealbreakers for crime fans who don't like magical realism." Booklist

Martín Solares's first novel is a dense, warm, and complex noir fiction. But its originality lies elsewhere, in its dreamlike digressions. . . . The confessions of a Jesuit, the brief appearance of a criminology vedette, literary references, all contribute to introducing shifts to the register generating interest and charm." Le Temps (France)

[Martín Solares's] debut novel is risky business. . . . One of the most ambitious crime novels that Mexico has had to offer since the great works of Paco Ignacio Taibo II."
Titel Magazin (Germany)

Martin Solares's novel is intense and exhilarating, full of violence and action. . . . This first novel by Solares will satisfyand believe me, to an immense degreethose who enjoy impossible missions and quixotic adventures. Go, go read this splendid novel."
El Pais (Spain)

A dark novel, completely enclosing itself inside the parameters of the genre, in which the author shows us an extremely critical glimpse of the police corruption of his country . . . Solares displays an impressive string of situations, and constructs an action-packed plot that never declines. . . . [He] is a true novelist." El Mundo (Spain)

The exotic world that boils in The Black Minutes is not limited to the rules of the ordinary; the nightmare and the supernatural at times involve the narration and fracture our trust. . . . detective novels that are important are those that are capable of transcending the genre, they survive by their metaphysical implications or for the sharp representation of society that inspires them." ABC de las Artes y Las Letras