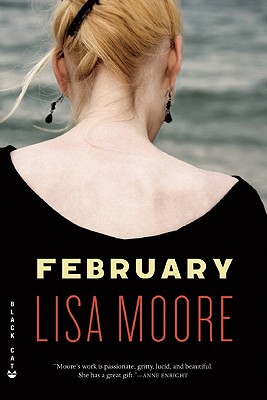 February
Paperback

* Individual store prices may vary.
Other Editions of This Title:
Digital Audiobook (6/3/2018)
MP3 CD (6/7/2016)
Description
February is Lisa Moore's heart-stopping follow-up to her debut novel, Alligator, winner of the Commonwealth Writers' Prize for the Caribbean and Canadian region. Propelled by a local tragedy, in which an oil rig sinks in a violent storm off the coast of Newfoundland, February follows the life of Helen O'Mara, widowed by the accident, as she continuously spirals from the present day back to that devastating and transformative winter.

After overcoming the hardships of raising four children as a single parent, Helen's strength and calculated positivity fool everyone into believing that she's pushed through the paralyzing grief of losing her spouse. But in private, Helen has obsessively maintained a powerful connection to her deceased husband. When Helen's son unexpectedly returns home with life-changing news, her secret world is irrevocably shaken, and Helen is quickly forced to come to terms with her inability to lay the past to rest.

An unforgettable glimpse into the complex love and cauterizing grief that run through all of our lives, February tenderly investigates how memory knits together the past and present, and pinpoints the very human need to always imagine a future, no matter how fragile.
Praise For February…
Eloquently written . . . Moore has great strengths as a writer, chiefly in her powers of description. . . . [In February she] provides vivid, cinematic snapshots of family life . . . [and] a woman's return from the long exile of her grief."The New York Times Book Review

Lisa Moore's artfully fragmented narrative movingly reflects Helen's shattered psyche. But like a ray of wintry sunshine piercing the ocean fog, the novel's conclusion holds out hope that frozen hearts can thaw and even made-up minds can be changed."The Boston Globe

[An] extraordinary, unusually philosophical and human novel."The Irish Times

Assured . . . [with] supple, graceful prose . . . Moore's firm grip and fine craft make something special from this novel of disaster and its aftermath."The Independent (UK)

Lisa Moore can do impressive things with plain language."Star Tribune (Minneapolis)

Quietly reflective . . . Evocative . . . Expressive."Publishers Weekly

Moore offers us, elegantly, exultantly, the very consciousness of her characters. In this way, she does more than make us feel for them. She makes us feel what they feel, which is, I think, the point of literature and maybe even the point of being human. . . . [Lisa Moore] gets life. . . . Exquisitely mindful . . . Luminous."The Globe and Mail

Deftly executed and moving."The Star (Toronto)

Emotional tension, coupled with an acute eye for regional setting and dialect, has long been a hallmark of Moore's work. . . . [February] is hauntingly beautiful . . . [and its] subtle styling, sparse dialogue and sombre tone succeed at shining a light not only upon the impact of the Ocean Ranger disaster, but also upon the lasting aftermath of death itself. . . . Moore pens another triumph." The Chronicle Herald (Canada)

Moore's ability to write originally and passionately about love and death relies on her eye for detail and her psychologically acute portrayals. This may be beautiful writing, but it is never without the necessary bit that makes it real."Scottish Herald

Glowing . . . Elegant . . . It has been a joy indeed to discover Lisa Moore." The Telegraph (UK)

[Moore] turns a sad story simply told into a minor-key triumph. . . . A novel which takes a moment of catastrophe and focuses not on the moment itself but on all the moments that surround it; that are altered, subtly or dramatically, by it. . . . A novel that stands as a candid atomization of mourning in all its endlessness and banality."The Guardian

This profoundly moving, beautifully written book describes in painful detail the aftermath of loss and the ways in which people manage to cope with life's most extreme events."Waterstones Book Quarterly (UK)

Life in the pages of Lisa Moore's glorious new novel feels more real than it does in the world we inhabit. . . . Her vital, original imagery startles us into her characters' consciousness: She forces us to engage the world around us with an intimacy we tend to avoid. . . . It is the peculiar aptness, of Moore's imageswhich are the individual perceptions of an idiosyncratic mindthat fuel her astounding literary gift. . . . Moore [presents a] wise equation: that love plus loss equals life. Her vision of the world is bitter and joyful; angry and generous. And true. Very true."The Montreal Gazette

A powerful novel for its insight into emotional endurance, and how life goes on even as tragedy leaves broken slivers of hearts in its wake. . . . Loneliness is hard to write about without becoming maudlin or clichéd. But Moore seems to understand this very human facility, describing the unconscious ways we sometimes try to avoid feeling overwhelmed by it. . . . Incredibly empathetic . . . There's an economy about Moore's style that allows us to fully see how a once vibrant life can be whittled down by a pain and loneliness that is far too deep to communicate, but by grounding her writing in the physical world, Moore shows how life's everyday tasks and encounters create a comforting continuity that eventually wears down emotional pain to allow forward movement."The Ottawa Citizen

Moore's writing resembles poetry. . . . She expertly captures her characters' physical surroundings in sharp-edged fragments of color and sensation . . . [and] probes their emotional landscapes gently and thoroughly. . . . A marvelous book." Winnipeg Free Press

A perfectly pitched novel."Woman&Home (UK)

This mesmerizing book is full of tears, and is a graceful meditation on how to survive life's losses."Marie Claire (UK)

Lisa Moore's heart-warming second novel is domestic fiction at its finest."Daily Mail (UK)

Skillfully structured . . . [A] delicate, involving novel."The Daily Express (UK)
Grove Press, Black Cat, 9780802170705, 310pp.
Publication Date: February 2, 2010
About the Author
Lisa Moore is the acclaimed author of two Scotiabank Giller Prize-finalists, "Open," a story collection, and the novel "Alligator," which also won the Commonwealth Writers' Prize for the Caribbean and Canadian region. Moore lives in St. John's, Newfoundland.