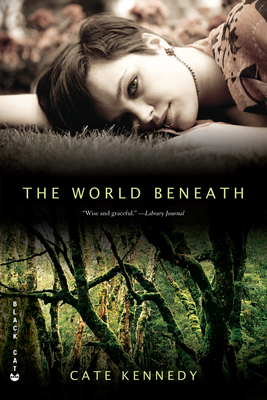 The World Beneath
Paperback

* Individual store prices may vary.
Other Editions of This Title:
MP3 CD (12/1/2015)
MP3 CD (11/12/2012)
Compact Disc (11/12/2012)
MP3 CD (11/12/2012)
Compact Disc (11/12/2012)
Description
The first novel from acclaimed author Cate Kennedy is a compassionate and unswerving portrait of a broken family whose members go to extraordinary lengths to reclaim their lives and relationships from the mistakes of the past. Fifteen years after their break-up, Rich and Sandy have both settled into the unfulfilling compromises of middle age: he's a late-night infomercial editor with photojournalism aspirations; she makes hippie jewelry for a local market and struggles to maintain a New Age lifestyle that fails to provide the answers she seeks. To distract themselves from their inadequacies, Rich and Sandy cling to the shining moment of their youth, when they met as environmental activists as part of a world-famous blockade to save Tasmania's Franklin River. Their daughter, Sophie, has always remained skeptical of this ecological fairytale, but when Rich invites her on a backpacking trip through Tasmania for her fifteenth birthday, Sophie sees it as a way to bond with a father she's never known. As they progress further into the wilderness, the spell of Rich's worldly charm soon gives way to suspicion and fear as his overconfidence sets off a chain of events that no one could have predicted.

Praise For The World Beneath…
A thoughtful debut novel reminiscent of Hornby . . . Well-observed and thoughtfully funny . . . Life, Kennedy suggests, is largely resistant to our schemes and resolutions. Faced with the realities of both the natural world and our thorny personal relationships, we need more than good intentions."Minneapolis Star-Tribune

Kennedy evokes a more lyrical version of Jodi Picoult . . . hitting the reader with raw, heartbreaking, sometimes hilarious prose. . . . A wise and graceful debut novel . . . Kennedy is an author to watch."Library Journal

A very effective blend of social comedy and lyrically precise naturalism. . . . Kennedy writes like an Antipodean Anne Tyler, wryly aware of the heart's internal contradictions yet slow to judge. Subtle allusions to the myth of Persephone add another level to this impressive tale of self-reliance and self-delusion."Financial Times

In elegant, fluidly written prose, Kennedy not only delivers scathing portraits of the ineffectual adults and the times that shaped them, but also makes the epic wilderness another vividly rendered character in the story. A gripping debut."Booklist (starred review)

The pitfalls of nostalgia and the disappointment of everyday life contrast sharply with the ravishing Tasmanian landscapes Kennedy is excellent at painting, along with interpersonal terrain."Publishers Weekly

Kennedy's wilderness is the freezing, rain-soaked Tasmanian mountains, with their blazing red fagus trees and bizarre, secretive wildlife. It's a bewildering heart of darkness. . . . [A] bracing, unsentimental, and often very funny full-length debut . . . [that follows] the spiky, uncompromising Sophie, forced to find reserves of strength and forgiveness for her two infuriatingly childlike parents."The Guardian (UK)

"Cate Kennedy, celebrated for her short fiction, this year began her long-distance career with The World Beneath. To my mind, she enters the stadium a hundred metres in front of the next novice and with the best time for many years."--Peter Temple, The Age

"Cate Kennedy is a brilliant storyteller. She possesses the power to find in ordinary lives their poetic and mythic dimensions and to remind us that vernacular speech and everyday experiences betoken the tender mysteries that lie beneath family life."--Gail Jones

"The World Beneath is pitch perfect, an exquisite story of an estranged middle-aged couple and their alluring, disenchanted daughter, of a family in wilderness. Cate Kennedy inhabits these characters so sensually and truly, exploring souls that feel like our own. If she doesn't touch your heart, it may be you don't have one."--David Francis, author of Stray Dog Winter

"Written in precise and singing prose, [Cate Kennedy's] powerful first novel begins with three unlikable characters and blossoms into a work of mythic depth, lyrical description and gripping suspense."--Adelaide Advertiser

"Cate Kennedy's ironic humor nails out-of-touch grandparents, flailing Baby Boomers and tech-head adolescents. The World Beneath is a treasure of a first novel by a prize-winning short story writer and poet. This is Australia calling. I loved it."--Good Reading Magazine (Five Stars 'Outstanding')

"A stunning book with a heart-stopping climax."--Woman's Day (Read of the Week)

"When the inner lives of ordinary people are made gripping and moving and enlightening, then you know you are in the hands of a great storyteller."--Sunday Mail/Sunday Telegraph

"The World Beneath displays all the hallmarks of the short-story writer's art; acute observation and concise execution."--Courier Mail

"Vivid and robust realism shading occasionally into satire, full of humour and drama, told through different and conflicting points of view ... In some ways it's reminiscent of Christos Tsiolkas's The Slap: an unsentimental, beady eyed look at contemporary Australian middle age and its treatment of its children."--Australian Literary Review

"This is a thought-provoking journey into contemporary Australia; an impressive debut novel."--Australian Book Review

"Kennedy has delivered an outstanding story."--Notebook Magazine (Pick of the Month)

"The World Beneath is an intelligent, equivocal, unusual and often amusing novel, one that comprehends the comfort of stereotypes and pushes beyond them, one that, in the words of its epigraph from Turgenev, sees that "the heart of another is a dark forest"."--Sydney Morning Herald

"The World Beneath is a rare combination of a pacy, gripping plot with very real characters and spare, elegant writing. Beautifully observed, Kennedy's novel is painfully honest about the ways in which family members hurt and heal each other."-- Who Magazine (Four stars)

"The World Beneath is the first novel by Cate Kennedy, often cited as Australia's queen of the short story. In the longer format Kennedy doesn't disappoint, delivering her characters with unnerving accuracy the disdain of a teenager, the searing frustration of a man whose life has passed him by while the Tasmanian wilderness looms as vividly as anyone else on the page."--Time Out Sydney

"The vast terrain of relationships and family ties proves to be as much uncharted territory as the Tasmanian wilderness that Cate Kennedy describes with such stunning clarity. Here, ordinary lives are caught in a compelling story that grips tight until its exhilarating end. She exposes the perilous gap between ideal and delusion, between noble aspiration and mere ambition, against a mighty landscape that remains unpredictable despite the reverence it receives. I read the final third with a sense of thrilling fear, for the characters' plights, for the hazards created by both their actual and emotional insecurity."--Debra Adelaide, author of The Household Guide to Dying

"We set off at a cracking pace deep into the wilderness of family relationships, confronting parenthood, middle age and the whole business of being an adult. We come out of the Tasmanian rainforest exhilarated that we made the journey, marvelling all the while at Cate Kennedy's masterly storytelling."--Hannie Rayson

"A riveting family drama played out in Tasmania's wilderness. Kennedy has made a seamless transition from award-winning short story writer to breathtaking novelist."--Mandy Sayer

"The World Beneath is an intelligent modern Australian novel, displaying that fine eye for unexpected humour and everyday tragedies that made Kennedy's stories so appealing."--Bookseller & Publisher (4 stars) (Australia)
Grove Press, Black Cat, 9780802170712, 342pp.
Publication Date: February 1, 2011
About the Author
Cate Kennedy's short story collection Dark Roots, was shortlisted for the Australian Literature Society Gold Medal and first serialized in The New Yorker. She lives in Victoria, Australia.
or
Not Currently Available for Direct Purchase