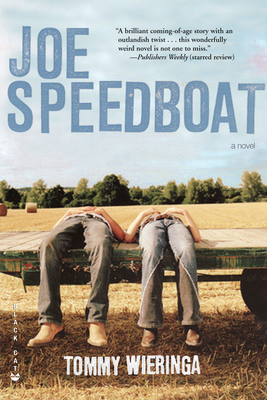 Joe Speedboat
Paperback

* Individual store prices may vary.
Description
A sparkling coming-of-age novel that has sold over 300,000 copies in Holland, in which the inhabitants of a sleepy rural town are awakened by the arrival of a kinetic young visionary, Joe Speedboat. After a farming accident plunges him into a coma for six months, Frankie Hermans wakes up to discover that he's paralyzed and mute. Bound to a wheelchair, Frankie struggles to adjust to a life where he must rely on others to complete even the simplest tasks. The only body part he can control is his right arm, which he uses obsessively to record the details of daily life in his town. But when he meets Joe--a boy who blazed into town like a meteor while Frankie slept--everything changes. Joe is a centrifugal force, both magician and daredevil, and he alone sees potential strength in Frankie's handicaps. With Joe's help, Frankie's arm will be used for more that just writing: as a champion arm-wrestler, Frankie will be powerful enough to win back his friends, and maybe even woo P. J., the girl who has them all in a tailspin.
Alive with the profundities of adolescence, Joe Speedboat is the supersonic story of an unlikely alliance and a lightning-quick dash to

Praise For Joe Speedboat…
[Joe Speedboat] offers a rewarding journey into the unfamiliar. It is also witty, thoughtful and surprisingly tender as Frankie comes to realize that he has got a life to live that is still well worth the living."The Independent

[An] offbeat story of a group of boys searching for meaning . . . This work conjures John Irving's A Prayer for Owen Meany but with a lighter touch."Library Journal

Winsome . . . Wieringa's protagonist, Frankie, has an attitude attune to Holden Caulfield, without the anxiety and the quirks. . . . [Frankie's] unwavering and confident . . . in-your-face voice . . . applies literature to life, lyrically, with an attention to minutiae. . . . Charismatic, intelligent, he's the kinetic energy that thrusts the narrative forward."Bookslut
Grove Press, Black Cat, 9780802170729, 328pp.
Publication Date: April 8, 2010